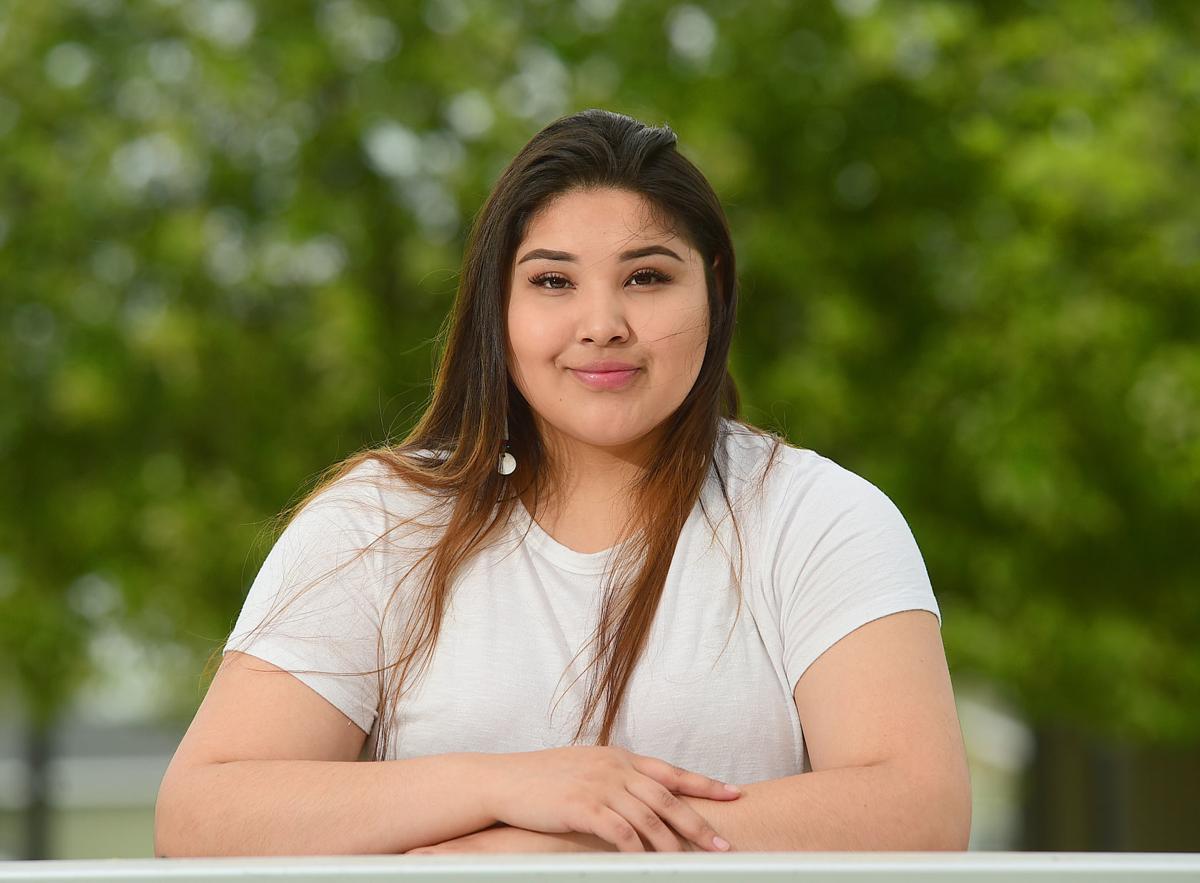 When Charlize Yarlott paints, filling in pastel tones of a prairie landscape, she feels like she has the chance to re-center herself, to find her place amid the swirling responsibilities of a young adult. 
The soon-to-be Skyview graduate is the eldest sibling of five, and during a time of school shutdowns she has taken on extra child care responsibilities. She dug out of an early academic hole after her freshman year, catching up on four credit recovery classes in addition to a regular courseload. She's served as president of Skyview's All Nations Club, embracing her Crow identity. 
"She knows what she wanted to do to better herself, and for her family and people," said Clint Valandra, an Indian Education home-to-school coordinator at Skyview. 
Valandra was one of the first educators Yarlott opened up to in Billings. She had attended schools in Billings and Hardin and found the transition challenging. 
"I felt like an outcast, like I was different," she said. The change was jarring compared to a classroom in Hardin where she recognized her cousins. 
With Valandra, she found someone who could relate; he described his first months at Montana State University after growing up in Browning as "like Mars."
He also pushed her — that despite adversity in life, she had to take ownership of her education. 
"He'd tell me, if you really want it, you have to go out and get it," Yarlott said.
Now, Valandra asks her to speak to other students about the experience of being a young Crow woman in Billings. 
"I wanted to show all these other Native Americans not to be afraid and to come out of their shell," she said. "I think it's an honor to be a Crow member ... (tribal traditions) are just full of color, full of light."
Catching up
Early in high school, Yarlott fell behind. She moved around, living with different family members. Her attendance and grades suffered. At points, she considered dropping out of school. 
By her senior year, she put herself in a position where she had a path to graduation, but it was a rocky one. 
"It can be really, really difficult" to catch up during senior year, said Skyview teacher Cameron Icenoggle. "You just don't have any room for error anymore."
Icenoggle and James Bulluck teach in the Innovative Learning Center at Skyview, a classroom designed to give students a chance to work at their own pace on computer-based courses in a low-stress environment. 
Yarlott's pace had to be accelerated, though; she finished four classes during one period in the ILC, alongside her other courses. 
"I think it says that not only is she an extremely hard worker, but it shows that she wants to do better and create a better life for herself," Bulluck said.
It took more than hard work. Yarlott had to again open up and learn to be willing to ask for help.
"For a kid to go from not wanting to open up, to struggle to open up, to knocking down those walls … that just shows she wants to grow as a person," Bulluck said. "When those walls come down, she can really shine."
The COVID-19 pandemic and school closure forced another abrupt transition as schools shifted to distance learning, but Yarlott completed her graduation requirements while taking on extra child care duties for her younger siblings.
In some ways, learning how to take on a daunting academic courseload prepared her for the overwhelming societal shift; she was well-practiced breaking a large task into incremental goals and focusing on what she could control.  
She hopes to attend Little Big Horn College next year and study psychology; adopting a reflective attitude about her actions has made her more curious about the brain processes behind them. 
Bulluck believes that Yarlott's experiences could help her work through adversity in higher education. 
"I think she sees that as a way to create that better life for herself," she said. 
Yarlott also thinks about setting an example for her younger siblings and for Native American students who struggled with school like she did. 
"I wanted to show them that they could see the world in a whole another way," she said.
Get local news delivered to your inbox!
Subscribe to our Daily Headlines newsletter.