Billings high schoolers are taking more classes that also earn them college credits, continuing a yearslong trend.
But one spot in the latest set of data is unusually bright; more students who took AP classes decided to take tests required for college credit, and they're passing at an improved rate. 
Student enrollments in Advanced Placement classes jumped up to almost 1,300 during the 2018-2019 school year, up about 150 from the previous year and almost double the enrollment from five years ago. 
But to earn college credit in AP classes, students need to take a test at the end of the year that's scored on a five-point scale; a three or higher is considered passing, though some more selective colleges require a four or five to earn credit. 
Billings students took 770 tests last year, almost 200 more than the previous year. About 65% of students earned a passing grade on those tests, a five-year high for the district. 
Administrators have admitted that Billings was slow to adopt AP courses, but adding options for students has been a priority. 
"We've been working really hard with sending our teachers to training," said district assessment coordinator Roger Dereszynski. "I think we're seeing growth in our enrollment because of that, and better test scores too."
In several subjects passing rates were far above the national average. 
You have free articles remaining.
Keep reading for FREE!
Enjoy more articles by signing up or logging in. No credit card required.
For example, of the 72 students who took an English Literature and Composition exam in Billings, 85% passed their test. According to the College Board, the company that runs AP courses, the national average passing rate was about 50%. 
Ditto for AP statistics, where 74% of the 80 Billings students who took the test passed, compared to 60 percent nationally. 
The increase doesn't guarantee that more students are taking AP classes; School District 2 tracks only enrollments and exams taken, not data tied to specific students.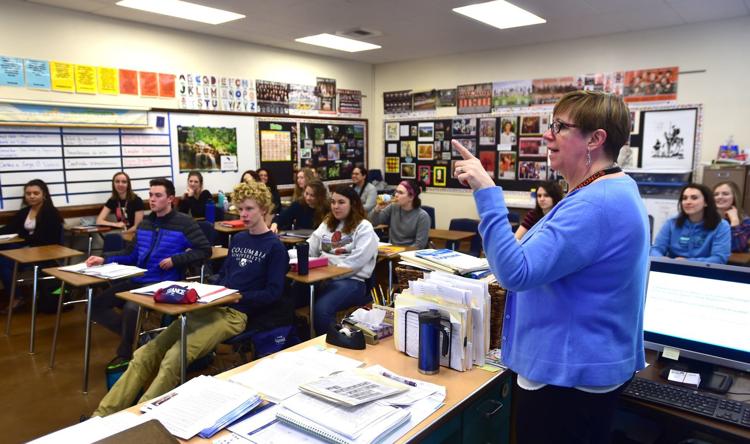 The AP credits are accepted by the vast majority of universities. Montana also offers dual enrollment courses, which are sanctioned by Montana universities but taught by high school teachers with extra training. Those courses require a high-stakes test to earn credit, but the credits are only guaranteed to be accepted in Montana. 
Those enrollments also took another leap. 
Billings high schools had 1144 enrollments last school year, up from 727 last year and only 71 five years ago. 
That's been buoyed by a fee waiver for the classes endorsed by MSUB for Billings students since 2016, a more expansive program than a statewide initiative launched last year that waives fees for two classes.
MSUB has also worked with Billings teachers to offer classes to teachers that specifically target dual enrollment certification.