Brooke Painter's dad is a firefighter. But when the elementary school student mulled over a subject for an art project portraying her heroes, she looked to her other parent.
"It might be obvious to some people, it might not, but my mom is kind of a hero to me," she said.
Painter's family drove from Great Falls to attend the Montana PTA Reflections award ceremony in Billings on Friday. It was the 50th year for the national award contest, and was centered on the theme "Heroes around me."
Painter, a state award winner, had put some thought into what, exactly, makes a hero. She thought of police, or firefighters like her dad. But she thought what her mom did for her as a parent was just as important.
She gravitated toward using a smartphone for a film project, and created a five-minute stop-action movie using Legos. It was tedious work, inching her subjects around. But she didn't mind.
That speaks to the core of the reflections program, said Renee Wizeman, who chairs Montana's program. 
"It's not just about 'Sit down and scribble something out and call it good,'" she said. "There's a lot to be said for the process creating perseverance ... (but also for kids) to always play."
Wizeman said the program is just as important now as when it began. 
"Art continues to play such a pivotal role in how we process what is happening in our world," she said. "This program has gone on for five decades. I hope it continues for another five."
She readily admitted that the 50th anniversary probably didn't mean a ton to the assembled award winners, some of whom had already found the Play-Doh in gift bags during the speechifying. 
But the art on display showed the students put a great deal of thought into the theme. Projects portrayed firefighters, a service dog, a workman-like silhouette, and an elderly man saluting near a flag. 
You have free articles remaining.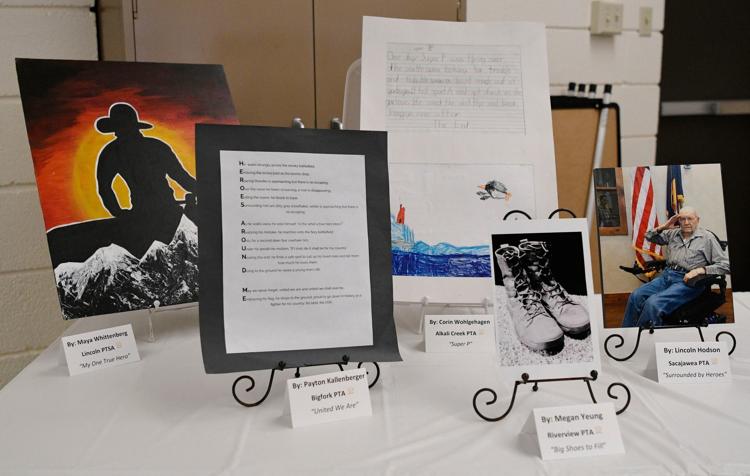 Corin Wohlgehagen, a second-grader from Alkali Creek Elementary, was one of the youngest state winners attending. His short story and picture took to heart Wizeman's advice to "let your imagination run wild."
He created "Super P," a crusading penguin, that saved a seal stuck in trash. 
"I just really like penguins, and I also like helping people," he said. "I'm not sure where the seal came from. It just popped right up in my head."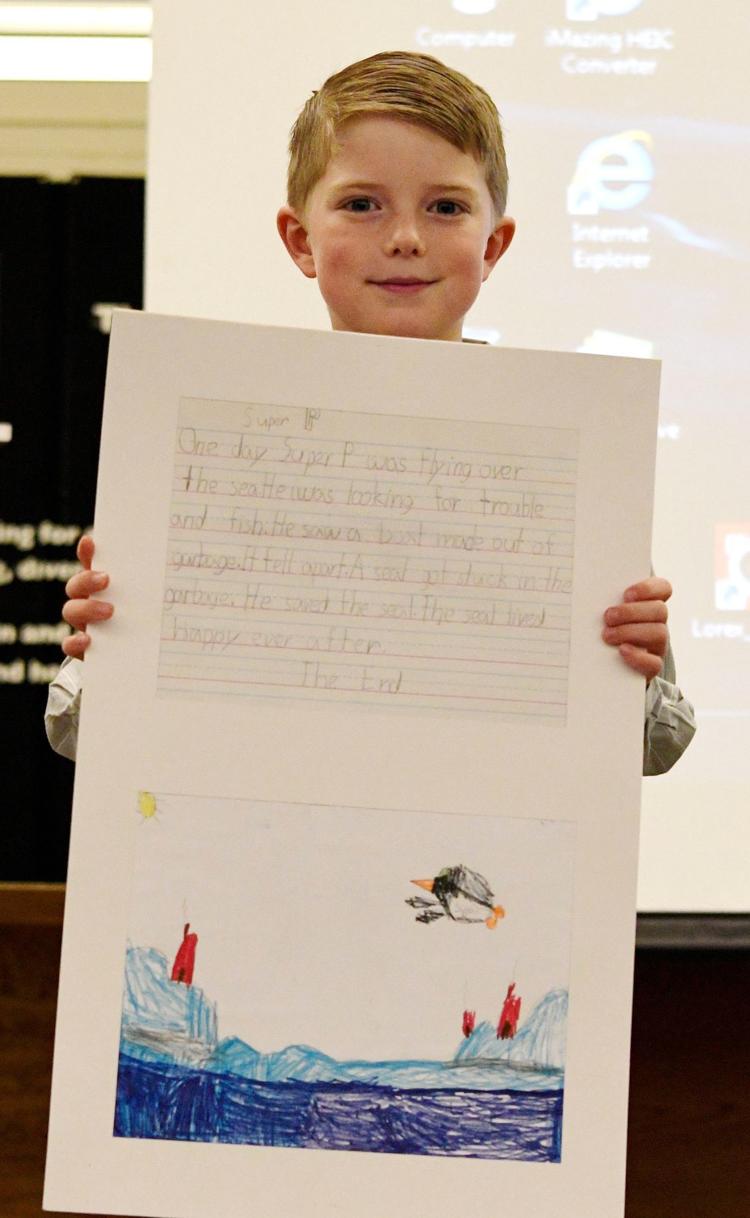 But the theme about trash and pollution had more practical roots. Wohlgehagen cited lessons learned through Cub Scouts when he talked about littering.
"I don't like how people litter," he said. 
The reflections program has six different categories: dance choreography, film productions, literature, music composition, photography and visual arts. Student can make multiple entries.
They then have the chance to advance through local, then state, then national competitions. 
Montana had a handful of national award winners. High-schooler Finney Manchala, a home-schooled student from Lakeside, won an award in film production. Elementary student Lincoln Hodson from Great Falls and middle-schooler Miyah Davis from Lincoln won awards in photography.