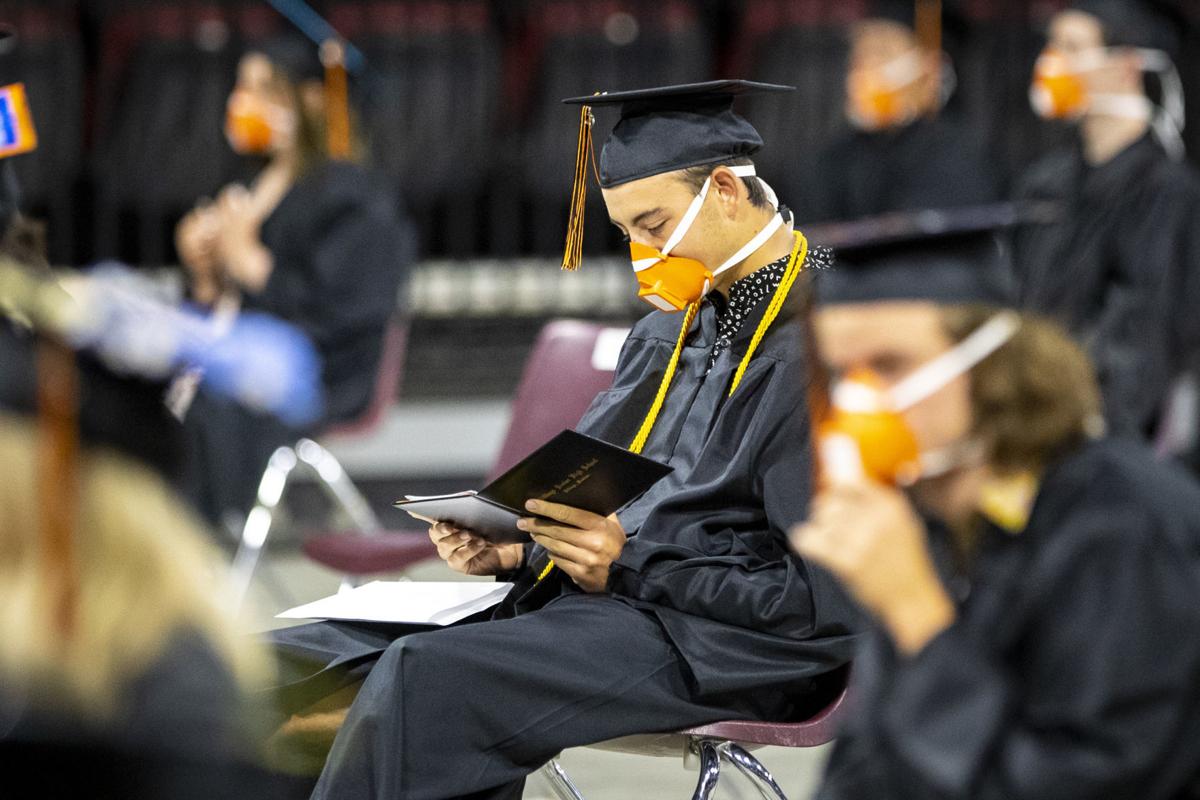 Masks will likely be on school supply lists for Billings Public Schools students this upcoming school year. 
The district hasn't finalized its reopening plans — a guiding document may not be finished until August — but superintendent Greg Upham said he anticipates requiring masks for students and staff if COVID-19 infection rates remain similar in the Billings area. 
Some of the district's summer school programs have already been requiring masks for students, ranging from to-be kindergartners to high schoolers. The district also released a "universal masking practice" document, effective July 9, that requires mask wearing for all staff in most situations. 
The likelihood of a continuing requirement through the upcoming school year depends on the spread of the novel coronavirus, Upham said.  
Wearing a cloth mask can reduce the likelihood of spreading COVID-19 by blocking respiratory droplets, according to the Centers for Disease Control and Prevention. A major difficulty communities have faced in containing the virus is its ability to spread even when the carrier shows no symptoms. Masking has been highlighted as particularly effective for fighting asymptomatic spread. 
"Cloth face coverings are a critical preventive measure and are most essential in times when social distancing is difficult," the CDC guidance says.
While children are very unlikely to suffer major complications from COVID-19, they are considered vectors that can spread the disease between schools and the wider community. 
Montana, and Yellowstone County in particular, has seen case counts of COVID-19 continue to rise since the state moved into Phase 2 of its reopening plan. 
School challenges
The district's kindergarten jumpstart program aims to help give kids a leg up coming into the school year. Kids do some academic work, but the program is more focused on helping kids learn the routines of a school day and social and behavioral expectations. 
Now, that includes trying not to fidget too much with their faces. 
"The masks on the littles have been challenging," Upham said. But students in a first- though fifth-grade program run by the district's Indian Education division were "doing well" with the masks, he said. 
The question of masks for the youngest students highlights the decision trees and tradeoffs for almost every aspect of school operations that districts face in crafting their reopening plans. 
Masks are perhaps the best relatively cheap measure for preventing spread of the virus when social distancing is difficult, and Upham has raised serious doubts about the feasibility of effective social distancing in traditional classrooms. 
But some medical experts have cautioned that masking children can actually cause them to touch their face more, increasing the likelihood of them contracting the virus if they pick it up from a surface. 
Then there are the educational considerations; Upham previously noted that teachers struggled to read students' facial expressions — a critical clue to whether students are engaged in class — during a high school summer school program.
"There are so many questions," Upham said. In a Wednesday Facebook Live video, he emphasized that parents who think their child won't be able to attend in-person schooling need to get in touch with their school principal or the Lincoln Center. 
On Friday, Upham seemed wary of measures like half-days or every-other-day schedules that would reduce daily student enrollment and make social distancing easier in schools. Such a schedule would "impact the home greatly," he said, and schools still lack the ability to control students' exposure to the virus outside of school hours. 
In an email to district staff, he said administrators "hope we can maintain a regular school day ... (but) we are exploring all options to improve space between students and staff."
At least one other AA school district is thinking seriously about modifying its schedule. 
In Bozeman, a 12-page draft reopening plan from the school district puts both half-days and every-other-day schedules on the table. It tabs a K-5 half-day schedule as a "preferred model," and floats the possibility of having high schoolers attend every third day in-person and work remotely the rest of the time. 
Bozeman's plan, while more detailed than anything Billings has released, isn't set in stone — the largest text in the document is the word "DRAFT," highlighted in red. 
In Bilings, Upham said that he hears "daily" questions from teachers and parents about reopening. 
"In the end," he said, "there's risk going back."