An explosion for Senior High science teacher Craig Beals was guaranteed on Tuesday. But whether that blast would demonstrate a working cannon mounted to the back of a Jeep, or simply blow the whole contraption to smithereens, was a fair question.
"People think I'm joking when I say this thing could blow up on the first shot," he said. "I'm not joking."
Beals and fellow Senior High science teacher Shaun Jones had spent the past three months working on building a bowling ball launcher that started as a simple cannon and snowballed into a jeep restoration with adjustable artillery.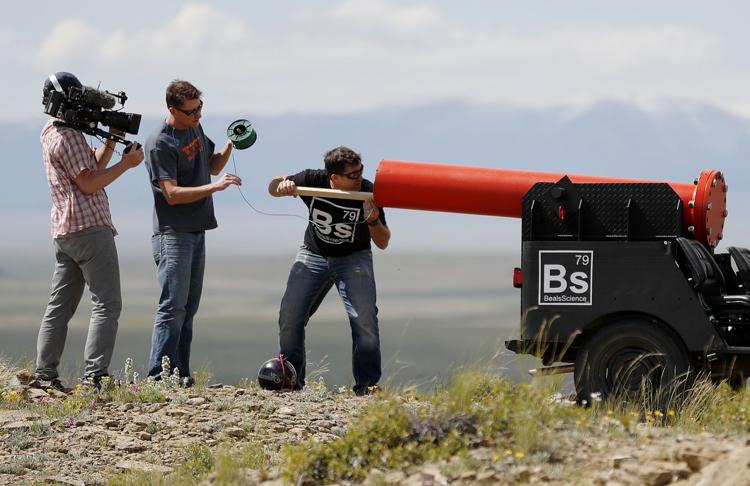 Beals has a well-established reputation for scientific, Bill Nye-esque stunts; he was featured in a History Channel television show in 2015 that included his first exposure to a bowling ball cannon.
"You could feel it in every part of your body," Beals said.
'Out of hand'
Beals began combing Craigslist for bowling balls. After he purchased a pair, family members asked for more on social media. Suddenly, he had ample ammo and external expectations.
"They're all like, we can't wait to see this," he said.
Beals reckoned he had the scientific know-how to operate a cannon, but not the technical skills to build it. Jones, however, could weld, bend pipe, do automotive work.
At first, the plan was to build a simple fixed cannon.
"This one got out of hand," Jones said.
The duo figured they needed an axle to move and adjust the cannon. At the scrapyard they visited, they found the axle, but right next to it sat a 1979 Mail Carrier Jeep. It was only an extra $100, and Jones swore he could have it running in two weeks.
He was true to his word, and the project was done in about three months.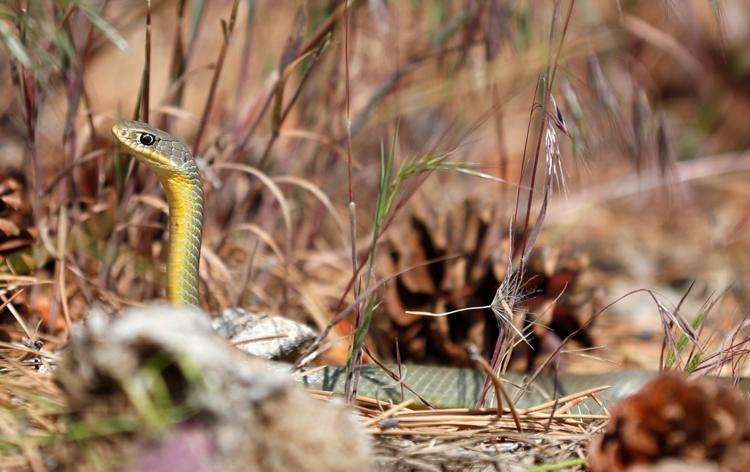 And so the two teachers headed north to Lavina on Tuesday afternoon, towing the jeep to ranch land owned by the family of Senior art teacher Houston Harmon.
As the dirt road gave way to only a tire-pressed grass track, the Jeep came off the trailer. Beals drove it along a final uphill stretch, bouncing over bumps like an unmoored buoy. Finally, the Jeep was backed up to the edge of a sandstone cliff overlooking a valley and the Crazy Mountains, with the Little Belts to the North.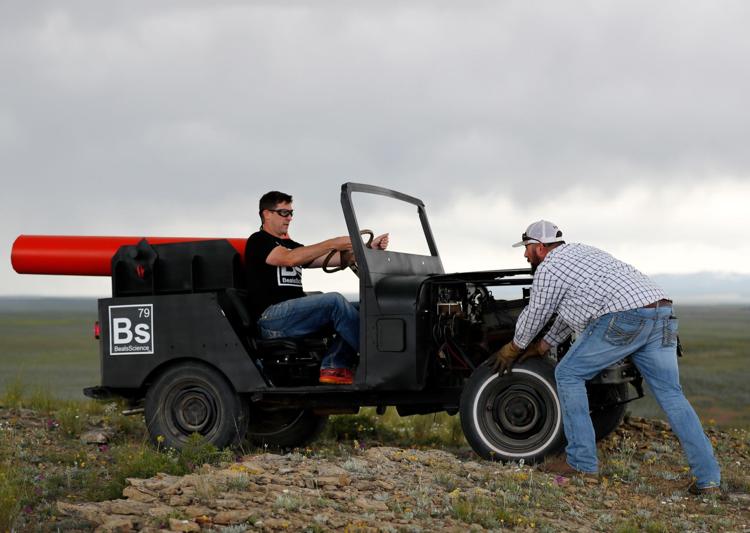 "If you could shoot off a cliff, why not?" Harmon said.
Preparations for the blast began, but first, Mother Nature would show off her own fireworks. A storm swept in, and Beals and Jones, perhaps feeling that Ben Franklin had the lightning experiments covered, ordered a retreat back to the trucks as thunder rolled and rain drummed.
The squall passed quickly, and the powder was still dry.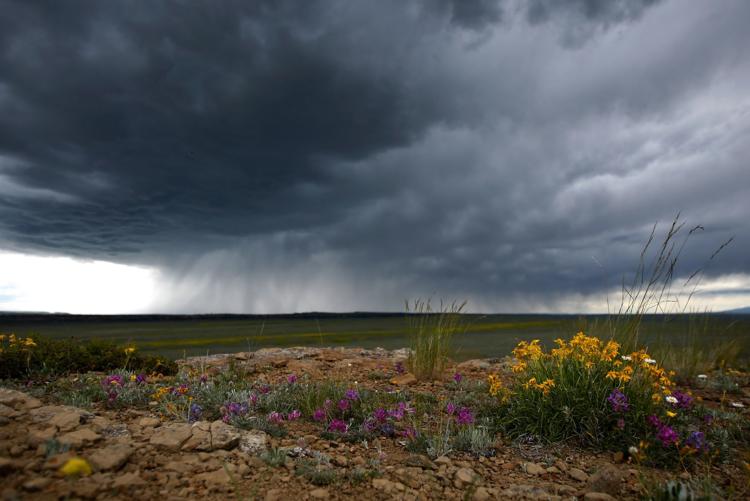 Beals and Jones got to preparing their first test, pouring a modest amount of black powder into a plastic food container — one that Beals' daughter pointed out was among his wife's favorite.
You have free articles remaining.
Here is where the science met up with the desire to blow stuff up; Beals explained that as the powder combusts, it changes into a gas and expands. That expansion expels whatever object is loaded into the cannon.
"(Eventually), the goal will be to talk about the science of what's going on," Beals said. He described plans to study the physics of the ball's flight, and try different propulsion methods — assuming the cannon didn't end up as shrapnel across Golden Valley County.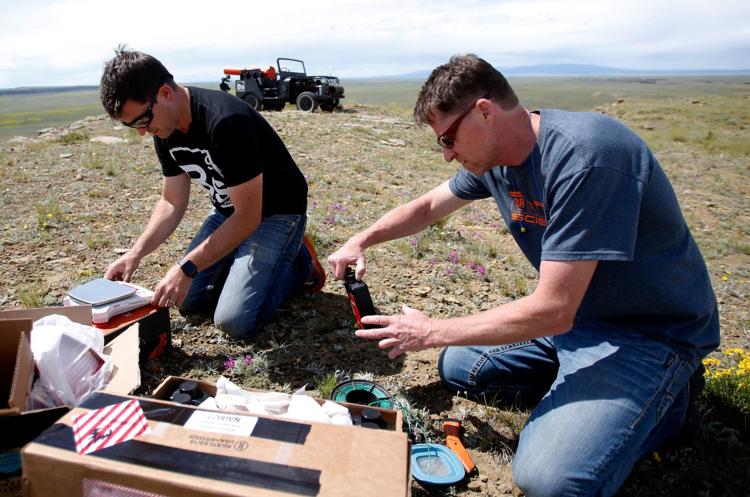 Beals also runs a YouTube channel and Instagram account under his own Beals Science moniker, and recorded video as he prepared the blast. The production company that worked on the TV show also filmed.
"I never saw the value, really, in all the YouTube stuff," as a younger teacher, he said. But he realized that it wasn't going away, and that it captivated kids. So he tries to use it.
"It piques their interest … to just try to get kids excited about science," he said.
Tuesday's question was whether it would get them excited about science or merely chortling at the smithereens of their teachers' pet project.
54 seconds
After some fanfare, Beals and Jones began packing the cannon. They didn't use a wrap to seal the ball perfectly with the tube, figuring that some air escaping would be OK. Rocks wedged against the Jeep wheels aimed to hold it in place against the cannon's recoil.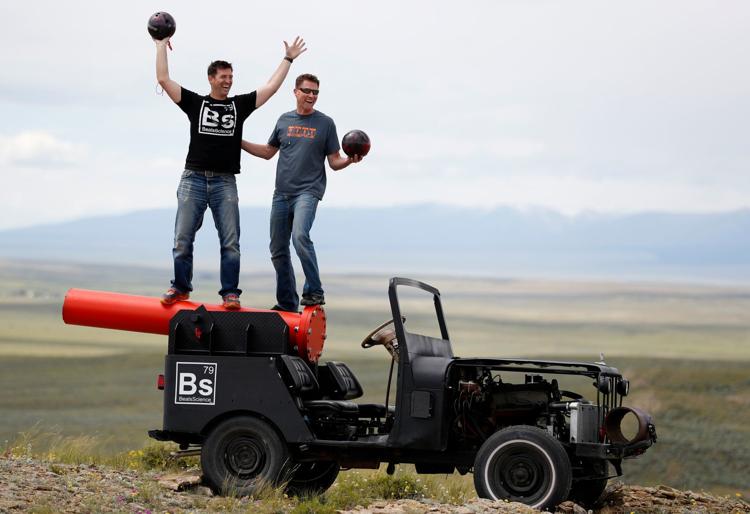 For the first shot, the cannon aimed just above parallel to the ground. Beals and Jones lit the fuse, figuring they had a solid minute before the cannon went off, and scampered back to a safe distance.
Sure enough, about 54 seconds later, the cannon boomed.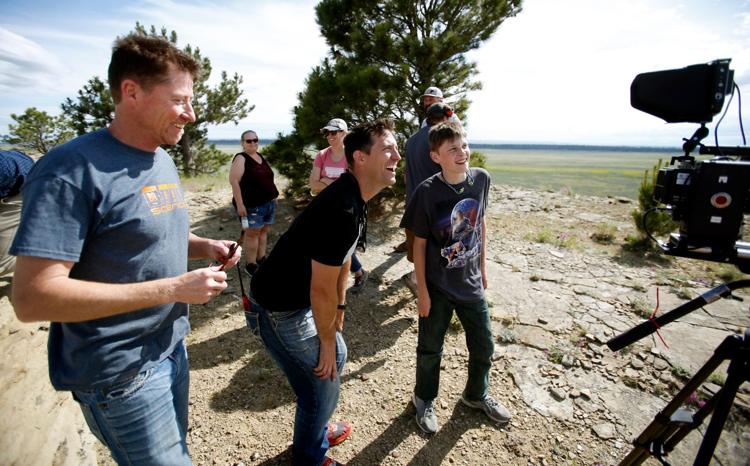 Not only did it remain in one piece, but it propelled the bowling ball 367 yards from the cliff's edge, according to a rangefinder. The blast seemed well within what the cannon could handle, perhaps even a little underwhelming, so Beals and Jones doubled the black powder for the next test.
"It's like I tell my students, if some is good, more is better," Beals said. "Then I remind my students that it's not really true in chemistry class."
They also cranked up the cannon angle, then lit the fuse.
The ball shot from a spew of fire and smoke like a home run, inducing a reaction of widespread "holy…"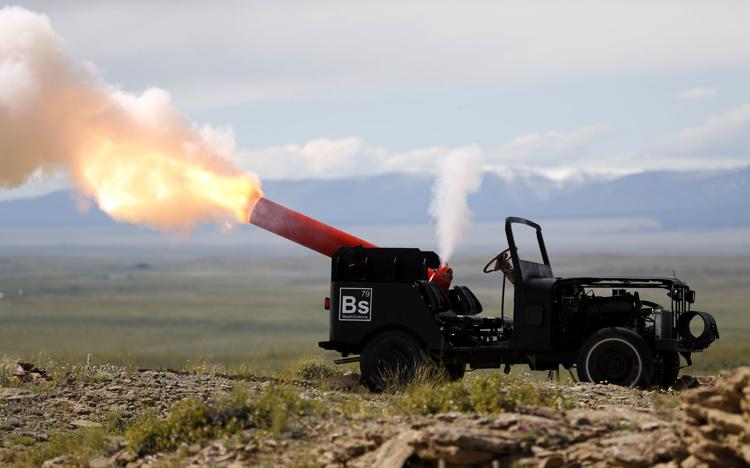 This. This was the cannon the Beals and Jones envisioned, launching projectiles beyond the measuring capabilities of rangefinders, dropping jaws of kids and adults.
"That was like what you see coming out of a ship," Jones said.
In the celebrations, Beals hadn't taken time to listen for the ball's flight.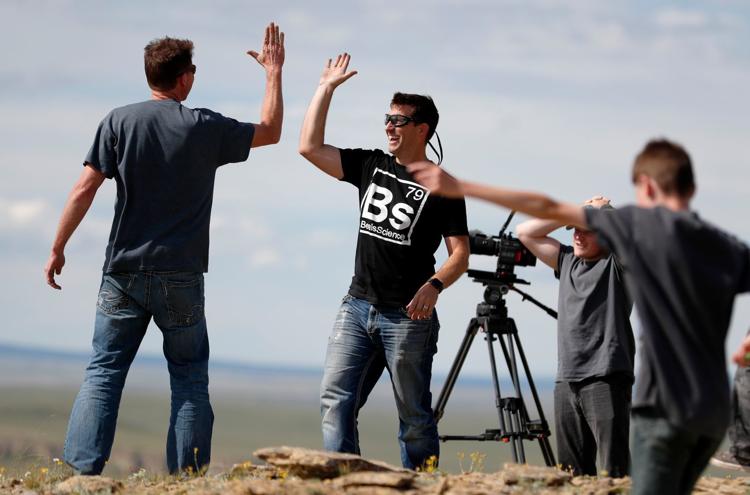 When he saw the Three Forks cannon — known to launch balls about two miles, he initially mistook the whistling of air over finger-holes for birds fleeing the flight of the ball. Not, perhaps, the best look for the TV science expert, but he was now determined to make his own projectiles sing.
The duo lined up another test with a similar payload. This time, after the initial boom, Beals leaned forward, quiet, then jumped in celebration like a victorious boxer.