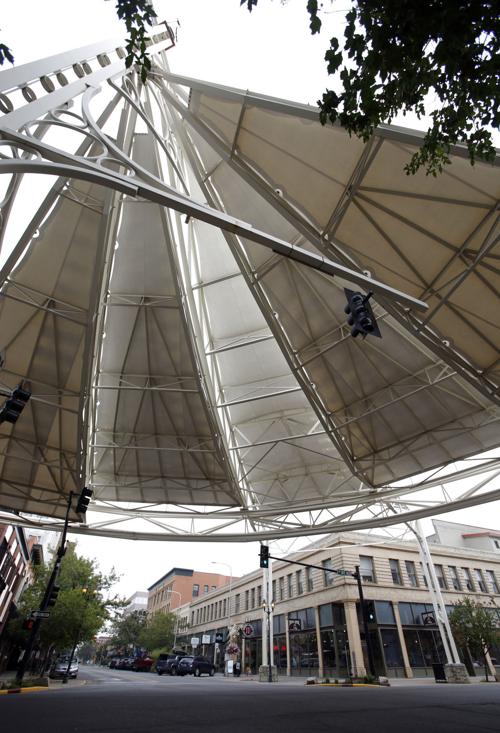 Efforts to keep downtown Billings clean and healthy, and to better assist the transient and homeless population, have gotten an important boost.
A public bathroom and hand-washing station open 24 hours a day will be set up downtown to offer an alternative to the public restrooms at the county courthouse, city hall and library. It will also help those who don't have regular access to other facilities. 
"This is a good step forward for downtown," said Billings City Council member Penny Ronning. 
City leaders, along with the downtown business community and the Downtown Billings Alliance, have long worked to create a solution to a problem that has left people urinating and defecating in parking lots, alleyways, sidewalk stoops and enclosed parking garages. 
The problem is a public health concern and can detract from the vibrant and welcoming atmosphere city officials and business leaders have tried to cultivate for the downtown district. 
The Downtown Billings Business Improvement District, which operates under the umbrella of the Downtown Billings Alliance, was allocated $117,715 in Community Development Block Grant funding from the city for equipment and supplies to develop the new downtown public restroom and hand-washing station.
"It's something that provides a sense of dignity and privacy," Ronning said.
Katy Easton, CEO for the DBA, is working closely with the city and said details for the project are on the way. 
The federal government makes available every year funding in the form of block grants designed to help cities undertake improvement projects designed to benefit low-income communities. 
Last year, the Community Development Block Grants were designed "exclusively to prevent, prepare for and respond to the coronavirus pandemic," according to city documents.
Billings received in total $909,126 in COVID-related Community Development Block Grant funding, 80% of which has to be spent over the next three years. As part of this year's grants, the Salvation Army received $55,000 to purchase food and trays for its Mobile Meals program.
A community assessment report compiled by AmeriCorps VISTA volunteers in Billings for the Community Development Board, which oversees the grant funding, helped identify pandemic-related funding priorities. 
Those priorities include areas of low-income assistance like rent, mental health care, meal distribution, mortgage payments, internet access, utility assistance and childcare.
The report also identified areas for improvements in the realm of public facilities, like handwashing stations, additional public restrooms and areas for cleaning, and infrastructure. It also identified ways to better support social service agencies and public health.
Restrooms open to the public and accessible 24 hours a day help address a number of those needs. For Ronning, it's an issue of treating a population that's often seen as a liability to downtown growth with the dignity they deserve. 
"They're human beings and they need access to facilities that offer them privacy," she said. She points out that those needs don't just manifest themselves during business hours. Access to a restroom that's open 24 hours a day will be huge, she said.
"This allows for greater accommodation," she said.  
Downtown revitalization efforts over the last two decades have transformed Montana Avenue and Broadway, and new growth is now happening along Minnesota Avenue and a number of streets along the downtown corridor.
Officials see creating a space where anyone can access a restroom as a benefit to revitalization efforts for downtown. The next steps for the DBA will be figuring out just where to establish the restroom and how best to set it up.