A Billings woman who was reportedly driving erratically Saturday afternoon on Lewis Avenue was taken to the hospital with minor injuries after colliding head-on with another vehicle and then crashing into a house about three blocks away, according to Billings police.
The other driver, who was in a Toyota SUV, was taken by private vehicle to a hospital as a precaution but didn't appear to be injured, Billings Police Sgt. Harley Cagle said.
The woman "was acting pretty erratically when she got out" of the car, Cagle said, and will be evaluated for possibly driving under the influence of drugs or alcohol.
Police first received a report that the woman had crashed into the house on the 100 block of Lewis Avenue, Cagle said. Subsequent calls to police reported that a car matching the description of her black Chevrolet SUV had been seen speeding down the street and swerving as it headed east, he said.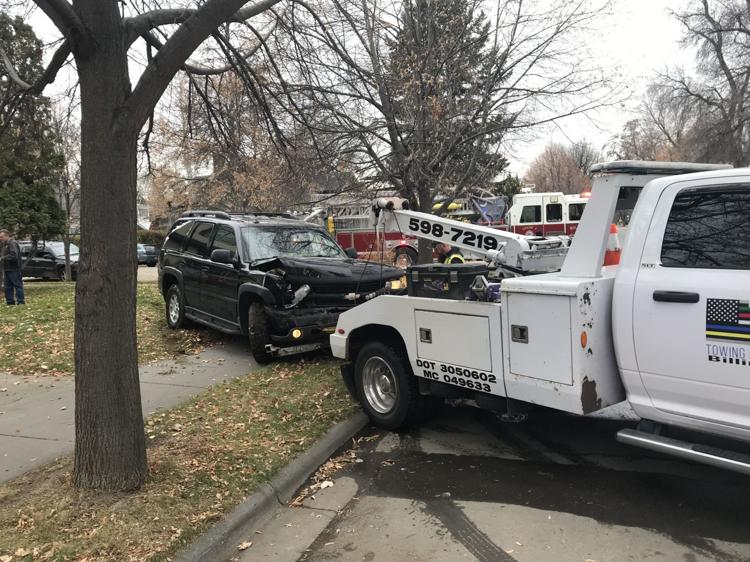 You have free articles remaining.
"A female driver swerved to miss a head-on (collision) but still got crunched pretty bad," Cagle said, referring to the initial crash on either the 300 or 400 block of Lewis Avenue.
"When I got here there were three or four witnesses that saw everything," he added, standing in front of the house that was struck.
The home appeared to have only minor damage to the exterior. Muddy tire tracks had been carved into the grass in the front yard, and brickwork and plants had been upturned and scattered near a garden under the house's front window.
No one was injured when the SUV struck the house, Cagle said.
The Billings Fire Department and ambulances also responded to the incidents.