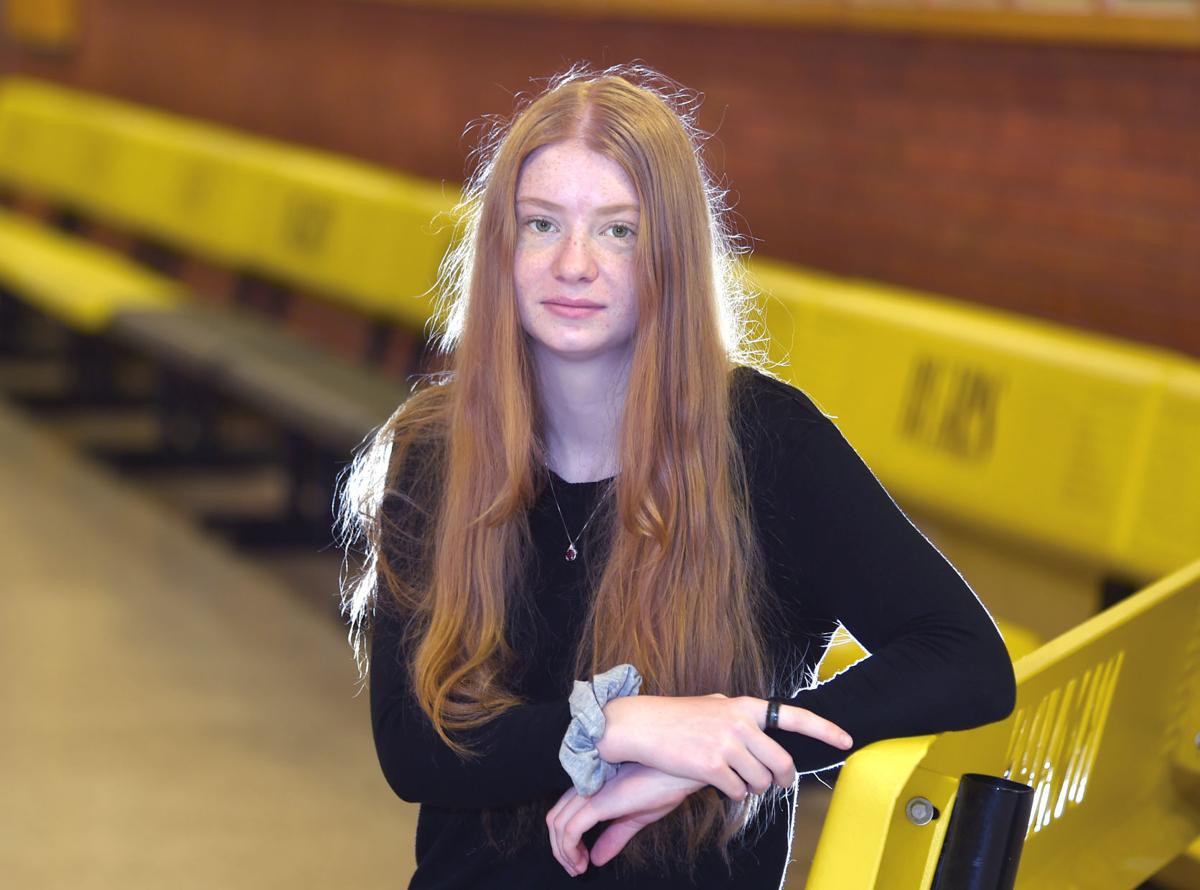 Graduating at the end of May was a relief for Rachel Hood, who spent her high school years balancing the task of getting a degree with the reality of needing to keep a roof over her head and having to work nights to do it. 
In recent years Billings Public Schools has averaged between 450 and 500 confirmed homeless students each school year. 
Off and on during her four years at Billings West High School, Hood was one of them. 
"I don't work for pocket money," she said of her night shift fast food job. "I work for grocery money, rent, a place to live."
Hood sees herself as a relatively private person. She guessed that most of her classmates didn't know what her life was like, a belief echoed by some of the teachers she feels have been in her corner during her time at West. 
"A lot of people would have thrown in the towel and said this is too much, at any age, let alone as a teenager," said Kelly Darragh, a social studies teacher and boys basketball coach at West who taught Hood in two classes.
In the days leading up to graduation last month Hood shared some of her experiences. She also emphasized that hers is not a unique story nor is it one that supports the stereotype she's heard that presents Billings West as a school for the rich. She's aware of other homeless students at West, some of whom she can tell are homeless just by looking at what they bring to school.
 "I feel like nobody's paying attention to the homeless population," she said. "You have kids staying in shelters right now."
For the 2020 to 2021 school year, 468 students were counted as homeless in Billings Public Schools, according to Sue Runkle, the homeless education liaison for Billings Public Schools. That number represents a cumulative tally over the course of the year and is not adjusted downward if a student ends up in a fixed residence.  
Runkle said that alongside things like ensuring homeless students can keep attending the school they were in before their living situation changed, she also does community outreach and presentations. Some of that has been limited by pandemic precautions. 
"You know we have a very good community that are very caring and support our kids when they are aware of that situation," Runkle said. "But I know that there's probably people out there that unless you hear it several times or you know someone in that situation, a lot of times it goes in one ear and out the other."
High school wasn't the first time in her life she was homeless, Hood said, adding that her past experiences actually made it easier for her to adjust. Hood said that some of her teachers didn't seem to care about her beyond the fact that she was a student in their class, leaving her feeling outnumbered at times. She thought about dropping out her sophomore year but kept going in part to prove wrong the teachers she believes doubted her.
There were teachers she said supported her and got to know her and understand her life. One of those teachers is Darragh. Another is English teacher Matthew Rockeman. Both had Hood in class during particularly difficult times in her life. As a freshman in Rockeman's class Hood said she left school briefly after a loved one in Utah died of cancer. She was in Darragh's class sophomore year when she said unforeseen circumstances left her caring for a relative's child through her junior year.
The responsibilities Hood took on limited her opportunities to do things like play sports. "I definitely wanted to play sports," she said. "But it's kind of hard to do when you have to go to work right after school."
Her outlook despite what she has lived through is something that gives Rockeman confidence in her. 
"I'm not worried about her. As far as I'm concerned she's already successful," Rockeman said. "She would have been successful whether or not she walked over that stage. Whether or not she had a diploma in her hand. She's already shown her ability to handle life in a way that's beneficial to her without hurting other people."
Hood would visit Rockeman frequently over her years at West. The teacher often had a cup of coffee for her. Working shifts that stretch well after midnight, a cup of coffee is something Hood appreciates. She's pulled 30 to 40 hour work weeks for three years, she said. Getting off before midnight during the school week was rarely an option and some nights her shift would end at 4:30 a.m. Catching up with Rockeman was also a way to wait out the mad rush of traffic from the West parking lot after the school day ended.
"Honestly I would consider him one of the best teachers in this school," Hood said. "He treats them(students) like human beings."
Looking ahead, Hood said she's interested in attending a police academy and going into law enforcement. It's been something she's thought about increasingly over the last few years. She believes she can be a good police officer and said she knows the profession needs good people. Part of her teenage years were spent in Utah.
"I'm not from Montana, as a younger kid, I had just bad incidents with police officers," she said. 
Like Rockeman, Darragh is confident in Hood. The social studies teacher downplayed his role in supporting her and instead emphasized how much credit he thinks she deserves.
"When you have someone like Rachel it makes you kind of excited and happy that you feel like you can help out in some small little way. I'll be honest I don't know how much I really helped. I think it was just one of those things where I was someone who was willing to listen to her. I just loved visiting with her. My class she sat right by my desk and we would have conversations," he said. "I don't know how to explain it but she's the farthest from a typical teenager that I've ever seen. She is wise beyond her years and she's gonna make it and she's going to be very successful in this world."
If Nevaeh Askin hadn't discovered the Career Center at the recommendation of a Skyview High School counselor her freshman year, the senior doe…