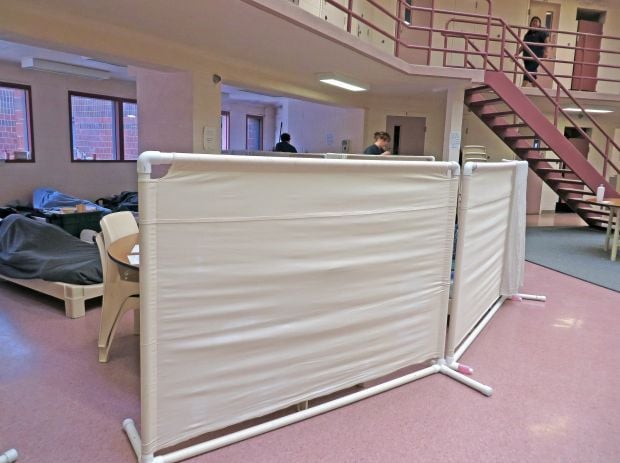 A proposal to build a new, 148-bed women's housing unit and make upgrades to the overcrowded Yellowstone County jail remained on track Thursday as officials refined a funding package for the plan.
The plan does not involve a property tax increase.
County commissioners are expected to ask voters in the June 7 primary election to approve an increase in the county's borrowing limit from $2 million to $9.7 million. State law caps the borrowing limit at $2 million unless voters approve a greater amount.
If authorized, the county would combine the borrowed $9.7 million with about $7.8 million from existing county funds to pay for the expansion and improvements, estimated at $16.8 million.
The loan would be repaid at $750,000 a year for 20 years, said Kevan Bryan, finance director.
Last week, the commission approved seeking voter approval for increasing its borrowing limit and set up a schedule for getting the measure on the June 7 ballot.
The commission is expected to adopt a resolution of intent and to hold a public hearing at its March 8 meeting.
During a Thursday discussion meeting with commissioners, the sheriff, jail commander and other county officials, Bryan reviewed the projected costs and revenues for improvements at the 28-year-old jail.
A new 148-bed women's unit will cost an estimated $9.95 million, he said.
Bryan also identified five projects totaling $9.75 million in improvements for the building. But he recommended putting on the back burner a new roof, estimated at $1.85 million, and a booking room remodel, estimated at $1 million.
That would bring proposed improvements to about $6.9 million, which would pay for housing unit upgrades for $2 million, a new kitchen and laundry for $3.9 million and other miscellaneous needs for $1 million.
The revenue to pay for the project would come from capital improvement and reserve funds in the general and public safety funds along with a general fund contribution.
The borrowing plan is the latest attempt by county officials to address chronic overcrowding in the women's unit and to upgrade the aging building.
Last year, voters rejected a jail expansion plan that called for a property tax increase.
The women's unit has 38 cells but recently hit a high of 101 female inmates. The overflow prisoners sleep on beds on the floor in a portion of the dayroom that is curtained by canvas screens.
County officials have acknowledged that women inmates are not being treated equally as the male prisoners.
"Folks, they're sleeping on the floor. That's inherently wrong," said Commissioner Jim Reno.
"That's been the picture we've been painting for the last four years," responded Sheriff Mike Linder.
Overall, the jail has about 500 inmates packed into a building designed to house 286 inmates.
County officials also discussed a recurring issue of why they don't send inmates to the Two Rivers Regional Detention Facility, a privately run jail in Hardin.
Hardin jail officials recently offered to house Yellowstone County's inmates for $68 a day. The Hardin jail has been mostly empty since opening in 2007.
Dan Schwarz, Yellowstone County's chief civil deputy attorney, said it would cost the county $2.4 million a year to send 100 inmates Hardin and result in minor saving in food and medical costs.
In addition, the county would have paid for a new facility in about five years with the $12 million it would be spending for rent in Hardin, he said.
The county also does not want to lose all of its contract prisoners because revenue from housing inmates for the state, federal and local counties brings in about $3 million a year and helps pay for operations, Schwarz said.