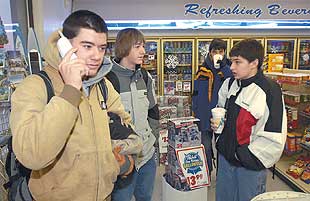 It may be several weeks before investigators can determine what caused a school bus accident that sent nine students to the hospital, Montana Highway Patrol Sgt. Scott Ayers said Friday.
The accident happened shortly after 7 a.m. Thursday when a First Student Inc. bus went off U.S. Highway 87 East and down an embankment before it came to rest on its side. The bus was carrying students from Lockwood to Senior High.
Nine of the students aboard the bus were taken to the hospital, but no serious injuries were reported.
Dennis Holmes, the associate principal at Senior, said most of the students involved in the accident were in school Friday. A few decided to stay home to nurse bumps, bruises and sore muscles, he said, and will be given a medical excuse for their absence.
A representative from First Student was at the school Friday to interview students about the accident, Holmes said. Those students who returned to school are doinag well, he said.
"The kids seem to be pretty good at getting back in the swing of things," Holmes said.
It remains unclear what caused the accident.
Ayers identified the bus driver as 59-year-old Korki Goldsberry, of Lockwood. She has not been cited, Ayers said. When the investigation is complete, the report will be reviewed by the Yellowstone County Attorney's Office, he said.
Cal Hull, senior regional vice president for First Student, described Goldsberry as a "very long-term, very experienced driver."
Some evidence has been sent to the state crime lab, Ayers said. It could be several weeks before the results of the tests are available.
A state vehicle inspector also examined the bus on Thursday, Ayers said.
Cull said First Student is still in the process of investigating the accident and he did not have a conclusive response, at this point, as to what happened.