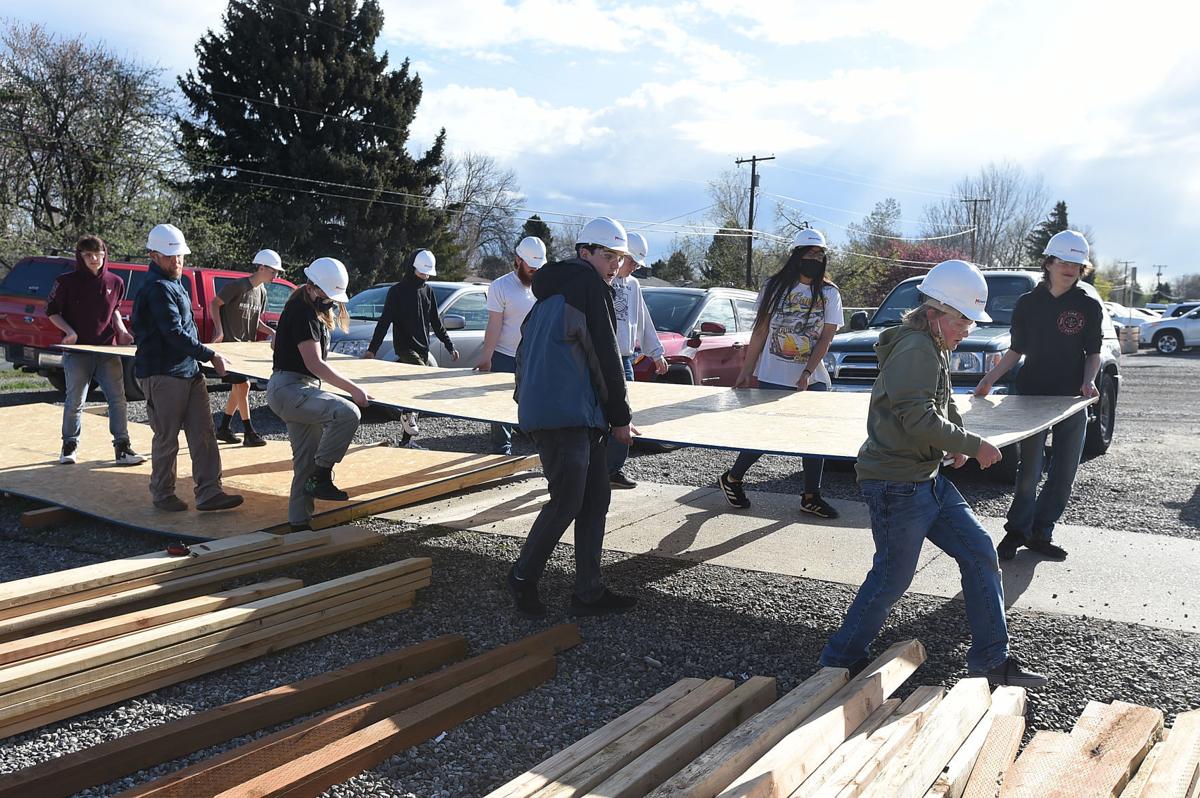 This story has been updated to correct the name of one of the donors to this project. It is the Home Builders Association of Billings.
Students in shop teacher Derrick MacAskill's classes say they get plenty of questions from their peers about what they're building near the Billings West High School parking lot.
For months, a cabin has been rising piece by piece on a small patch of gravel at the back of the lot.
When the cabin is completed, it will be shipped off to Chief Plenty Coups State Park for Montana Fish, Wildlife and Parks and replace an old camper used to house AmeriCorps volunteers. 
The timeline right now has the cabin completely enclosed with windows and doors by early June. In the fall, students will get back to work on plumbing, electrical and interior work.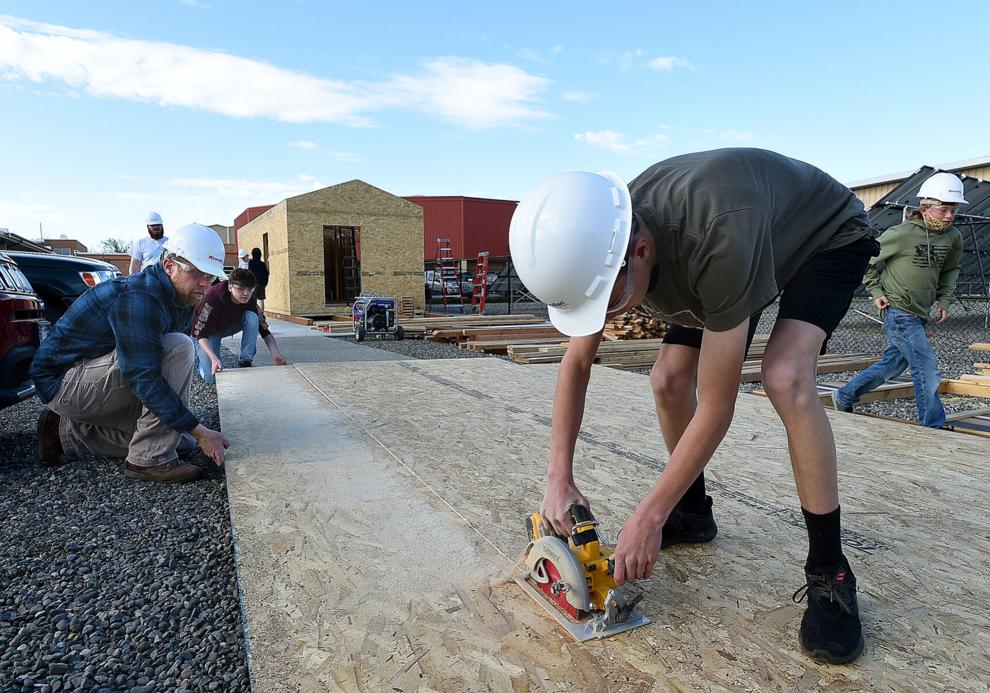 The West High project isn't the only option in Billings Public Schools. At the Billings Career Center, coursework can also give students a chance to work on building a house. 
MacAskill said shop teachers in the district were encouraged last year to help students move into the Career Center or transition more smoothly into jobs or internships related to construction trades.
"Because where are all of these students going that are not going to college?" he said. 
MacAskill has been working at Billings West for about three years. He's a master electrician who had previously taught at City College. The idea for the cabin project came to MacAskill after talking with a teacher at Columbus High School who told him that students there build cabins for staff at Glacier National Park. 
David Merrick, a 17-year-old senior, says he knows he's going to go into this line of work and already has experience working alongside his father, who he said runs a construction business that specializes in cabinetry. 
"I'd say the best part is seeing the progress in your work," Merrick said. "Because there's a lot of jobs you can go and get that are paying hourly and stuff that you don't really see the progress but when you're working and every day you come back and there's new things added on, it's a good feeling to come into work and see that."
The project has also attracted students with different goals, like Shaun Honcoop. Also a 17-year-old senior, Honcoop said he sees law school in his future. He's worked as a teaching assistant for MacAskill and said he's helped design electrical plans and work on other logistical aspects of the project.
"Even if it's not people that are looking at going into a trade, I'd say just get the experience," he said. "It's a good hands-on experience and you get to learn a nice thing."
He said he got involved in these classes because he figured later in life he might need some of these skills for something like building a cabinet.
"Now it's like 'Oh, hey, if I actually need to frame out an entire room, I can actually do that.' And I actually have done that and finished our entire basement in our house," he said.
In between Honcoop and Merrick are students like Jaxson Brandt. A 17-year-old junior, Brandt said his goal is to play college baseball. He's not sure what would come after that but is certain about a few things.
"I definitely don't want to work a desk job," he said.
Brandt has taken multiple classes with MacAskill, taking on more complicated and involved projects. First-year students start off doing woodworking and learning how to safely use machinery. From there classes like Building Tech 2 and Construction Trades offer a chance to learn things like framing walls and running electrical wires.
Before the cabin, students had a chance to build a mock wild West town for Wild Rose Paintball in Acton.
Partnerships with local businesses have been a cornerstone of the endeavor. MacAskill said early on he spent his planning periods cold calling local businesses gauging interest in supporting the cabin project. 
The design was done by Doug Wild with Classic Design Homes and Wild participated in instructional Zoom sessions with students. The spray-foam floor was donated by Billings Insulation Services. The Home Builders Association of Billings has been the major source of funding and MacAskill said The Home Depot has offered discounts on supplies. Montana Fish, Wildlife & Parks has contributed to helping the project. MacAskill estimated all the donations have helped reduce the cost by thousands of dollars.
The cabin project spans multiple classes and like most group projects involves people with a variety of skills and interest levels. It's something students have had to work through as they try to make the cabin a reality.
Merrick said he was involved in teaching framing to younger students, who sometimes struggled.
"What intimidates them mainly is the nail guns," he said. "And then they underestimate the weight of the wall, for sure, like when we're lifting it. That's always a challenge for people, like knowing the balance of it," he said.
Brandt has learned that not everyone is equally enthusiastic when it comes to cleaning up the job site. 
As MacAskill tries to lead students to the finish line his mantra is "be kind."
And it's gotten through to students. Merrick described MacAskill as "very understanding" and interested in making sure students are ready and "good to go" before taking on a task.
And of course MacAskill's habit of bringing in donuts on Fridays also builds some goodwill. It's appreciated, especially considering students spent some of their time working on the cabin outside in the winter, although they did transition into working inside West High when February temperatures dropped especially low.
"I kind of see it more as a family-type group, because we all help each other out," Honcoop said.