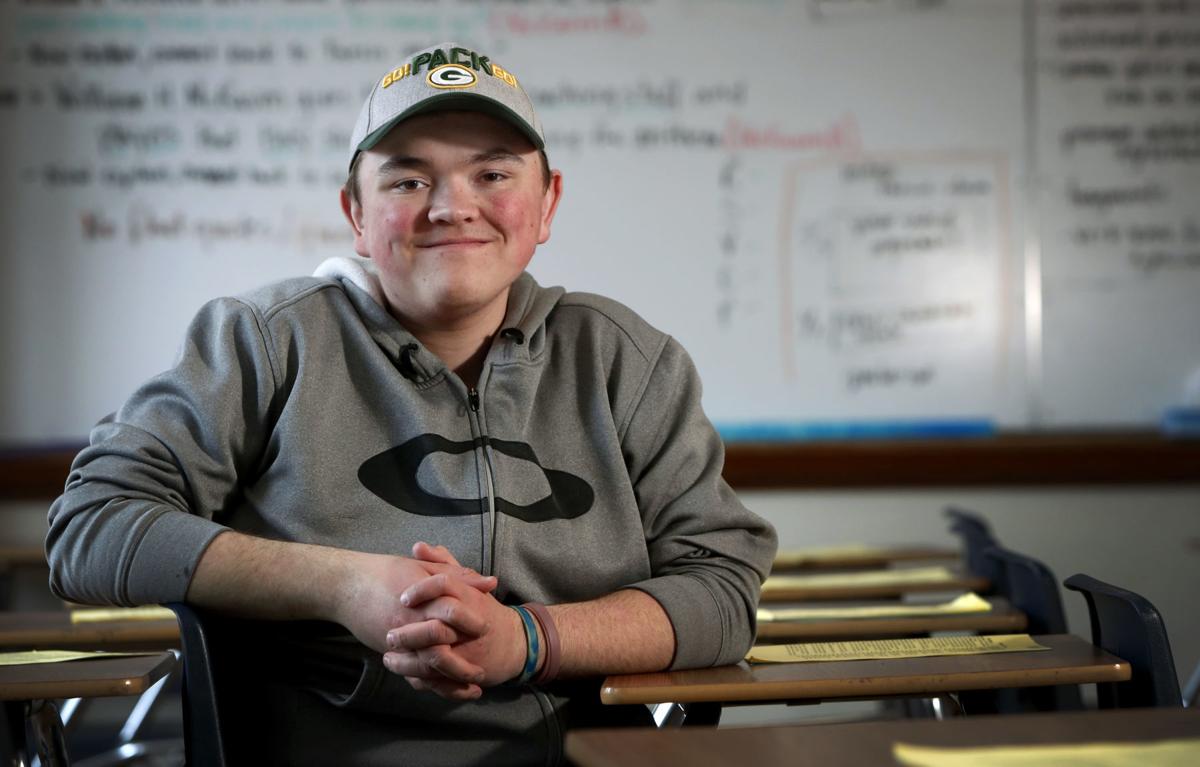 Hunter Cotton's grandma gave him some repeated advice: "No matter what's happening, you've got to push through it."
There's been a lot for Cotton to push through. He was diagnosed with Hodkins Lymphoma at age 5, a rare age for the cancer. He's battled depression and anxiety amid family struggles, including his grandmother's death.
But Cotton hasn't just learned how to persevere — he wants to help others do the same someday.
"Hopefully I'll be able to be that teacher that helps students get over that hump and back into school," he said.
Cotton plans to attend Montana State University Billings next year to study education with the goal of teaching social studies, the next step in a turnaround that began across the country.
Growing up
Cotton was born in Anaconda, but has moved a lot — to Utah, to Louisiana, and finally back to Montana last school year. He spent time in Washington while being treated for cancer, staying at the Ronald McDonald House in Spokane.
He's been in remission for 12 years now, but he'll have yearly checkups for the rest of his life.
He missed massive chunks of school. When he returned, he found the social adjustment just as hard to deal with as the academic one.
"That first year is really important with how to make friends," he said.
Subsequent moves didn't help. But Cotton had a stable stop at his grandma's in Dillon each summer.
He recalls helping her plant her garden and taking bike rides to McDonald's for ice cream. He also recalls how she valued education.
"I always made a promise to her that I would go to college," he said.
Education wasn't always a high value for his family; his dad dropped out of high school. And Cotton often struggled to connect with school, finding little value in "boring" academic material.
He struggled with depression when his parents divorced. But he also got help, and approached his mom about how he was feeling. She helped him get into counseling, where he learned skills to help him cope with depression.
But he slid back down when his grandmother died during his freshman year.
"I got the feeling, 'why did my grandma go but not me?'" he said. "I felt like I was useless at that time."
At school in Louisiana, he wasn't on the track to keep his college promise to his grandma. But he begin to turn a corner.
The school relied on a proficiency-based approach; when students finished packets of work, they were able to advance. It wasn't an approach that resonated with Cotton.
But Cotton's homeroom teacher helped him learn not just to read through information, but to put himself in the scenario he was reading about.
"I kind of figured out what they would be going through," Cotton said.
That approach has carried over to relationships with others.
"Even if they've got a smile on their face, you don't know what they're going through during that day," he said. "It doesn't matter if they're poor or if they're rich, they're a person."
Billings
At Senior, Cotton continued to grow. He made friends, built new relationships, and doubled down on school.
"He'd miss a day of school and apologize," said Senior English teacher Adam Restad. "He'd be one who was actively working through the positives in what we were doing."
Cotton still describes himself as having "somewhat beaten" depression and anxiety. He likes to keep his mind busy with activities like tying flies — he relishes all types of fishing — and focusing on school while working a part-time job.
During a study hall-type period he has this semester, he often works on filling out scholarship applications. He plans to pay for his education on his own. 
The value of education is something that's grown in importance for him, and is something he'd point to for others struggling to connect with course work. 
"I'd try to stress how important school actually is," he said. "I would tell them, 'Don't look at how you feel now. Look at your future.'"
Pete Senger, a Senior social studies teacher, called Cotton "the type of kid you want in class."
Senger knew Cotton had moved around the country, but didn't know about any health struggles.
"He never showed them," Senger said. "He must be really driven to succeed and not let anything interfere with his life."
You could say he's pushed through.