Tauna Jeffery and Kelsey Skogen work in a cutting-edge scientific environment. As nurses at Billings Clinic in the research department, they care for patients involved in clinical trials for drugs not yet on the market. 
They have to be well-versed in topics like pharmacology and anatomy, but there are major parts of their job that go beyond medical knowledge, the duo told students at Skyview High on Friday. 
"If you don't like working with people, this is not the job for you," Skogen said. 
Each science and math class hosted speakers from job fields that fit into the STEAM acronym (science, technology, engineering, arts and math). Presenters ranged from health care workers to mining engineers to FBI personnel. 
"It definitely connects students to something real, something tangible," said Skyview science teacher Jehremy Felig. "(Professionals) know what steps students need to take in order to make their goals and dream a reality."
And in some cases, "it give students exposure to things they've never even heard of before," he said. 
For Skogen and Jeffery, it was a little bit of both. The group of students they spoke to, ranging from freshman to juniors, was definitely aware of the nursing field — almost half the class said they were interested in the career. 
But they were less aware about the depth within the profession, from different levels of nursing education (Jeffery is pursing a nurse practitioner certification and has a master's degree) to different avenues of work, like emergency rooms or research or public health. 
Skogen talked about a nurse friend who can't stand being around blood — something that would seem to be a problem in health care. But she works for a public health agency. 
"She doesn't work with bloody patients anymore," she said. 
One thing that younger students found particularly valuable was the duo's knowledge about earning their degrees.
"It shows you how much work you really have to put into it," said freshman Kristen Robertson. 
Jeffery didn't plan on going into nursing after graduating from Laurel. Instead, she was studying business and working for a title company. But the company was going under. 
"I was freaking out, what am I going to do for work?" she said. 
A friend recommended that she become a Certified Nursing Assistant, or CNA. Jeffery stumbled upon a career that she loved. 
They also recommended working as a CNA to gain experience and sample the field, and potentially as a foot in the door to a specific area of practice. 
"You're really down and dirty in there, and you're working closely with other nurses too," Jeffery said. 
One student in the class is taking a CNA course at the Career Center that's designed to prepare students for the field's certification exam. She was nervous about the test. 
"I wouldn't be too worried about it," Jeffery said. "You're gonna stress about it, but you'll do well."
Both nurses recommended that students start planning for college early, as nursing programs are typically competitive. Stocking up on science classes in high school can help, they said, especially any about human biology.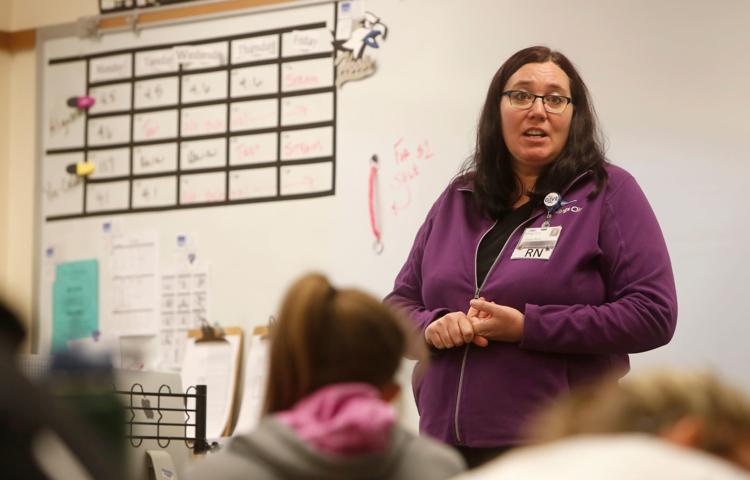 But they also emphasized skills like adaptability and critical thinking, going back to their emphasis on working with patients. 
"You have a ton of great patients, but there are some difficult ones," Skogen said. 
For freshman Mimi Woosley, that point is a major driver of her interest in nursing. 
"I like working with people," she said.