Diann Wolfraven used to pride herself on her house and her yard at 226 Jefferson St.
She'd spend hours working on the interior or the exterior of her South Side home, and often got compliments on its appearance.
"It used to look spotless," she said Wednesday morning. "I was always outside working."
But a head injury a number of years ago that left her with a traumatic brain injury and PTSD made it difficult for her physically and financially to continue its upkeep. The grass grew high in her front and back yards, the window screens were in bad shape and the exterior needed a new coat of paint.
All that is changing this week, with help from some new friends. Ten teens and two adults, all volunteers with Catholic HEART Workcamp, are spending four days pulling weeds, power-washing, scraping and repainting the house and replacing the front screens.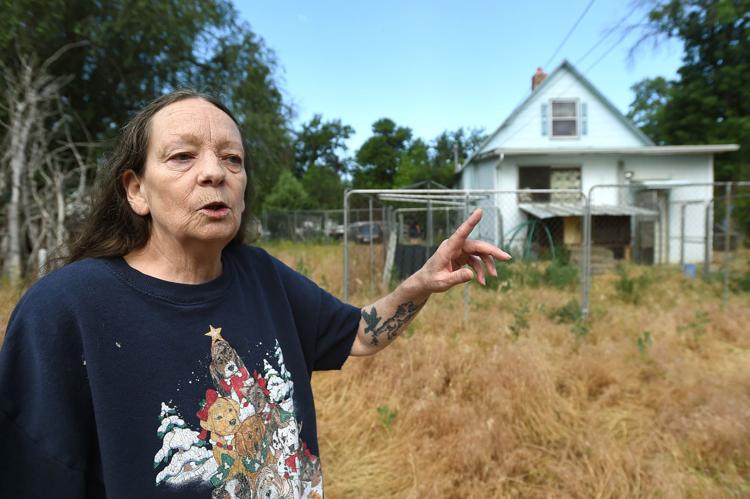 "The kids are awesome," Wolfraven said, as the teens and adults worked outside. "I can't say enough about them."
The home renovation is one of 30 projects in Billings that 219 volunteers from all over the United States are tackling for four days this week, said Jodi Gilligan, co-camp manager. Gilligan, who lives in Billings, has helped to coordinate the six years the volunteers have come to Billings.
Altogether, more than 13,000 youth and adults will take part in 49 camps in cities this summer in the U.S. and elsewhere, Gilligan said.
"It's about being the hands and feet of Christ," she said.
The efforts transform not only homes, but the people who own them and the volunteers who do the work, Gilligan added. In addition to working on 23 homes, the Catholic HEART Workcamp volunteers are also aiding a number of agencies, including Family Service, Community Day Care, St. Vincent de Paul, the Montana Rescue Mission and the Billings Food Bank.
Other agencies, including Big Sky Senior Services, Adult Resource Alliance of Yellowstone County and Rebuilding Together, provided the names of people who needed a helping hand. And that's how Wolfraven got the help she needed.
"It's a blessing to have the opportunity to work with these residents," Gilligan said.
Dave Knoepfle, the other co-camp manager, arrived in Billings on Sunday from Springfield, Illinois. While Killigan is overseeing the projects, Knoepfle is in charge of the logistics of housing and feeding the volunteers, all who are staying at Lockwood Middle School.
"We have groups from Idaho, Wisconsin, Michigan, Texas and New York," Knoepfle said. "Sometimes a group of three neighborhood parishes will rent one bus and go together."
The groups of youth, accompanied by the adult chaperones, are split up so that the teens can work with others they didn't come with. That's a nice way to meet new people, he said.
After morning Mass, the groups work Tuesday through Friday at their project sites from about 9 a.m. to 3 p.m., with a lunch break. After they get back to the school and eat, they get to enjoy a multi-media presentation to keep them enthused.
You have free articles remaining.
"It's a Catholic organization so there's a lot of faith-based stuff going on, as well as a lot of funny skits, with adults and campers involved," Knoepfle said.
Having been to seven camps, he continues to be impressed by the hard work done by the youth.
"To see people working their tails off doing really hard labor, painting, landscaping, cleaning and asking nothing in return, I get choked up," he said. "I never get tired of it."
Over at Wolfraven's house, Liam O'Shea, 15, of Cokato, Minnesota, took a break from ridding the yard of weeds and overgrown grass. This year was his first with the camp, and in addition to his church affiliation, Liam said he could earn up to 30 hours of service toward a Boy Scout badge.
But he also enjoyed the experience of getting together with the other campers.
"Hanging out with good people and doing something that changes someone's life for the better makes you feel good inside," he said.
Chaperone Jerry Galluzzo of Syracuse, New York, came to the camp with son Nate, 16, and daughter Maria, 17. It was Galluzzo's first time, influenced to come by his son.
"He did it last year without us, and he came back and couldn't say enough about it," Galluzzo said. "And I had to see what it was all about, and I'm finding out it's great."
He arrived with a contingent of 19 kids and six adults. The group flew into Denver and then drove up to Billings.
Galluzzo called the week a time to be immersed in his faith and to share it with others.
"You can keep it all to yourself or you can give it to others, and that's what we're doing," he said. "We're giving this to others, and it's a great thing."
Over at 226 Avenue F, another group of campers and chaperones were busy Wednesday morning painting Joseph Staigmiller's house. Staigmiller, who is battling cancer, doesn't have the ability to undertake such a mammoth project.
Elizabeth Oczkowski, a chaperone from Syracuse, enjoys interacting with the homeowners she's helped.
"That means so much because you really get to know them and establish a relationship with them," said Oczkowski, who was back for her third camp. "And then meeting kids from all over, it's just so awesome."
Emily Gelb, 16, of Colorado Springs, Colorado, came to camp this summer for the fourth time. She has enjoyed making friendships that last beyond the camps.
And she likes making a difference.
"It's touching to see the joy on their faces when we make that first little bit of progress," Gelb said. "And by the end of the week, it tugs on your heartstrings to see how much you can do in such a little time and what the impact can be for years to come."