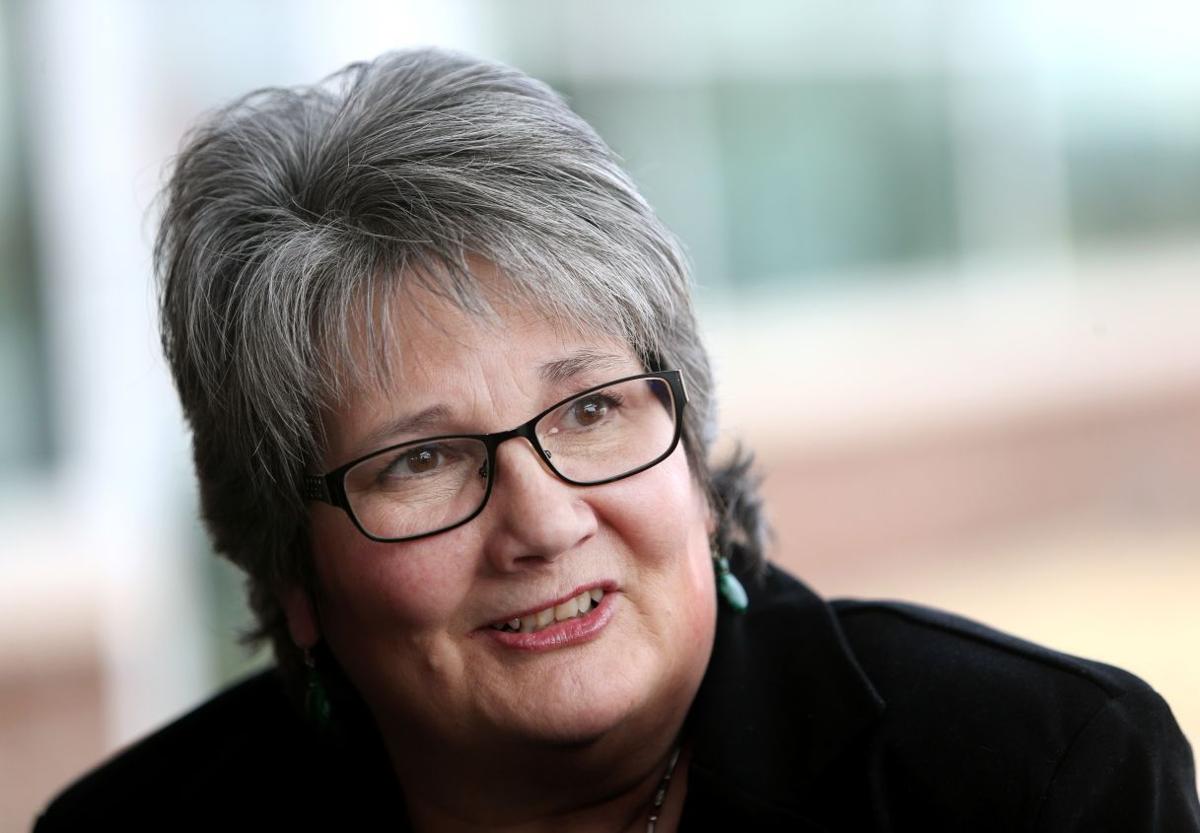 Nancy Moore learned in 2003 that she had multiple sclerosis.
She'd been a longtime hairdresser, and at one point she started to feel some numbness in her hands while working. She thought it might be carpal tunnel syndrome. Her doctor suggested she see a neurologist, and the diagnosis came.
"What hasn't it affected?" said Moore, 56. "It's affected everything about my life."
She soon hung up a 23-year career. The symptoms worsened, followed by more prescription medicines and nauseating procedures.
There were up to five disease-modifying drugs, pain medications, five-day courses of steroid IVs and some chemotherapy. It wiped her out financially — as much as $6,000 per month, she said. Early on, when she was still working, she'd start her weekend with a disease modifier shot on Friday. That would give her flu-like symptoms through the weekend. That was her weekly routine for a year.
Other meds would make the next 24 hours difficult.
"If I took them at night, I would just be wiped out the next day," she said.
Today, she's been off disease-modifying medications for three years. And though it's been a tricky subject with some of her friends and family, Moore said that she's "coming out" in support of a medication she believes in — medical marijuana.
Moore said she decided to go public with her story after the recent rollback of the state medical marijuana program, which reduced the number of patients a provider is allowed to have. So far, she's been able to stay away from the prescription drugs that would make her sick, interrupt her sleep or drain her energy for a full day.
And 13 years since her diagnosis, Moore gets around without the help of a cane most of the time. She said it helps her control tremors and fight off pain.
"It's not going to cure me," she said. "But it makes the quality of life much more bearable."
Legislative action
Moore is a native of Big Timber. She's a cheerful woman who volunteers as an animal rescue caregiver. Moore grew up in a conservative family and tried marijuana in high school but found that it wasn't for her.
Medical marijuana is a medication that has worked for her, she said. She isn't a recreational user gaming a lightly regulated medical program, which was the characterization of the system's abuse.
That's what motivated legislators to clamp down with its 2011 law, which was upheld by the state supreme court earlier this year. The ruling came after a lengthy legal battle between the Montana Department of Justice and the Montana Cannabis Industry Association over the law's main provisions. 
And it's not over. After the court decision, the MCIA asked that implementation of the law be held off until 2017. The DOJ said that the transition period could be as short as 49 days from the ruling.
The 49-day period ends April 14. Medical marijuana businesses that planned to shut down after the ruling remain open, waiting for a decision. The state health department has voiced concern about patients caught in the legal crossfire, and some like Moore say they'll continue to get marijuana through other means.
Doomed from the start?
People on both sides of the debate will say that, prior to the bill, there was a "Wild West" environment in the Montana medical marijuana industry.
Through traveling registration booths and doctor consultations by phone, it was relatively easy to obtain a medical marijuana card, and there was little oversight by medical professionals afterward.
In its brief to the Montana Supreme Court, Attorney General Tim Fox and assistant attorneys described the climate as a "regulatory free-for-all that was disconcerting to the public and the Legislature, and beyond the control of state agencies or law enforcement."
Representing the state in the lawsuit, Fox noted that the typical medical marijuana cardholder wasn't a severely ill person but rather a younger person with more "amorphous symptoms." By 2011, nearly a third of cardholders were younger than 30 and about 86 percent received medical marijuana for chronic or severe pain, or muscle spasms, according to court documents.
Jeff Essmann, the Republican state lawmaker who sponsored the bill that spawned the lawsuit, declined to comment on the legislation when contacted in March.
The number of cardholders ballooned until 2011, when federal agents raided grow houses and marijuana storefronts across the state. The current backlash includes tighter restrictions and a citizen effort to repeal the program altogether.
Dr. Michael Uphues, a Billings osteopathic physician, said that the lax regulatory structure that followed the 2004 voter approval of medical marijuana set up the program for pushback.
"It didn't have the safeguard," he said. "It didn't have any requirement for physicians."
Uphues worked for the Indian Health Service on the Fort Peck Reservation for nearly 20 years. Today he practices independently in Billings and Florida and is a proponent of marijuana as a medicine.
In Uphues' view, the medical community hasn't kept up with the people who currently use marijuana as medicine. There are more than 13,000 registered cardholders in the state. He said people are taking marijuana to help with medical conditions, but they're doing it without a medical approach. Patients are left to navigate it themselves.
And while there have been no deaths directly linked to marijuana overdose, there are negative side effects associated with large dosages.
"I think that it ought to be a mandatory training course (for doctors)," he said. "We're not just messing around with it. It is real, and it's not completely innocuous."
Alternative medicine
Four years ago, Moore was going through an especially bad bout with symptoms. She researched marijuana and finally decided to try it. The experience made her nervous — marijuana is an illegal drug in most jurisdictions. But she said it helped.
"I got a hold of some and tried it, and it really took the edge off the pain," she said.
She used marijuana to supplement her traditional meds for a little more than two years, until she quit the old medications nearly altogether. Today, she still takes an anti-depressant and gets MRIs periodically.
Moore said the marijuana helps with muscle spasms, pain relief and bladder control. It allows her to sleep when she feels tremors coming on.
There's still a stigma, she said. Moore tiptoes into conversations about her condition just as slowly as she does about her medication. She joked, a bit nervously, about what some of her friends might think of her.
It was difficult for Moore, who wasn't a recreational user, to determine how she should take it. She remembered one time when she ate an especially strong marijuana cookie and felt sick all night.
Other reactions from unfamiliar consumers have been more severe. In March 2014, a teenager from Powell, Wyo., jumped to his death from a four-story window after eating potent, marijuana-infused cookies. The incident happened in Colorado, where recreational marijuana is legal, and the death was linked to the psychological effects of the drug.
Any medical marijuana program needs to have consistent testing to avoid excessive dosages, Uphues said. Some providers do this independently, but such a requirement is absent from the Montana program. He has come to believe that there is enough known about marijuana to administer it safely.
The ideal program treats marijuana providers like pharmacists, he said.
"As long as the products are tested and we know what the patients are getting in a consistent way, then I don't have a problem with it," he said.
Eventually Moore found her regimen. She takes some marijuana in the evening, sometimes smoking but other times with edibles or oil.
Uphues said that with greater participation from the medical community and labeling requirements for marijuana products, people like Moore wouldn't have to test the limits on their own.
"These studies have been done, and we do know," he said. "What's really needed here is laboratory testing of products so that we know what the patients are needing."
Doctors and pot
Marijuana presents an interesting issue for hospitals. In a 2013 article for the Pharmacy and Therapeutics Journal, two doctors and a pharmacy professor remarked on the ambiguity between federal and state laws that present potential legal problems.
As marijuana remains illegal, hospitals' advocacy of the drug could lead to trouble with the federal government and put funding at risk.
When asked about medical marijuana, Billings Clinic spokeswoman Julie Burton said that the hospital has a policy that sets guidelines for doctors. It's meant as a set of best practices when a patient asks about the treatment, Burton said.
She declined to share the full policy, but doctors are urged to assess the patients' medical history, current condition and "the definition and expectation of the physician/patient relationship," according to a statement.
Open for now
The Montana medical marijuana program is still in limbo. Earlier this year, the Montana Supreme Court upheld the 2011 rollback bill, but the court is still considering requests to slow the implementation of the new law.
Meanwhile, providers are still operating. When the new law takes effect, it will limit them to three patients apiece, when some previously served marijuana to hundreds.
Moore's provider is Montana Advanced Caregivers, and the owners of the business said that they would have to shut down when the new regulations take hold. As of Friday, they were still open.
Moore said that 15 years ago, she never would have thought of using marijuana, much less buying a drug through less-than-legal means. But she said that no current prescription drug for multiple sclerosis would draw her back into that world, and she's made her own decision for treatment.
"To even try it, you have to break the law," she said. "And that goes against my grain, but it's what you have to do to find what works for you."