Though Christians agree on resurrection of Jesus Christ, they celebrate the Lenten and Easter seasons in different ways.
For the Western Church, Lent starts on Ash Wednesday, while it begins on Sunday evening for the Orthodox Church. Fasting among Orthodox church-goers is more stringent, said the Rev. Moses Hibbard of St. Nicholas Orthodox Church.
"We don't eat meat, dairy products or eggs," said Hibbard. "Its beans and rice and that kind of thing."
The end of Lent is Lazarus Saturday, Hibbard said, but fasting doesn't stop until Easter. Holy Week begins after Palm Sunday, with Holy Week services each night.
The Orthodox Easter, or Pascha, celebration begins late Saturday, at 11:30 p.m., he said. It follows the Jewish tradition that that evening is the start of the liturgical day.
Hibbard comes out of the altar area, with the church interior mostly dark. He lifts the burial shroud off the tomb in the middle of the room and takes it to the altar table, behind the altar screen.
"Then right at midnight one candle is lit at the altar, and that's the light of Christ coming forth from the tomb," Hibbard said.
Altar servers light the candles of everyone in the room, and then all those present join in a procession three times around the church exterior. The three times represent Christ's three days in the tomb.
"Then we knock on the door, and when we come in, all the lights are on, the tomb is removed and there are flowers everywhere," he said. "It's very bright, very festive."
The service continues until about 2:30 a.m. And then, with the fast over, they enjoy a feast with the Pascha baskets filled with favorite foods that everyone brings, staying until about 5:30 a.m. and then returning at 1 p.m. for another service.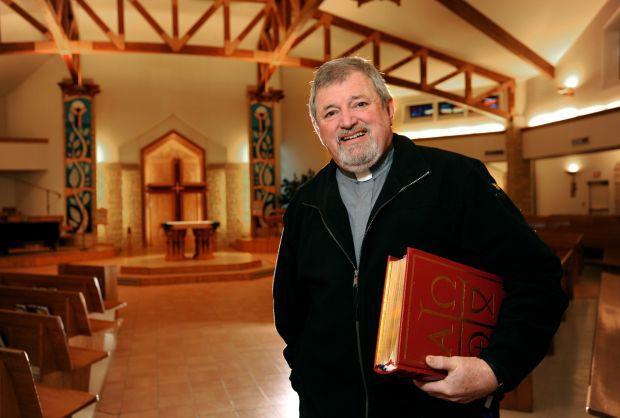 You have free articles remaining.
Catholic tradition
For Catholics, fasting during Lent includes eating less on Ash Wednesday and Good Friday, including consuming no meat, and then abstaining from meat every Friday. They also focus on prayer and alms giving, or helping others who are in need.
Holy Week, for Catholics and many Protestants, begins on Thursday and goes through Sunday. Maundy Thursday commemorates the Last Supper Jesus had with his disciples, and Good Friday focuses on Christ's crucifixion, Pittard said.
"Jesus says on the cross, 'forgive them for they do not know what they do,'" said the Rev. Wayne Pittard of St. Pius X church. "That is serious love. Wow."
And like the early church, Easter in the Catholic tradition is a time when new members, who have been preparing for months, are received into the Catholic Church. At the Easter vigil on Holy Saturday they will also be baptized if they have not received that sacrament before.
The Easter candle is also lit that night, Pittard said.
"It's that sense of new life," he said. "Going from darkness to light, original sin to being saved, you have to come through Jesus Christ."
Protestant tradition
Among Protestants, Holy Week activities and liturgy varies by denomination and even by church. This year on Holy Thursday, Evangelical United Methodist Church in Billings planned to do a foot- and hand-washing ceremony, mirroring what Jesus did for his disciples at the Last Supper, the Rev. Wendy Ochs said.
"What a beautiful image of a savior who would get down on his hands and knees and wash the dirty feet of his disciples, and then say, 'this is what you're supposed to do for other people,' " she said.