A high-speed chase into rural farmland west of Billings on Saturday ended with a citizen's arrest.
Authorities followed two people, one of whom had multiple warrants, traveling in a sedan late Saturday morning after they fled from a traffic stop. The chase came to a halt near 88th Street West, where the car collided with a flatbed pickup truck belonging to a couple who lived in the area.
The two suspects in the sedan, a man and a woman, then ran into a nearby field. The driver of the truck, Paul Hayes, joined authorities in following them. The woman was caught in an irrigation ditch. The man was caught by Hayes.
"I threw him to the ground, and I told him, 'Don't be stupid,'" said Hayes, who was doing irrigation work on his property when he heard sirens.
The chase started on Interstate 90 outside of Laurel just after 11 a.m., Montana Highway Patrol Trooper Jared Delaney told the Gazette. MHP troopers tried to stop the car when they discovered that its driver, a 35-year-old woman, had several felony warrants for dangerous drugs. The car left the interstate at 72nd Street West before turning onto King Avenue West. At 88th Street West, the car left the road and drove through at least four barbed wire fences. 
Hayes's wife, Christa Duray, could hear the chase unfolding over their police scanner. When the car jumped back onto King Avenue West, this time driving eastbound, Hayes was already in his truck and intending to block their way. When the suspects' vehicle came into his path, he rammed the car's passenger side.
"He determined that he was going to give him a little bump. That little bump turned into a pretty big bump" Duray said.
When the two ran from car, an MHP trooper caught the woman in a nearby irrigation ditch. Hayes cleared a five-strand barbed wire fence in thigh waders while chasing after the man, and tackled him to the ground.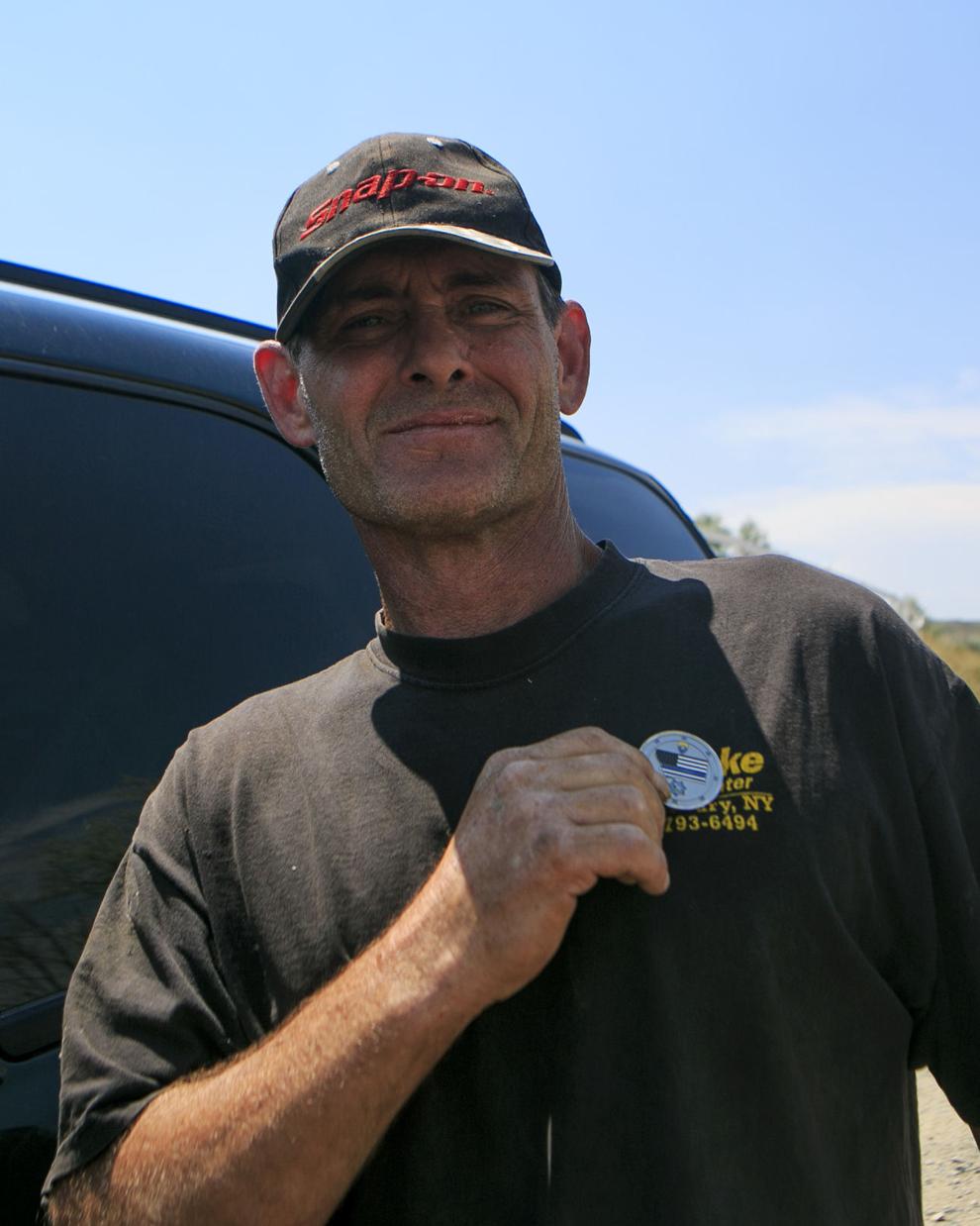 Hayes, who spent 15 years as a firefighter in New York prior to moving to Montana, received a commemorative coin from the Montana Highway Patrol for his work. Delaney said that he and the rest of MHP appreciated the help from Hayes, but he would not recommend anyone putting their life or property in danger by getting involved in an arrest.
"I'm just glad that all that got hurt was their vehicle and our bumper, instead of somebody down the road," Duray said. 
While both Hayes and Duray said they heard a shot fired while officers pursued the man, Delaney said there was no exchange of gunfire. Both suspects are currently in custody after being treated for minor injuries. Delaney said MHP is still working to identify the man.
Along with Montana Highway Patrol, Yellowstone County deputies and Laurel emergency medical technicians also responded to the scene.