Running the 26.2 miles of a marathon isn't a skip through flowered fields. It's a mission. And missions take training.
Why do they do it? For Cindy Thompson, executive director of the Montana Marathon and owner of Time Out Sports, it's a euphoric experience to finish a marathon.
"Getting that first marathon under your belt is such a feeling of accomplishment," said Thompson, who has run 10 marathons.
But before the ecstasy and the agony of running more miles than there are hours in a day — in a fraction of a day — experienced marathoners suggest allotting anywhere from 16 to 20 weeks for training prior to running a marathon.
With the Montana Marathon set to take place in Billings on Sept. 16, local runners have just shy of 20 weeks to hit the trail, treadmill, road or gym.
For those interested in running a marathon but unsure how to get started, here are some tips from members of the local running community.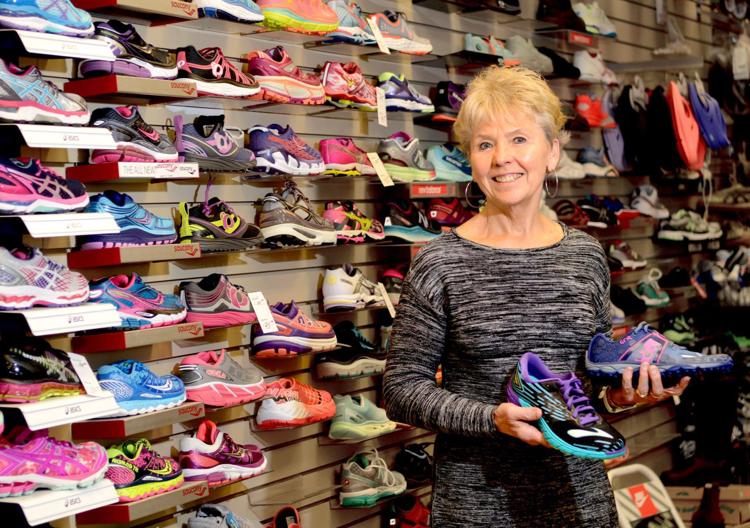 The basics
Karen Sanford Gall is the executive director of the Big Sky State games and a former competitive marathoner who has participated in Olympic marathon qualifying races. Though she no longer trains for marathons, she is still a runner and connected to the running community. In Gall's experience, the people who have bad running experiences either under-train or run injured, suggesting a proper training regimen is key not only to succeeding, but enjoying a marathon experience.
Most training regimens revolve around short but increasingly longer daily runs to build up base mileage, interspersed with an occasional long run.
Lauren Zent, a cross country coach and track and field coach at Billings West High, recently completed the Boston Marathon for the second time, making it her 11th marathon overall.
Zent recommends runners build up the ability to run five miles at once before undertaking a regimen. Getting to the five-mile point can be done through a "Couch-to-5K" program, which involves running interspersed with walking. Programs can be found online.
Her recommended plan involves starting with running a total of 20 miles a week, with weekends reserved for a longer run. Zent said a golden rule is never to increase mileage by more than 10 percent in a week. That 10 percent increase could be added with the weekend long run.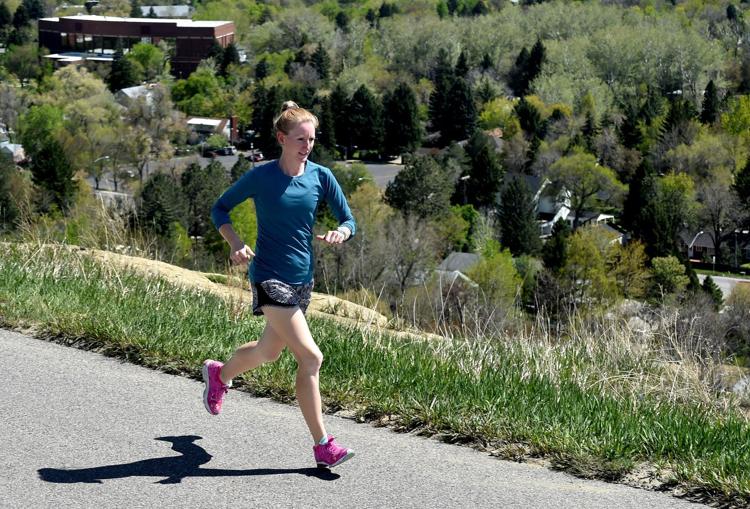 Another of Zent's golden rules is for every three weeks of hard training, to take one week of a lighter workload to allow the body to recover. 
In Thompson's experience, a good basic program involves running three times per week. Before starting her recommended program, Thompson says the individual should have a base running distance of five miles.
In Thompson's plan, a runner would run six miles on Tuesday and Thursday, then pick a weekend day to run eight miles. The next week, the runner would make all three runs six miles.
The third week, a runner would go for two six-mile runs and then a 10 mile weekend run, before reverting to another week of all six mile runs. The main idea is to slowly build mileage. Injuries can take place when runners up their mileage too fast or don't properly rest themselves and end up straining their body to a point for which it isn't prepared.
Three weeks before race day, Thompson says runners will ideally have completed four or five runs of between 18 and 22 miles.
Finding a training partner can help with accountability and even add both a social and competitive element to marathon training.
"That person can help you with long runs," Zent said by email. "It makes it much more fun."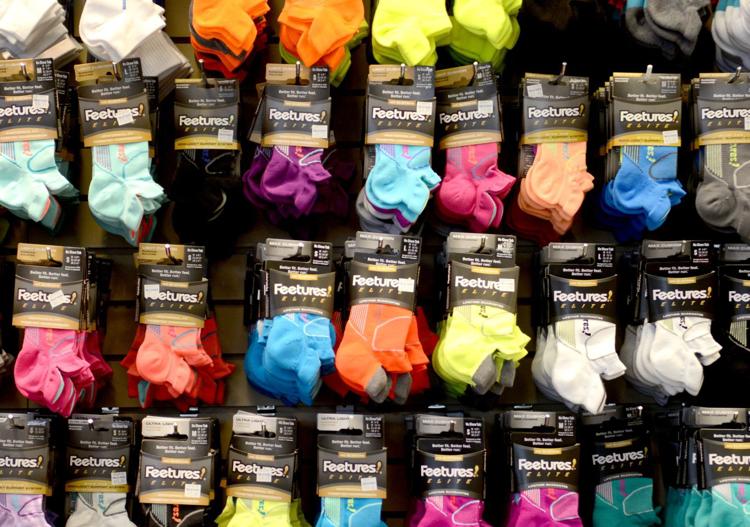 The gear
Shoes that don't properly accommodate a runner's gait can create injuries that start in the lower body and travel up through the hips and even into the back, Thompson said. She recommends purchasing running shoes from a store that looks at a customer's feet and analyzes the way they run.
Good running shoes can be up to a full size larger than regular shoes, she said. The bigger size accounts for the swelling feet undergo during long runs that force the heart to pump blood at a faster rate.
"They should feel pretty roomy up front," Thompson said. "It should feel like you could lift your toes and play the piano with them."
Shoes should be snug through the instep, and the ball of the foot should fall across the widest point of the shoe, Thompson said.
"If the shoe doesn't support them or absorb shock, they're really susceptible to shin splints and knee injuries," Thompson said.
Clothing is important too, especially socks. Thompson said she goes by the saying "cotton is rotten."
Moisture wicking apparel can help avoid discomfort and maintain comfortable temperature in the heat. When it comes to socks, the wrong style can create moisture buildup that results in painful blisters.
Some runners benefit from a variety of apps and devices that run the gamut from providing basic information to offering extremely detailed running and heart rate data.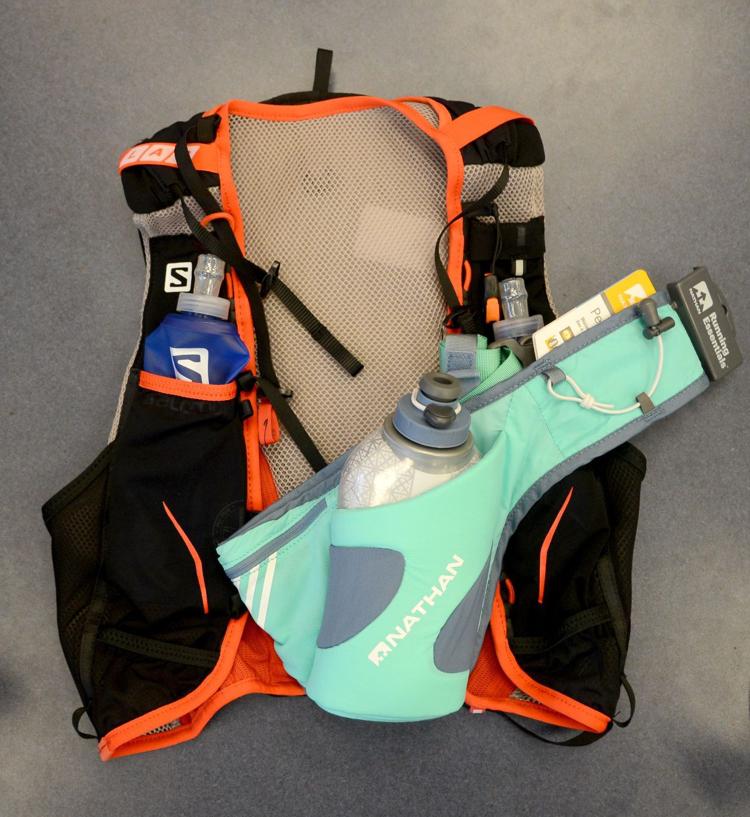 Hydration is important. While water gets the job done at a basic level, longer runs can leave people needing to replenish lost electrolytes. Tablets, powders and supplements can help restore essential salts. 
Gall said nutrition is one of the biggest changes she's noticed over the years in the marathon community. She still remembers runners drinking flat Coke for a boost of sugar.
Now, calorie dense gel or goo packets can be slurped down for a convenient energy boost that some runners may require.
Zent urged runners to give the goo a test run before race day. "It's like a sticky, nasty mess. If you haven't practiced that, you're going to be in for a big surprise."
She knows some runners opt for gummy bears instead of the goo and that others use orange slices that they suck the juice out of. For Zent, the ideal energy boost are Jelly Belly Sport Beans, jelly beans with vitamins and electrolytes that she usually carries on a hip pouch.
Running outdoors can lead to significant sun exposure, so sunscreen and other forms of skin protection may appeal to some hoping to avoid sun burn or other harmful side effects.
Zent also recommended using Vaseline to cover surfaces on the body that might be prone to chafing. She said she even puts it between her toes to avoid blisters.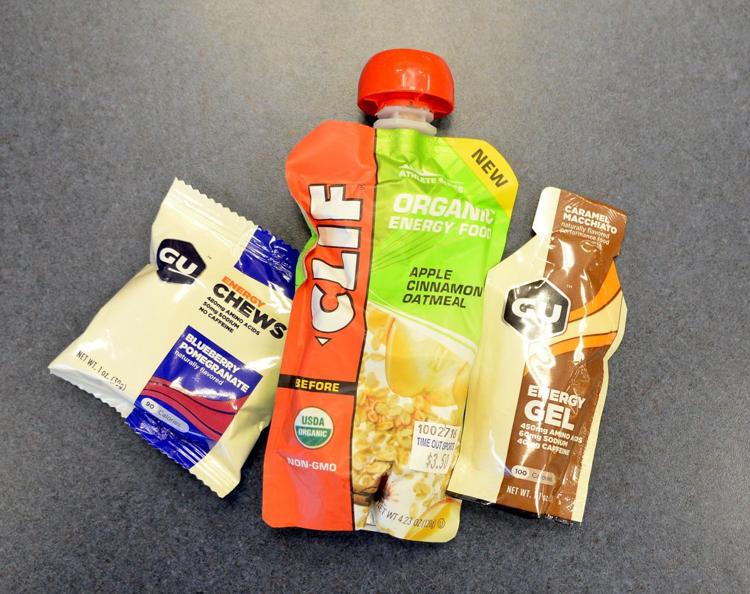 Expert tips
With the basics down and the gear in hand, there are a few other, maybe less-known things an aspiring marathoner can do to improve their chances of success.
Thompson said industry knowledge indicates that most running injuries come from highly repetitive motions. To avoid heavy repetition, Thompson recommends mixing up running routes, so that a runner doesn't constantly test their body in the same way.
Mixing up a route can be as simple as starting where one typically ends and running to where one typically starts. Another way to mix up a running routine is to try running fast for a block and then slowly for a block.
Gall highly recommended either walking, biking or driving the race route. She said that being able to visualize the race route can help runners know what to expect and boost their confidence. During her competitive marathoning days, Gall said she went so far as to acquire photographs of different parts of a race course. Looking at the pictures, Gall would review her race day plan and remind herself of what to expect at each photographed point.
Thompson said she urges runners not to get too caught up in the excitement and run too fast out of the gate. "If you run your first mile even 30 seconds too quick, it will effect every single mile down the road." 
She also emphasized that training is a way of figuring out what works, from rest to diet to gear. A runner shouldn't wear new shoes and try a new breakfast on race day.
Zent also emphasized trial-and-error in the training process and noted that people should embrace what works for them.
"My biggest advice that I keep reiterating, is try everything before," Zent said. "You don't want to just do this on race day." 
At bigger races she recommended bringing warm clothes for before the race starts and in some cases, even toilet paper because portable toilets can run out. She also recommends bringing garbage bags to create a dry space to sit on. The bags can also double as warming blankets.
She also recommended braiding long hair or wearing a hat to avoid tangling that can occur over the course of the race. 
For a first marathon, Thompson encourages runners to simply take in the experience and let go of thoughts about running a good time. Any first marathon sets a runner's personal record and subsequent marathons can be used to build on that time.
"Relax, enjoy it, look around and embrace the whole experience."