Shauna Smallwood was in the hospital when the Aug. 11 hailstorm battered her mobile home in Ballantine.
Her daughter, Jericha Hockett, was at home with her sister. The hail pounded the metal siding and the flat wood roof. She saw that a tornado warning notification had popped up on her cell phone's screen.
"It pounded for a good 10 minutes and it took a good four minutes before the first window broke," Hockett said. "The sound, you couldn't even hear yourself scream."
Smallwood returned from the hospital four days later and saw the destruction in the trailer park at 2261 4th St. W. in Ballantine. Her home's west-facing windows were shattered and her roof was leaking.
"It looks like somebody took a machine gun and just went down the side of my trailer with it," Smallwood said.
She had just purchased the home in January after moving from Billings. Smallwood had open-heart surgery earlier in the year and various other surgeries during the past few months. She has a family, and with the damage to her trailer, she didn't know where to go for help.
The United Church of Christ in Ballantine, across the street from the trailer park, was hit as well, with damaged windows and a flooded basement. However, they banded together, along with volunteers from the United Church of Christ in Great Falls, and began patching up homes in five of the trailer parks in Ballantine that needed it most.
"I don't think there's a house in Ballantine that doesn't at least have a broken window or siding that's damaged," said Rita Oltrogge, a member of the church who helped spearhead the repair work.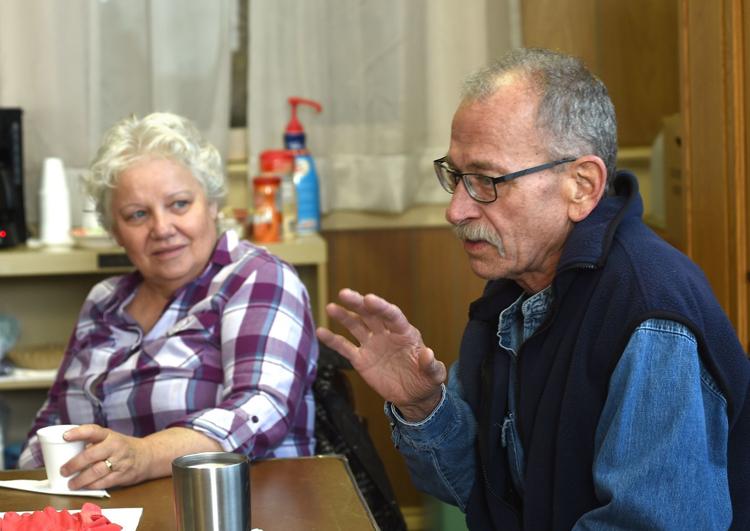 Last weekend, crews boarded up windows and patched up holes to prepare for the upcoming winter months. Because of this weekend's snowy forecast, the volunteers from Great Falls couldn't make the trip to Ballantine, but the crew was able to replace Smallwood's windows with new glass last weekend.
The church in Ballantine started a food pantry program in 2015, and delivers food boxes to residents. Members of the congregation were able to deliver 20 boxes last weekend while repairs were being done.
"Winter is a step away," she said. "It's difficult for those of us who live here because every one of us is dealing with something with our own properties and our own homes and trying to get them taken care of, too. It makes it a lot easier to have the volunteers come in and help us do this."
You have free articles remaining.
Robin Calvin, who owns a trailer across from the church, said her insurance through State Farm won't cover the outside damage to her home because it's too old. Three windows were shattered and her skirting was damaged.
But church members helped repair what they could and have spent over $2,000 in supplies to repair four homes so far.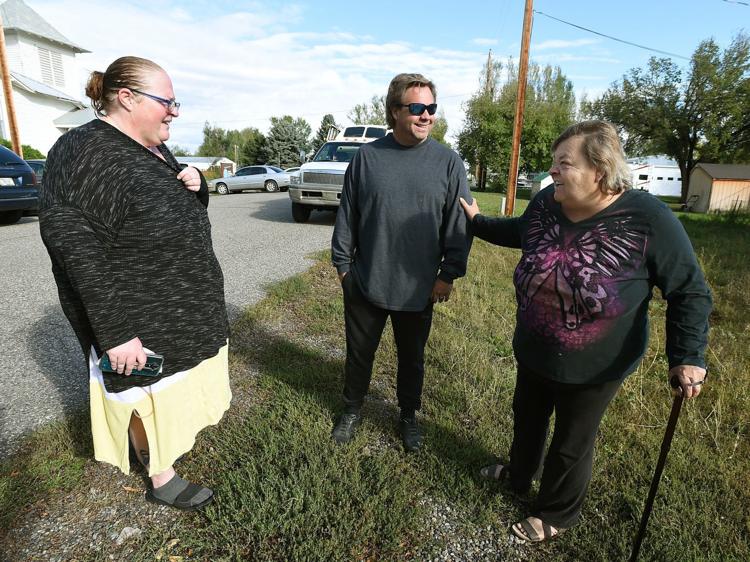 Jeremy McCune, who owns the trailer park land, said he's also dealing with the costs and frustrations associated with the storm. Out of the eight trailers at 2261 4th St. W., McCune owns four of them.
He also owns multiple plots of land around the Billings area, and said of the units he's responsible for, 54 windows need to be replaced. 
"It's devastating everybody," McCune said. "There are people on fixed income budgets that have to fix their stuff, and it ultimately trickles down to the landowners, too. You have to understand their side of things when it comes to people replacing windows and that rent will be a little tight."
The drinking water in the area is another issue the town faces. Residents received notices after the Department of Environmental Quality and the Worden Ballantine Yellowstone County Water District found high amounts of nitrates in the groundwater in July.
According to Rick Coyle with the Worden Ballantine Yellowstone Water District, there is still a health advisory in effect for infants, seniors, and those with a weak immune system. Nitrate levels are lower than what they were in the spring, he said.
Smallwood buys cases of bottled water to drink and cook with, and because of her wounds from the surgeries, Smallwood's physician advised her not to shower in the water in Ballantine.
Smallwood often has to take a 30 minute trip just to bathe at a friend's house in Billings.
"I'm not taking chances," Smallwood said. "Better to be safe than sorry."
But even though times are tough, Smallwood said she plans to stay in Ballantine. The people are what make her feel at home.
During a brief neighborhood meeting at the church Friday morning, Smallwood was able to thank everyone. Members of the church discussed Ballantine's giving nature and the community members' willingness to lend a hand.
"I have no way to pay back my windows or have any way to pay back what you guys have done for me. But here's what I have for you: Thank you," Smallwood said, tearfully. "Thank you so much."
Get local news delivered to your inbox!
Subscribe to our Daily Headlines newsletter.