If people keep stealing and damaging trees in Billings parks, Steve McConnell may be forced to reach for a bottle of fox urine.
McConnell, the city forester, is working with Nick Lam, the city's new parks police officer, to deter vandalism and, they hope, return to health a 60-year-old linden vandalized this month at Pioneer Park.
They're also working the case of a 4- or 5-foot memorial spruce tree stolen from Lillis Park on the West End earlier this month — a tree probably now being used as the thief's Christmas tree.
It's the second time that memorial tree, planted by a woman in memory of her mother, has been stolen, McConnell noted. The plan next spring is to plant a hardwood tree in its place that can't be stolen as Christmas 2018 approaches.
As a deterrent, some city foresters spray their smaller public trees with fox urine, McConnell said — an innocuous enough odor outdoors in cooler temperatures, but "it stinks to high heaven when brought indoors to a warm house," he said.
Anyone with information about the stolen spruce can call the Parks and Recreation office, 406-657-8371.
The damaged linden, in the northwestern corner of Pioneer Park, was girdled on or about Dec. 2 by people "who knew what they were doing and wanted the tree dead," he said.
There's a chance the tree, valued at $9,000, can be saved via bridge-grafting and pruning. If those attempts fail, the tree will be turned into a wildlife tree — McConnell already has a number of signs for that program — and replacement trees will be planted.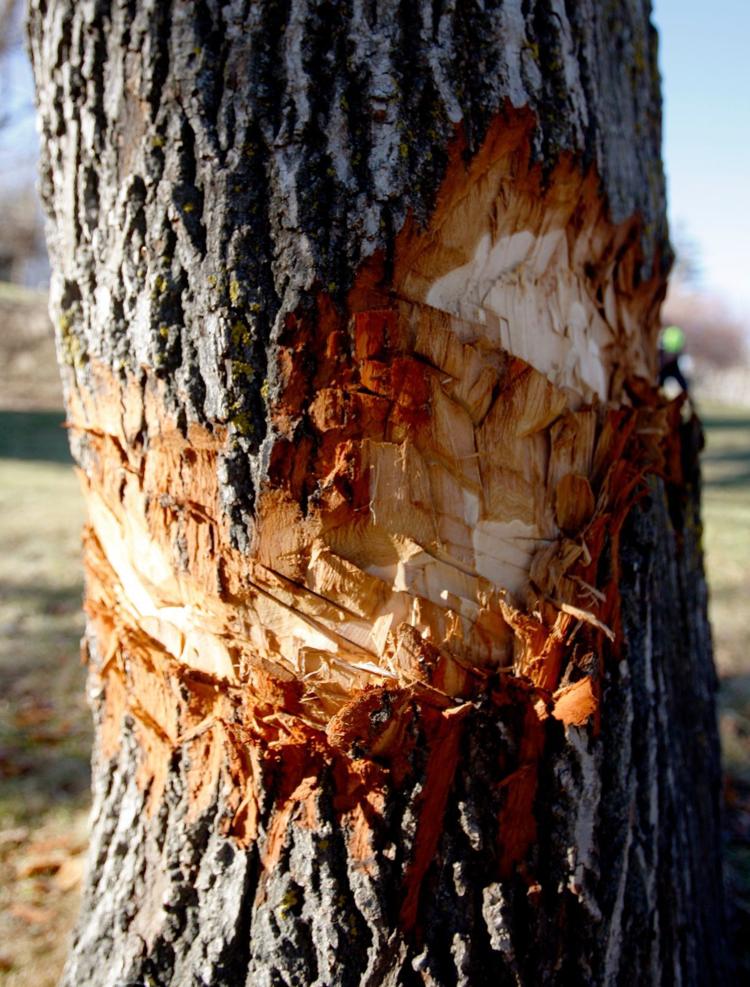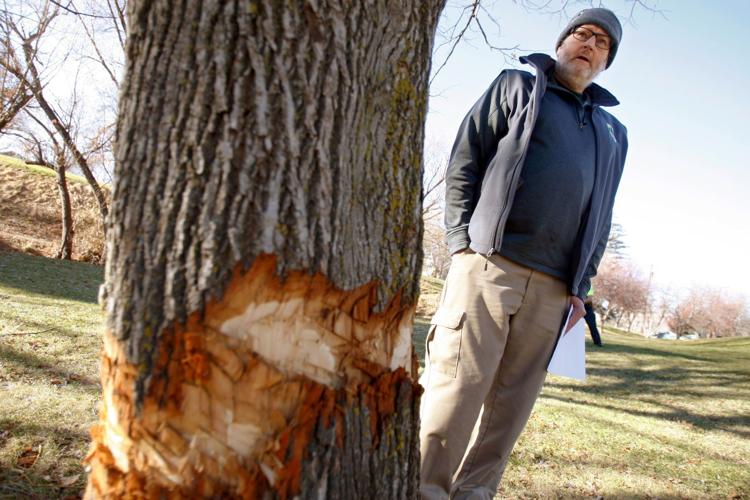 Lam, the parks officer since October and a three-year veteran of the Billings force, said no one he's interviewed knows who damaged the 19-inch-around linden. He's hoping a little media attention might spur someone's memory.
Parks, Recreation and Public Lands Director Michael Whitaker said Lam has divided his time between patrolling parks and trails and "reaching out to park neighbors and local task force groups" to learn more about their concerns.
He said during the coming months Lam will be called upon to work with the volunteer park patrol and other groups with the goal of boosting safety in parks. Lam said he'll also work a fair amount of special events held annually in Billings parks.
"The goal of this position is to make parks safer for all citizens," Whitaker said. Parks surveys "continually show that safety is a top priority for citizens using parks and trails."
According to Whitaker, Billings parks "face increasing challenges with vandalism and crime." Billings' developed parks contain about 9,400 trees, which provide one-fourth of the city's tree canopy. Taken together, Billings trees are worth almost $28 million.
Both McConnell and Lam said they're seeing increased vandalism and graffiti this fall, especially at Pioneer, Veterans and Rose parks — probably the result of the unseasonably warm temperatures.