The pipe laying had just been finished before the spring rain storms arrived. 
"It's pretty good," said city engineer Debi Meling. "We got it all installed. The city's been able to drain." 
The last of the 48-inch concrete pipe was connected earlier this month, just as unseasonable cool and wet weather parked itself over Billings. 
The pressure to finish before the rain fell had to do with the flooding and drainage issues some Billings neighborhoods south of King Avenue East experienced last spring. The flooding got so bad in some places that some basements had standing water for weeks and some streets were submerged into June. 
The flooding got so bad last spring in the Billings neighborhood just south of King Avenue East that some basements had standing water for weeks.
City engineers began designing and building the new drainage system to allow more stormwater to reach the Yellowstone River, where the city's runoff dumps. But before engineers could design the system, they had to figure out why the stormwater wasn't draining.
What they found was that the entire Yellowstone River had moved.
You have free articles remaining.
Keep reading for FREE!
Enjoy more articles by signing up or logging in. No credit card required.
The river channel near the city's drain had moved significantly during the past 50 years, bringing water closer to the drain outlet. Engineers found that when the Yellowstone was in any kind of flood stage, the river backed up into the drain and the stormwater pouring out of the city simply stayed in the ditch because it had nowhere to go.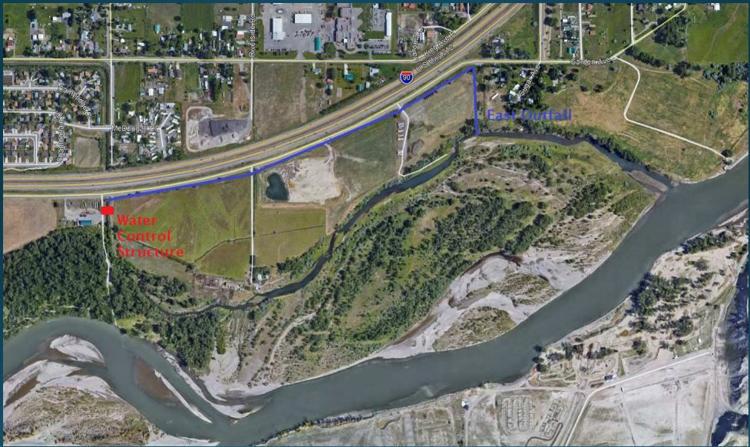 That ditch follows along the south side of King Avenue East and collects one-third of the city's stormwater runoff. In 2018, after record snows, the ditch, which is typically empty most of the year, had water in it for nearly nine months.
The new pipe installed over the winter moved the city's drain a half mile downriver and now sits 10 feet lower than the old drain at Washington Street. That drop will help keep water moving toward the river.
The second part of the project was installing a flood control gate near the old drain at Washington Street to help stop back flows coming in from the river when it's in flood stage, and to better control the water that moves through the ditch.
Work on the concrete structure is nearly finished and the gate itself will be installed in a couple of weeks. In the meantime, the city has placed sheet piling in the structure to hold back the river water as it's gone up and down with the rains. 
"The sheet piling is holding the river at bay," Meling said.