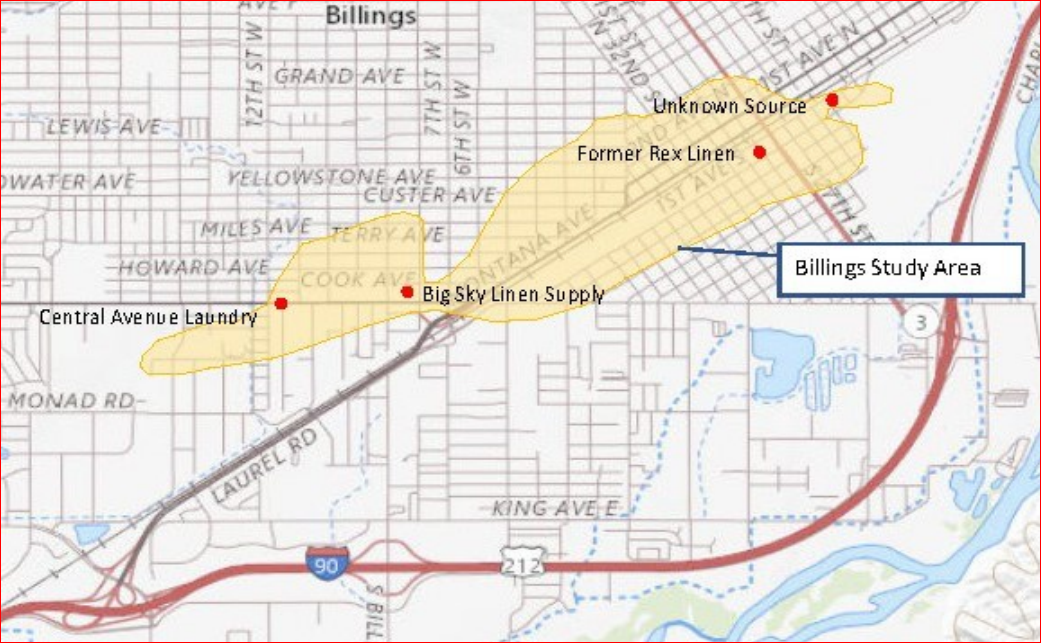 A nearly 30-year-old cleanup site in south-central Billings received federal support Wednesday.
Solvents stemming from old dry cleaning businesses in central and downtown Billings created a plume of around 855 acres stretching for three miles, with those solvents evaporating into the air of properties in the region as a potentially cancerous vapor. The U.S. Environmental Protection Agency has now added the site to the agency's national priorities list a year after proposing its addition.
Adding the site to the national priorities list will allow for a comprehensive evaluation of the impact to the water and air quality in the Billings area, said Betsy Smidinger, the director of EPA Region 8's Superfund and Emergency Management Division in press released published Wednesday.
Montana recognized the plume that stretches around Montana Avenue and Cook Avenue as a Superfund site in 1992, designating it as polluted to the point of needing long-term cleanup. Subsequent testing by the Montana Department of Environmental Quality and the EPA found elevated levels of tetrachloroethylene, otherwise known as PCE, in homes and businesses. The solvent, popular with dry cleaners throughout the 1980s as a powerful stain remover, is linked to liver and kidney effects and some cancers, according to the EPA.
Employees of businesses near one of the dry cleaners have complained of feeling sick because of exposure to PCE, The Gazette previously reported, and the state has advised resident within the plume to seal basement cracks and improve airflow in their homes. The EPA filed a $10 million lawsuit in 2014 against Billings Laundry Co. and its subsidiary Big Sky Linen Supply, one of the three dry cleaners located within the plume. The two companies settled to pay $825,000, along with $705,000 related to insurance settlements.
Governors Steve Bullock and Greg Gianforte have supported adding the site to the national priorities list, according to Wednesday's press release from the EPA.
Over the course of the next year, personnel with the EPA and Montana DEQ will conduct a deeper investigation into which buildings have been contaminated. After completing that investigation, they will outline cleanup options.
There are nearly 20 Superfund sites on the EPA's national priorities list in Montana. They include massive operations to clear asbestos particles out of the air in Libby, and heavy metals in groundwater and soil of Silver Bow Creek and Butte areas. As of Wednesday's announcement, there are now two in Yellowstone County.
A 580-acre site in Lockwood was added to the list in 2000 after benzene and chlorinated solvents used to clean truck trailers seeped into the groundwater. Cleanup of the soil is still ongoing.