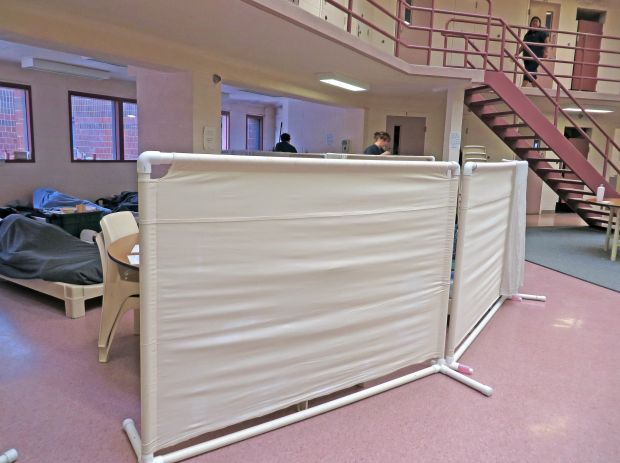 On Sunday, the overcrowded Yellowstone County jail set another inmate record.
Sheriff Mike Linder still has the text from Jail Commander Sam Bofto on his cellphone: "101 females."
"'Copy," Linder texted back.
The women inmates are crammed into one 38-cell unit, which means women prisoners are doubled bunked, and the overflow prisoners sleep on cots on the floor in an open area.
The week before, on Jan. 18, the Monday holiday for Martin Luther King Jr., the overall jail population also hit a new, all-time high of 514 inmates for several hours, Linder said.
By the next day, the number had dropped to 504 inmates in a jail built to hold 286 inmates. Last October, the jail topped 500 inmates for the first time.
The record prisoner populations served as a backdrop on Wednesday for a new proposal from Linder and County Finance Director Kevan Bryan to build a new 148-bed women's unit for an estimated $9.95 million.
Bryan and Linder outlined several options that call for borrowing money and spending county funds during a mid-year budget review with the county commissioners.
The options do not involve asking taxpayers for more money, Bryan said.
While the proposals still need fleshing out, the commissioners expressed interest and directed Bryan to present more detailed plans at their Feb. 9 board meeting.
Depending on what the commission decides, voters could be asked in the primary or general election whether to expand the county's borrowing authority, which is capped at $2 million.
Commissioner John Ostlund said that while he's not a fan of borrowing money, he was interested in exploring the idea and noted that interest rates are low.
Commissioner Jim Reno said he couldn't support borrowing money and preferred to use money the county already has saved.
Commission Chairman Bill Kennedy said he was interested in hearing more details and set a schedule for more discussion.
"OK, we have a game plan," he said.
Bryan told commissioners on Wednesday that public safety remains a high priority. He also said he knows commissioners do not want to seek another levy request.
One proposal, Bryan said, would be to build a new 148-bed women's unit for an estimated $9.95 million, using a combination of borrowed money and tapping into the county's general fund and public safety fund capital improvement balances. Those have received significant money from recently settled tax protests.
"The Board has wisely sequestered those funds for long-term building needs and in the event of a rainy day. Well, it's raining," Bryan said.
The proposals also would be funded from general fund reserve and the public safety sheriff's reserve funds. Bryan said the general fund reserve is at its statutory cap of 33 percent, while the sheriff's reserve is at 29 percent.
Money to repay the loan, as well as to staff and operate the new women's unit, would come from revenue paid by other agencies, including state, federal and other counties, that contract with the county to house their prisoners, Bryan said.
"We don't have all the answers yet, but we believe we have identified the framework, which can lead to a long term resolution," Bryan said.