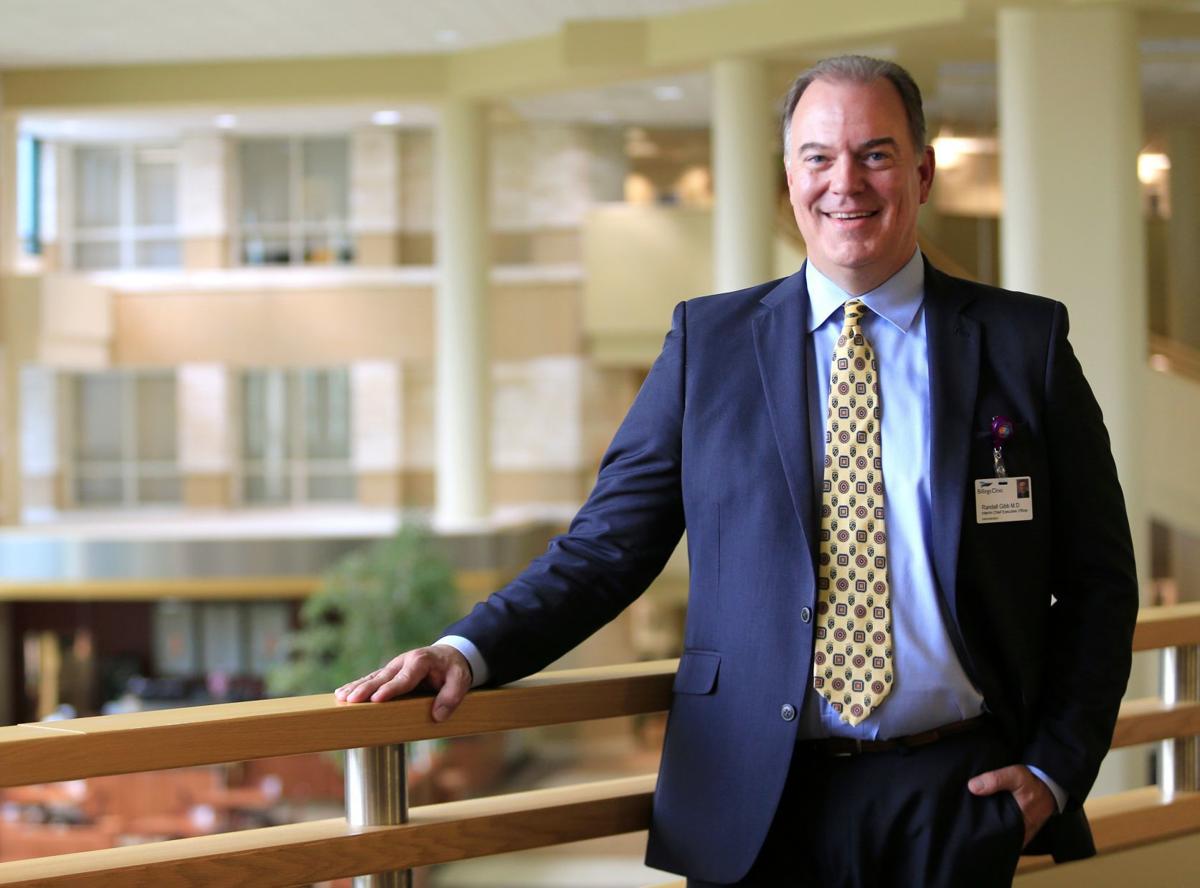 A woman working in the administrative offices of Billings Clinic has filed a complaint against the health care organization alleging she was sexually harassed by its former Chief Executive Officer Dr. Randall Gibb.
Gibb was fired by the Clinic's board of directors May 21, and officials then refused to say why citing employee confidentiality. Gibb, a gynecological oncologist, was promoted to chief executive in July 2017 following the retirement of longtime leader Dr. Nicholas Wolter.
The woman's complaint was filed Tuesday with the Equal Employment Opportunity Commission regional office in Seattle.
The woman claims Gibb sexually harassed her on a near daily basis, making crude sexual remarks and comments about her weight and appearance.
Stress from the constant harassment caused her to take a medical leave, she said. Upon returning to work she was demoted, she claims in the EEOC complaint.
In speaking with The Billings Gazette, the woman requested anonymity, and the paper does not usually name those who claim they were victims of sexual harassment. The Gazette has verified her identity and confirmed the complaint has been filed. 
Billings Clinic responds
On Thursday, Billings Clinic issued a statement saying hospital officials acted appropriately as soon as they became aware of the complaints.
"Senior leadership became aware of an internal complaint related to Dr. Gibb, they followed protocol and appropriately notified the Board of Directors," the statement reads.
An independent investigator explored the concerns, the Clinic board reviewed the results and promptly terminated Gibb's employment, it says.
Gibb has denied the allegations made in the complaint. 
The harassment
The woman says she worked as an assistant for Gibb at the Clinic while he was the hospital's chief medical officer beginning in 2014 and later when he was acting CEO in 2016 after Wolter retired.
She said during that time, she noticed Gibb sometimes make comments that seemed "off."
When Gibb was named CEO in 2017, the harassing comments and behavior became more overt and frequent, she said.
"(Gibb) was more forward and more outgoing about his behavior," she said. "Whereas before when he had a boss he was pretty careful about his behavior and the way he acted."
He would make masturbation jokes and gestures almost daily, including answering his phone by making sexual noises.
"I wore a necklace and he said it looked like a penis ring," she told The Gazette. "My favorite flower is tulips and when my kids would send me tulips, he'd say, 'What's better than tulips on a piano? Two lips on my organ."
Gibb also said he preferred a "blonde with big boobs that looked like Pamela Anderson," for an open receptionist position.
During a conversation with The Gazette, the woman was frequently halted by sobs.
The complaint names at least four members of senior management who witnessed or heard the remarks. The victim said they stood by and did nothing to stop the harassment.
One top Clinic official on Thursday said the victim may not be aware of other complaints that were brought simultaneously by leaders which were then made part of the investigation. 
The victim said one of the top executives said, "I'll pretend I didn't hear that," to a sexual comment Gibb said, the EEOC complaint alleges.
On other occasions, Gibb would flip her his middle finger, and tell her to "f--- off" when she brought him messages, or when answering phone calls from her.
She claims she also heard Gibb tell an assistant he was "picturing her in her underwear," and told another woman that if he had given her CPR it would be "the best she's ever had."
Gibb responds
A statement released by Gibb's lawyer John Crist on Thursday says the woman's allegations against Gibb are "inaccurate and misleading."
The doctor will fully cooperate with Billings Clinic in defending against her allegations, and he will not make further comments, the statement says.
Gibb referred The Gazette to his lawyer's comment made Thursday.
Alleged demotion
The woman said she started at the Clinic in 1990 working in the nursing education department. She was eventually promoted to the administrative offices where she worked for most of her career. She said she had never experienced sexual harassment before Gibb took over.
She said stress from the constant harassment caused her anxiety and panic attacks, and she dreaded going to work.
"Over the past year, because of Dr. Gibb, I was shrunken to a person I didn't even recognize, and just because of the things he would do and say to me — inappropriate, highly inappropriate sexual comments," she told The Gazette.
In November 2018 she went to her family physician for treatment of her anxiety. At the end of November, per her doctor's suggestion, she took Family Medical Leave time off until January 2019.
When she returned, she said her coworkers' interactions with her had changed.
"I would get the silent treatment when I came back," she said. "People didn't say, 'How are you doing? Are you feeling better?'"
During the next few months her work environment continued to deteriorate, she said. She began to take intermittent leaves.
On Feb. 11, the woman met with two of her supervisors and during that meeting she said she was demoted without explanation. Although her pay wasn't decreased, she said she was stripped of her duties, and forced to move her desk to the back of the administrative office.
Gibb, in his statement through his attorney, disputes the woman's claim she was demoted.
"(She) was previously transferred out of her position … because of performance related reasons," he said. "It is unfortunate and disappointing that she now makes these allegations after she was transferred from her position."
Complaints first made
It was during that meeting in which the woman claims she was demoted that she first expressed to officials that she was being harassed by Gibb, she said.
"There was literally no reaction from the person in HR or (my supervisor)," she told The Gazette. "It's almost like they knew about it, but they didn't expect me to say that. It was just odd. If an employee tells a supervisor 'I'm being sexually harassed' they immediately have to report it, and there was no reaction."
The Clinic's independent investigation into the woman's claims of harassment was led by Investigations Law Group of Denver. The woman said she was interviewed by an investigator, and believes that at least three others in the office were also interviewed about the allegations.
She said she was instructed not to speak to others about the investigation, and that the others were also told they couldn't discuss the investigation with her.
The office culture
The woman told The Gazette she believes Gibb's harassment may have been tolerated by other staff and clinic officials. That tolerance, she claims, compounded her depression and anxiety, made her feel isolated, and enabled Gibb to continue his harassment.
"It was really not only Dr. Gibb but members of the senior team," she said. "He was pretty open about it (the harassment), it's not like he hid this or did this in secret."
She said senior leadership in the administrative offices not only turned a blind eye to Gibb's harassment, but would openly laugh at his comments and actions.
"They thought it was funny and there I am sitting at my desk and I'm surrounded by people that think that this behavior is OK," she told The Gazette. "I felt really trapped and alone. And I didn't want to lose a job I'd worked 30 years for."
The woman also said she never received any formal sexual harassment training, and is not aware of the Clinic's policy on sexual harassment or its complaint policy.
On April 18, the woman went on voluntary, permanent unpaid leave from the hospital. On March 21, she became represented by an attorney from Friedman & Houlding LLC, a firm from New York that specializes in discrimination cases.
The EEOC complaint is a legal prerequisite to "filing a class action lawsuit and that it is stated in the EEOC complaint that it will be filed as a class action, said her attorney Joshua Friedman.
She was referred to the law firm by the Time's Up organization, which was formed in the wake of the Harvey Weinstein sexual harassment scandal. The woman said she contacted Time's Up after learning the organization provides legal counsel to victims of sexual harassment.
From the ongoing sexual harassment, the woman has been diagnosed with severe depression, anxiety and panic attacks by several psychiatrists. Her mental health has deteriorated substantially during the past two years, she said.
She does not believe she'll be able to return to her position at the Billings Clinic, even with Gibb gone, because she also feels discriminated against by other members of the senior leadership team.
"They're an organization that raises and gets donations of millions of dollars specifically for psychiatric services and yet they have an employee who has worked right next to them for 30 years and they couldn't care less," she said. "Clearly any human being could see the state I was in, how not good I was doing and that was not their concern."
She's not happy to leave her position, she said
"With Dr. Wolter it was very professional," she said, crying. "I get emotional about that because it was a wonderful place to work. It was my home, and I miss that. It's been taken away from me."