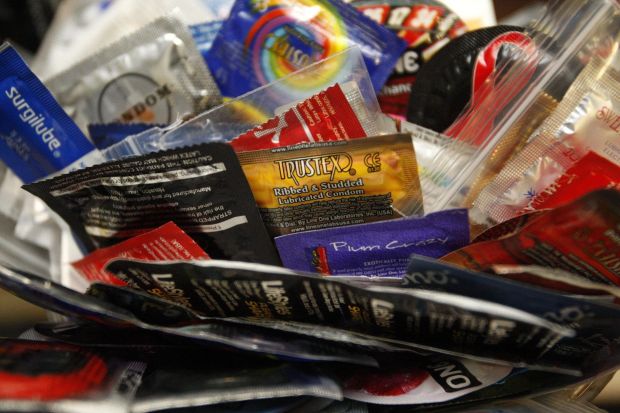 Condom use among sexually active high school students throughout the United States, including Montana, declined in 2013, according to a new report from the Centers for Disease Control and Prevention.
In 2013, 59 percent of high school students who had sex in the last three months said they used a condom during their last sexual encounter, down from 63 percent in 2003, according to the report.
The CDC released data from the 2013 Youth Risk Behavior Survey, which monitors six types of behaviors that pose a health risk, including sexual behaviors that contribute to sexually transmitted diseases, including HIV.
The sampling frame for the 2013 Youth Risk Behavior Survey consisted of all regular public and private schools with students in at least one of grades 9 through 12 in the 50 states and the District of Columbia.
"This data is deeply troubling, especially given that we already know young people bear a disproportionate burden of STDs, including HIV," said William Smith, executive director of the National Coalition of STD Directors. "We must be clear: Condoms are the best way to protect against STDs, including HIV, for those who are sexually active, and if youth continue to report a decrease in condom use, efforts to improve sexual health outcomes among this group will not be possible."
Though there has not been an increase in HIV infections among youth, other STD surveillance numbers show that people ages 15 to 19 accounted for 30 percent of reported cases of chlamydia in 2013, said Morgan Ditto, executive director of Yellowstone AIDS Project, a nonprofit organization committed to increasing HIV/AIDS awareness and providing prevention and client services in Montana. Since 2003, the incidence of chlamydia has increased 38 percent in the state of Montana, she said.
The majority of youth to whom YAP provides free rapid HIV testing services and education report not using condoms, Ditto said.
"Their reasons for having unprotected sex often include fear and stigma," Ditto said. "This is a problem and can lead to some serious consequences including an increased vulnerability to other infections like HIV," Ditto said. "Sexual health is so important and is often considered taboo to discuss. But the more we talk about it with our kids and the more tools we provide them to make healthier and safer decisions, the better off our communities will be.
In 2013, there were 225 cases of gonorrhea infections in Montana, double the 2012 rate. Of the 225 cases reported, 32 were in those 19 years of age and younger.
In addition to condom use decreasing in 2013, the number of youth reporting learning about HIV/AIDS in schools made little progress from its low of 84 percent last year. In Montana the percentage of youth who said they had ever been taught in school about AIDS or HIV infection decreased from 89.7 percent in 2007 to 83.8 percent in 2013.
"Schools can and must play a key role in educating our young people about all STDs, including HIV, and in ensuring youth have access to a full range of sexual-health services, including access to condoms," Smith said.
In addition, STD surveillance data released earlier this year shows that both the case and rates of chlamydia and gonorrhea continue to be highest in people 24 and younger. Almost 60 percent of reported cases of gonorrhea occur in this population. A shocking 70 percent of cases of chlamydia are in people younger than 25. These diseases have long-term health consequences, particularly for young women — it is estimated that undiagnosed STDs cause 24,000 women to become infertile each year.