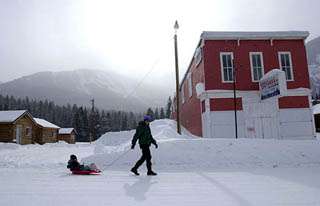 COOKE CITY – If you come this far, you've reached Montana's answer to Key West.
Sure, on some days it's 91 degrees colder here than the Florida Keys. Still, if you come this far, you can drive no farther.
Welcome to the end of the road.
Deep in the Absaroka-Beartooth Mountains sits this town of 100 or so year-round residents, perched nearly 7,700 feet above sea level. They can go nowhere in Montana in winter – save for the even smaller Silver Gate, three miles down the road and all but abandoned this time of year – without first driving through Wyoming.
Come summer, the population will increase fivefold as young people fill service jobs and summer residents return to the private cabins in and around town.
Thousands of tourists will stream through, en route to or from the nearby Northeast Entrance to Yellowstone National Park. Still more will use Cooke City as the starting point or finish line for a trip over the spectacular 10,947-foot-high Beartooth Pass, which connects the town to Red Lodge, 65 miles away.
"Summer is absolute chaos," says resident Bill Blackford. "You could sell rocks from the side of the road and make it."
But summer is a long time coming. For nearly eight months, from October to Memorial Day, U.S. 212 dead-ends at the eastern edge of town, the victim of deep snow on top of the pass, as well as bureaucratic wrangling between Montana and Wyoming over who'll plow what, when.
In winter, the nearest town, Gardiner, is a three-hour round trip; the nearest hospital, in Livingston, takes five hours to get to and from; and the nearest Costco, in Bozeman, requires six hours. And make no mistake, the nearest Costco is important when you live this deep in the mountains.
"Better not forget anything when you go to town," Blackford says.
In Cooke City, satellite dishes are known as the Montana state flower, dogs outnumber people, the teacher's last job was with the circus, everyone's heard the rumors that Christi McDaniel's Dalmatian, Oscar, is gay, and two-thirds of the student body ride snowmobiles to school.
Two of the children, who live across the border in Wyoming, must first have a parent trailer their snowmobiles as far as possible, about 20 miles, unload them, then snowmobile another 10 miles to get to school by 8 a.m. At 3:30 in the afternoon, they reverse the process.
When kids in Cooke City reach high school age, they'll have to move away. There is no high school and no school bus comes this far.
"Montana forgets about us. The county seat forgets about us. If you need a cop, one might get here tomorrow," says Suzy Schmitt. "If you ask a business in Livingston if you can write a check from Cooke City, they look at you like they've never heard of it. Really, we should have our own flag. We ought to be our own state."
Like almost everybody in Cooke City, she's from someplace else and owns at least one dog. Schmitt came west from Lynchburg, Va., to spend a summer working in Yellowstone.
On her days off, she would sometimes come to Cooke City to party. She liked the town and the people, so at the end of the summer, on her way home to Virginia, she stopped in Cooke City for two weeks.
"Two weeks became two weeks more, and then it was six more weeks, and suddenly it was winter," she says. "And I never left."
Her two-week stay has now lasted eight years. Several jobs and two businesses later, this is home. She and her fiance, Jason Hahn, own the Elkhorn Lodge in the middle of town.
You have free articles remaining.
Hahn's regular job with the National Park Service takes him out of state during the winter, so Schmitt is running the motel with the help of Abbe, her 8 year-old St. Bernard, and Hahn's yellow lab, Bones.
Besides bellying up to the bar every now and again in the Miner's Saloon across the street, Abbe is also a master thief, able to open most any tourist's cooler and make off with that night's dinner.
"She came home the other day with a giant salami hanging out her mouth," Schmitt says.
In Cooke City, everybody not only knows everybody else, everybody knows everybody's else's dogs. Residents can track each other by noting whose dog is outside which door.
The town has a mayor, but only because TV news crews kept asking to talk to one a few years ago when a mine was proposed outside town. A handful of locals held an impromptu election in one of the bars.
"Really," says Schmitt, "I think the dogs run the town."
It was originally known as Shoofly, so named by gold miners who settled the area. In 1869, the name was changed to Cooke City, after the son of a financial backer for the Northern Pacific.
By the 1880s the town had 135 log cabins, two stores, 13 saloons and 15,000 feet of mining tunnels that had been dug in the mountains.
A memo from the New World Chamber of Mines dated July 1, 1908, promised that Cooke City was "destined to rival and eclipse the great Butte district and become the largest producer in the world."
"The ore around here is so complicated," says Bill Sommers, an outfitter who also operated the Alpine Motel here from 1948-86. "There are holes all over this country, but it still has the mining engineers baffled. They never could figure out a good way to extract it."
The town has lived through several mining booms and busts.
For many years, Bill and Betty Sommers recall a winter population of about 20. Every business shut down. Cars sat unused for half the year.
There was no TV, no radio, no phones, no newspaper. There still is no newspaper delivery eight months a year. The road from Gardiner was plowed three days a week so a mail truck could get through.
In the early 1950s, both a mine and mill were operating, the mine in the summer and the mill in the winter, providing jobs and bringing an influx of people.
"In a way, it's a hard life," Blackford says. "You shovel a lot of snow, haul a lot of wood. Everything takes longer here. But there's a certain independence in the people that come here. They're in a community. … Look, I've got a bar out my front door and I can go 100 miles out my back door before I'll hit another house. How perfect is that?"
Every now and again, you'll see a car race through Cooke City, come to a screeching halt at the edge of town where the road closes, then creep sheepishly back through the little business district, down the mountain and back into Wyoming, its occupants obviously unaware, until they got here, that the highway is only open in the summer.
But most people who come here know the highway dead-ends.
"I think there's a certain appeal, for some people, to go to the end of the road, just to see what's there," Blackford says.
In Montana, it's Cooke City.