In March, Dean Cromwell spent the first week of the statewide stay-at-home order agonizing over the prospect of losing business and letting employees go from his Spoke Shop business. Within three months, however, he was hiring new staff to meet the demand in Billings for bicycles.
The Spoke Shop, which has operated in Billings since the 1970s, saw sales double during the past three months compared to the same period in 2019. The massive demand that its employees have raced to meet is a trend that's dominated the industry worldwide following the outbreak of coronavirus.
"It was kind of a perfect storm that eventually was a real boost for us, overall," said Dean Cromwell, the owner and operator of the Spoke Shop for the past decade.
Local, federal and state restrictions shuttered many businesses, with some unable to recover financially despite recent a limited reopening that began in May. Bike shops were deemed essential businesses because they provide transportation, and that designation saved them from the economic strain suffered by most industries.
"We're getting 35 bikes in for our weekly shipment, and half of them have already been sold," Cromwell said.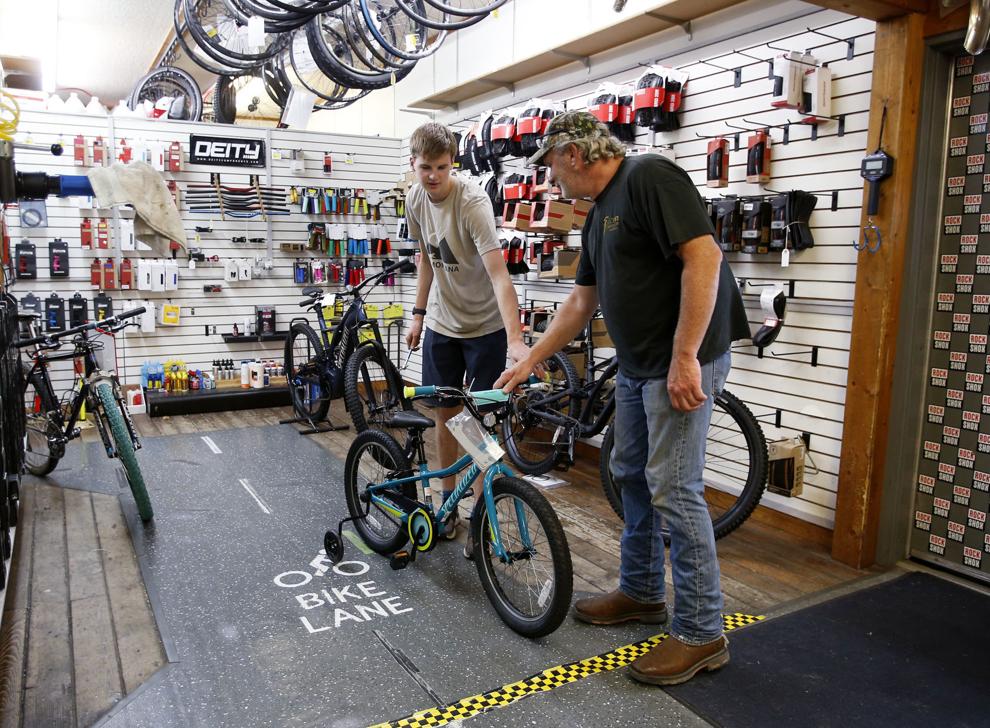 At the start of the outbreak, when people began to discuss possible stay-at-home orders and business closures, a sales representative advised Cromwell to begin massive orders on stock. Cromwell took the advice, which proved to be farsighted. Despite the massive stockpiling of his inventory, he and his employees are still working well into the night to complete orders.
"I haven't had a day off in three months," Cromwell said.
The surge in customers, Cromwell said, can be attributed to three things: the lack of products at box stores; the closure of gyms and rec centers; and schools going digital for the remainder of the education year, leaving kids at home for at least two months. Most of his sales have been in what he calls the "bread and butter" family bikes, hardtail mountain bikes fit for adults or kids riding for the first time. E-bikes, he said, have also become a top seller.
As part of a precaution, the shop began offering curbside dropoff and pickup, a service that it will continue indefinitely.
Sam Mather, who opened The Ride Cyclery at 516 N. 32nd St. in April 2019, has managed to keep pace with the wave of customers on his own. Just like his colleague at the Spoke Shop, Mather went weeks without a day off and spent many extra hours a day catering to customers under COVID-19 conditions.
Mather met with them by appointment and limited the number of people he allowed in the store. Despite the limitations, he said, the sales increase has been "substantial."
"I've only been open since April of last year, so I have no point of reference to compare it to, but it's a lot," he said.
The normally stocked sales floor, Mather said, has become increasingly limited during the past three months. The bulk of what's remained consists mostly of his higher-end full-suspension mountain bikes. The surge in demand, combined with parts and sub-components for upgrades and repairs, will keep his inventory limited until the latest bike models begin shipping in the fall.
"At this point, it's almost impossible to find a new mountain bike that's under $2,000," he said.
In the weeks past, Mather has opened up his shop for customers to browse, but said he's considering switching back to an appointment basis with daily reported cases jumping back into the double digits. Until then, he encourages everyone to keep their distance and wear a mask when they come to look for a bike.