A man who is believed to have stolen a truck and crashed onto private property near West Arrow Creek Road off of Interstate 90 Friday evening is on the run in the area, according to Yellowstone County officials.
The suspect is described as a white male in his late 20s or early 30s, with dark, camouflage shorts, and a light-colored shirt, Yellowstone County Sheriff Mike Linder said.
The suspect was driving a black Dodge while first stopped for a traffic violation by a sheriff's deputy near Billings on I-90. The man then lead officials on a pursuit and started heading east on I-90 around 3 p.m. Friday.
The man then turned toward Lockwood on Interstate 94, where the pursuit was called off near Huntley. The suspect had picked up a hitchhiker along the way, who was then dropped off and later provided information about the suspect to law enforcement officials shortly after.
Linder said that the Dodge was found on the lawn of a homeowner on North 7th Road near Huntley. The suspect then stole the homeowner's Ford pickup and traveled west on I-94. It's believed that the man returned to I-90 toward Hardin.
About 13 miles outside of Billings, the pickup, heading toward West Arrow Creek Road, crashed through a highway fence. The pickup was found later stuck in Arrow Creek on private property where the man was confronted by the landowner.
Linder said that the armed landowner took a BB gun from the suspect and told him to leave the property.
You have free articles remaining.
Law enforcement searched the area Friday afternoon using thermal imaging, drones, and search dogs. A few officers will remain in the area overnight.
"We're still trying to put it all together," Linder said.
The Dodge was not reported stolen, so law enforcement will try to track it to the registered owner.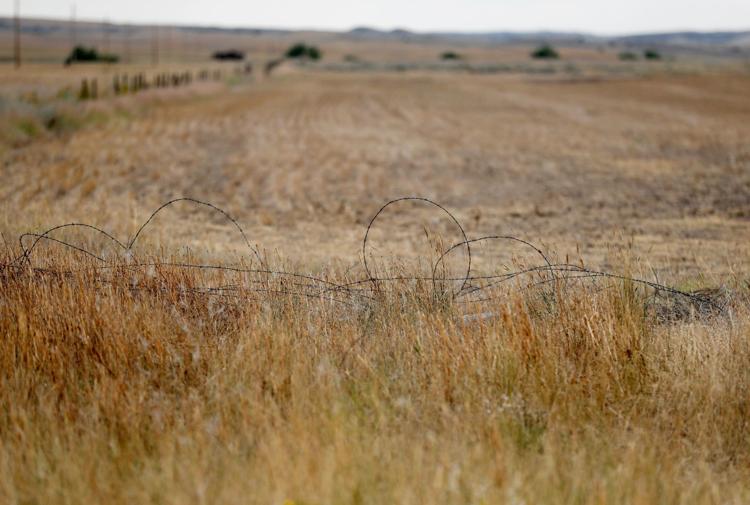 Anyone with information that could help find the man should call 911, he said. The man's name and information was not available as of Friday night.
Linder said that he was unsure if drugs or alcohol were involved in the incident.
The Yellowstone County Sheriff's Office, Montana Highway Patrol, and the Billings Police Department participated in the search.