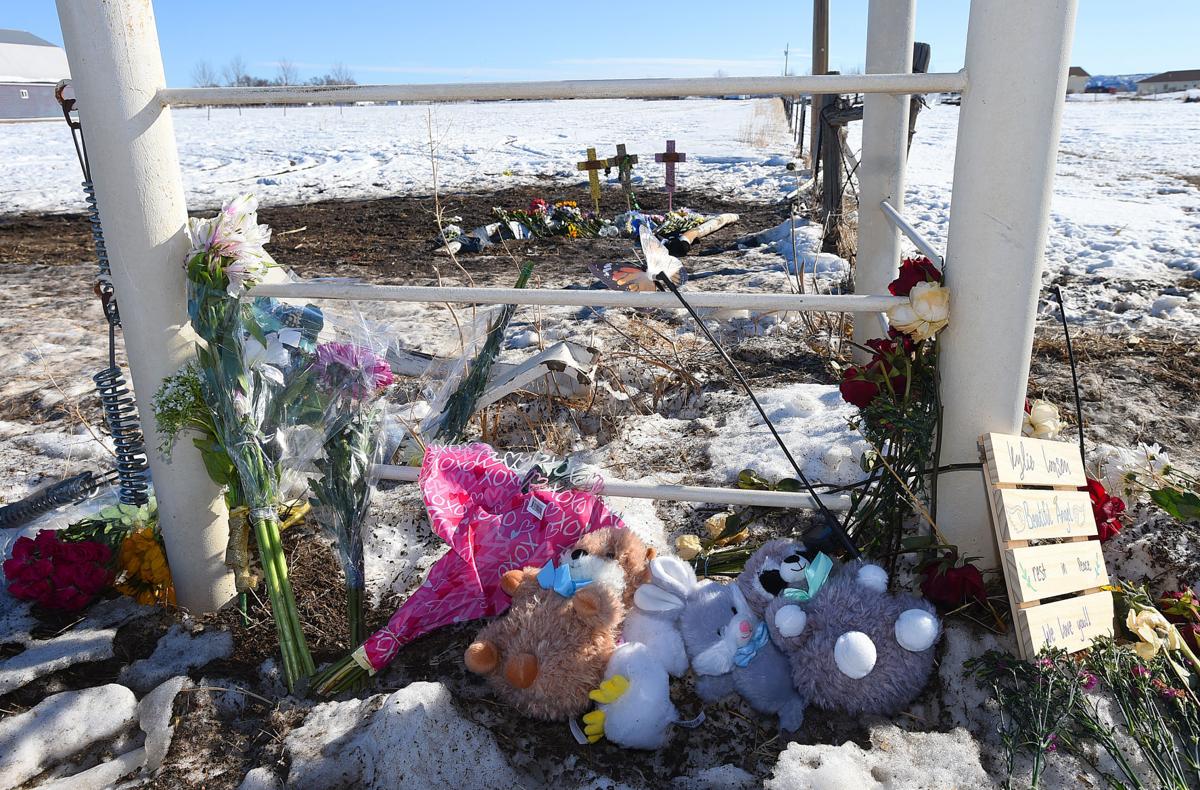 The Yellowstone County Coroner's Office has identified the three Billings teenagers that were killed in a rollover car crash last Friday west of the city. 
The driver was identified as 17-year-old Thomas Lindsay. The female passenger was identified as 18-year-old Kylie Rae Larsen. The 16-year-old boy who was a passenger in the car was identified as Conner Hunter Devere.
All three died as a result of multiple blunt force trauma injuries, Yellowstone County Coroner Cliff Mahoney said. All three were students at Billings West High School. 
A makeshift memorial formed at the crash site near a snow-covered field includes stuffed animals, flowers and three crosses planted into the ground. The wooden crosses, covered in signatures written in Sharpie, were made by Billings West students Jadyn Hoff, Nathaniel Hoff, Brayden Brown, Alyssa Pratt and Megan Jackson.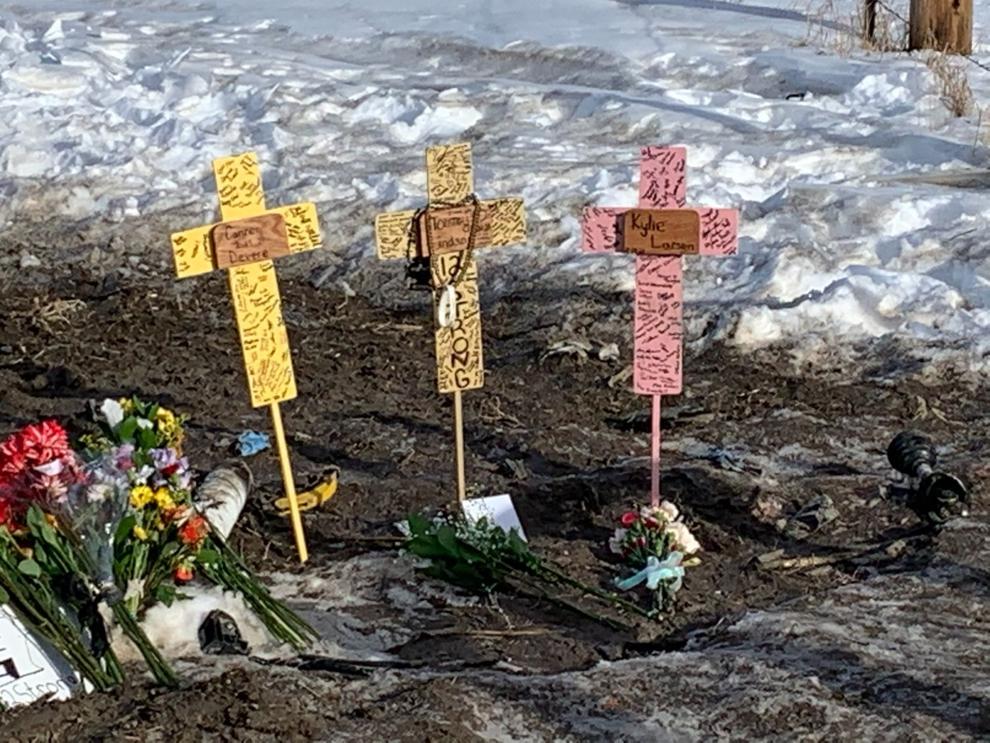 Members of the West football team were among those who went out to the crash site Sunday to put the crosses in the ground and form a team huddle over Lindsay's cross.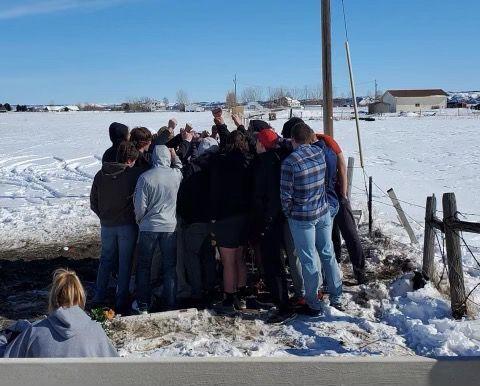 Another West High student, 17-year-old junior Zac Malcolm, was also in the car when it crashed and was taken to the Billings Clinic for treatment afterwards.
Zac's mother Jenelle Bell said Monday night that her son had gone through two surgeries and was released from the hospital at 4:30 p.m. He was allowed visitors in the hospital and was able to take a wheelchair to the atrium at one point to see his teammates from the football team.
Bell said that her son's recovery will be long but that the belief is he will be able recover and even play football again, but noted that's only part of things.
"He's got a lot of emotional healing to do as well," she said. "He was very, very close to those kids."
Some of her son's classmates were coming by to see him at home within a half hour of him getting back from the hospital Monday, and Bell said there were tears, laughter and questions as they tried to understand what happened.
Bell underscored that as her family deals with its own experiences right now, the other families involved are going through their own pain and trying to support each other at the same time.
"We're all supporting each other. This is a terrible, terrible accident, you know that, it just could have happened to anybody. Unfortunately it happened to these families. We're all supporting each other to the best of our abilities. We're all communicating. It's just going to be a tough road, for everybody," Bell said. "Our family, our heart goes out to the other families. These are people we love and care about and it's not just the kids that passed but the families themselves. These kids were intertwined in these families together."
Bell said that in terms of social media support efforts she was conscious of not trying to take away from the other immediate needs of the families affected. Still, she said Kylie Larsen's mother Jen reached out to her Monday to offer her support and tell her that she wanted to set up a GoFundMe page to help Zac going forward, which Bell agreed to. 
The Montana Highway Patrol is continuing to investigate the crash, which happened on South 64th Street West near Danford Road last Friday and was reported at 8:54 p.m. The teens were southbound when the Chevrolet Equinox SUV they were traveling in lost control and rolled over. The vehicle went off the road and through a fence before coming to a rest on its wheels.
Devere and Larsen died at the scene of the crash. Lindsay died the following day. MHP previously reported that all occupants were wearing seat belts at the time of the crash except the 16-year-old passenger. MHP previously stated it was considering both speed and road conditions as possible factors in the crash. 
The Yellowstone County Sheriff's Office in a social media post Monday shared an image of the Billings West High School Golden Bear and offered its thoughts and prayers "to all those effected (sic) this past weekend by the fatal motor vehicle crash involving three West High students."
"There are a bunch of Golden Bears here at the Sheriff's Office, but when an event like this happens, whether you are a Falcon, Bronc, Ram, Locomotive, Mustang, or a Red Devil, it hurts. To the sole survivor, we wish you a speedy recovery," the sheriff's office post continues. 
Donations aimed at helping the grieving families of the deceased have come in rapidly in the days since Friday's crash. Three separate GoFundMe's set up over the weekend had raised a combined $91,669 by 7:20 p.m. Monday.
A fundraiser with a stated goal to help Conner Devere's mother pay his funeral expenses and to help provide income as his family grieves can be found here or at https://www.gofundme.com/f/conners-funeral-costs-and-other-expenses. Organizers listed on the page are Kristine Brady and Kyla Bauer. The page describes Conner as smart and kind to everyone and a lover of hunting and fishing.
A GoFundMe aimed at helping Kylie Larsen's family can be found here or at https://www.gofundme.com/f/kylielarsen. The listed organizer is Steve Wells. "While ultimately hugs, prayers, and love are most meaningful, financial support eases one of the burdens a family faces in the wake of tragedy, leaving them room to mourn, celebrate, and grieve," a description on the fundraising page says.
Schye, the parent who set up Tommy Lindsay's GoFundMe said Monday that she has a son on the Billings West football team, which Tommy and Zac also played on. In conversations with other football parents since the Friday crash, Schye said there was a desire to do something to help.
Schye said she had never met Lindsay's parents before she contacted his stepfather ahead of setting up the account. In talking about why she set up the fundraiser, Schye referenced the Ramsey Keller Memorial Foundation, which was set up by Billings parents Kori and Jeff Keller to help cover funeral costs in Montana for babies up to the age of one. The foundation was started after the death of the Keller's infant daughter Ramsey Jo, who was born with fluid in her chest cavity.
From knowing about that nonprofit, Schye said she came to believe that no parent should have to pay to bury their child.
"I just have always kind of stuck by that," Schye said. "I just don't feel like any parent should ever have to pay for it. And they shouldn't have to lose a child to begin with. Obviously there's a lot of people that agree."
As Schye spoke by phone Monday, she said that she had just seen an account named Skyview Football donate to all three GoFundMe pages. 
"People are really trying to come together and help these families," Schye said. "It's pretty heartwarming to see. We have such a great community."
The Billings Public Schools Crisis Response Team, which includes counselors across the school district and other support staff were working Monday to help guide administration and support students and staff. The crisis response team was offering help at both Billings West High School and the Career Center. 
In addition to counseling, the crisis response team also works to plan the school day and helps put together information that can be shared with students. The team additionally works to support teachers and staff, either because they are directly dealing with emotions brought on by recent tragedy or by helping them figure out how to answer questions students may have. In some cases that can mean having additional substitute teachers ready for staff. 
Billings Public Schools Superintendent Greg Upham said he attended morning staff meetings the crisis response team held. 
"Everybody was doing as well as could be expected and the appropriate supports were employed," Upham said.
Upham, who has been in education either in a teaching or administrative capacity since 1988, said in terms of loss of life he has seen tragedies on this scale before in a school districts. 
Being proactive, sharing as much information shared as possible, offering as much emotional support as is available and continuing to monitor the situation are all key at a time like this, according to Upham.
"You know, it's, this is day one and these type of impacts to a school impact it for a long, long time. And so, you know, as an administrator you're cognizant of that. You need to be aware of it and you could be seeing emotional issues all the way through the end of school and into next year. So you just have to be patient with it and be very caring and loving."
For students, staff and parents Upham said the main thing is "If you need help, reach out. It's there."
He continued, saying that this should be taken one day at a time. "Support each other and help each other," he said. "I don't think there's any magic to this. It's time and constant, consistent support."