Columbus fire chief Rich Cowger clicked through slides showing homes torched in a wildfire. 
"We think, 'Well, in the town of Columbus, are we safe?'" he said. "Relatively speaking, (yes). Could we have something that happened like in California last year? In the right conditions, (yes)."
Cowger was referring to blazes like one that destroyed more than 1,000 structures — in December. It was an example of fires that spread faster, burn hotter and catch sooner or later in the year. 
A presentation at the Columbus fire station Monday talked about why fires have gotten worse and will continue to worsen.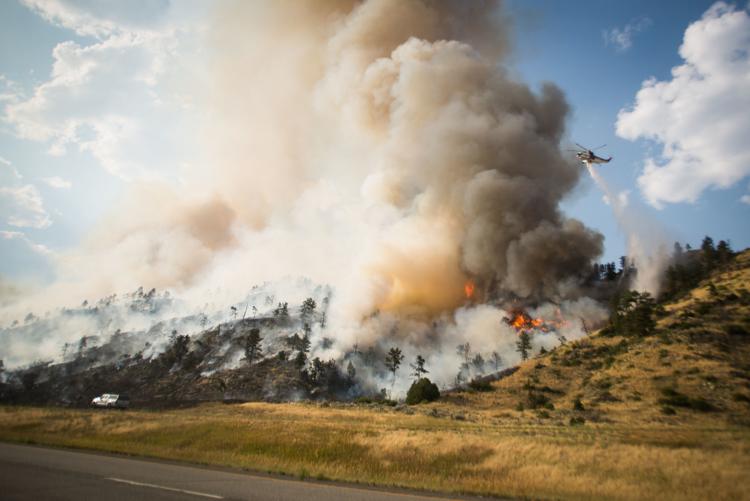 Cowger brought that conversation to Columbus' context. Large swaths of Montana are in an area called the Wildfire Urban Interface, where homes encroach on fire-prone areas, including in much of Yellowstone County. Cowger also talked about what homeowners can do to protect themselves in a new era of wildfires and how policy changes could help that — while acknowledging that it's not easy to get everyone on board. 
"We know everybody's got some different views on what that looks like," he said. 
'Epidemic of Trees'
Paul Hessburg talks about fire the same way a farmer might talk about rain. 
Hessburg, a forest service researcher based in Washington, makes the case for wildfires being an indispensable part of the natural world. He compares pictures from the early 1900s to current forests, and highlights areas in the old photos that look "patchy."
A full forest isn't necessarily a healthy forest, he says in a recorded talk, the "Era of Megafires." Some areas suffer from an "epidemic of trees."
That's a result of decades of fire suppression and unwise logging practices. Hessburg traces how fire historically burned through a small layer of undergrowth, not spreading into the crowns of stately old pine trees whose bark was actually tough enough to resist flames. 
Forests and grasslands burned more often, but less severely. Those patchy treeless areas that Hessburg highlighted helped spread fire like a conveyor belt, and American Indian tribes used controlled burns for centuries to optimize agriculture and grazing land. 
But as tribes were pushed to reservations, logging targeted some of the largest trees, and clearcutting wiped out swaths of forest. What grew up beneath it was brushier, thicker, and a ladder into the crowns of trees for flames. 
Hessburg points to a graph of acres burned by wildfire that shows a U-shaped curve, with a drop from a peak in the early 1900s and a steep rise into current times.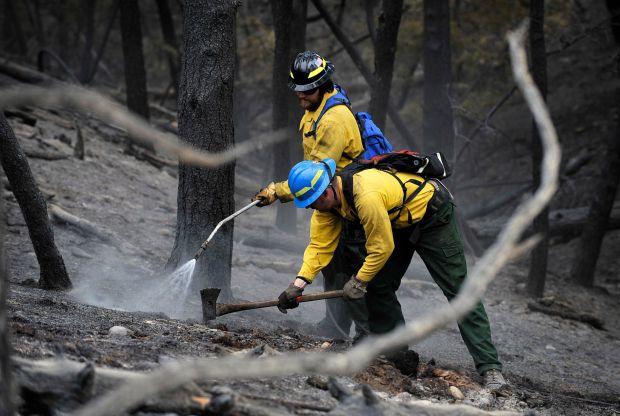 The early peak represents the era of the Big Burn, a wildfire event that spurred policies of suppression. And our current rise shows how that suppresssion, which was effective for years, has been overcome by landscape shifts and climate change. 
Combine all of that with more people moving into an area termed the Wildfire Urban Interface, Hessburg said, and it's a "ticking time bomb."
Diffusion
In the recorded talk, Hessburg appears to be speaking to a group of environmentalists. When he mentions logging, he notes that "many of us" were turned off to the concept by clear cutting. 
That disclaimer may not be necessary in conservative Stillwater County. Instead, climate change — which scientists say is resulting in warmer weather that dries out vegetation and extends the fire season — prompted a side note. 
"You can stand wherever you stand on that, but the facts are there," Cowger said.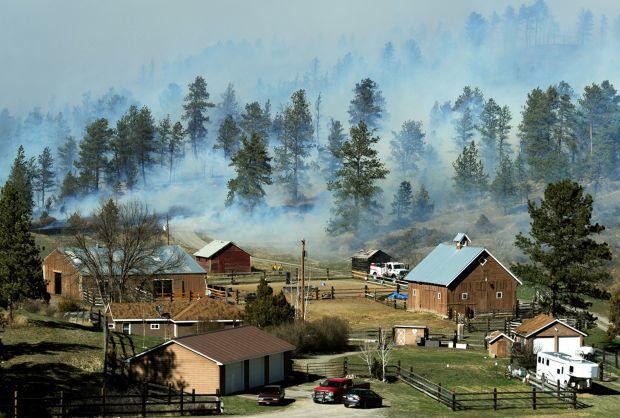 The underlying premise behind explanations for both audiences is that fire policy needs to have every tool available, no matter the ideological lines.
Hessburg advocates a logging approach branded as "mechanical thinning," which targets small-diameter trees to open up underbrush and eliminate the vegetative ladder that fire can use to get into the crowns of large trees. 
You have free articles remaining.
He acknowledged that there are challenges in finding sawmills equipped to use such trees, but argued that such logging has the potential to create a steadier supply stream for mills. He also noted that areas like national parks or wilderness areas shouldn't be logged.
Neither Hessburg nor Cowger dwelled on causes of climate change. But they both noted that climate predictions show that fires will get worse, and that fire season will be longer. 
And they both talked about there being more than one way to live with fire.
Prescription treatment
"Ask people up in Missoula how they feel about wildfire smoke," Cowger said, referencing the persistent poor air quality from nearby fires in northwest Montana last summer. 
According to the Montana Department of Natural Resources and Conservation, the state could face a similar outlook this year. 
The Beartooth Mountains, which loom south of Columbus, were spared from large fires last year. But the water-rich high country gives way to drier climes as you move toward I-90. 
"We know in our area that what's nice and green today may not be in two weeks," Cowger said. 
In dry years, that makes some fires inevitable. Burning when it's nice and green can help rein those fires in, recreating the patchier landscape that Hessburg harps on.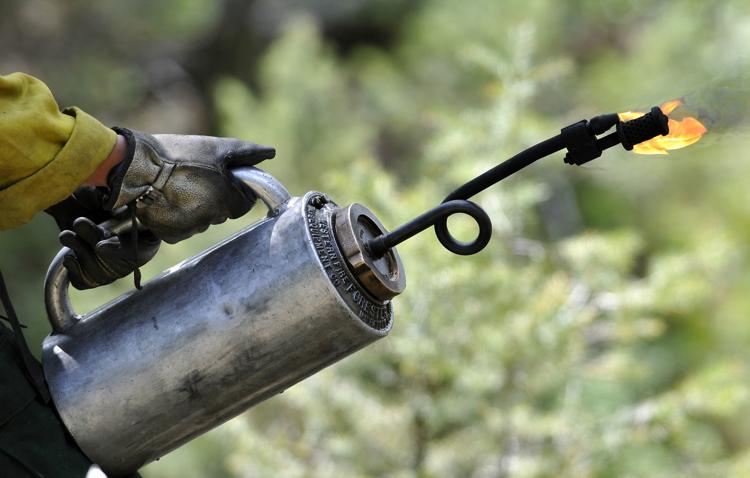 That can mean anything from burning slash piles to larger controlled burns across dozens of acres on both forest and grassland.
Hessburg argues that smoke from prescribed burns is less concentrated and doesn't last as long as that from runaway wildfires. But those burns still create smoke, and that means some opposition. 
Cowger cited burns on Forest Service and Bureau of Land Management land in Stillwater County, but said that such fuel reduction projects are more complicated across a patchwork of private land. Even if one landowner is on board, surrounding landowners may not be. 
Add in encroaching development, and "what we see in our subdivisions in our area is not natural."
Homeowners
Wood siding and wood shingles look nice. But it would be nicer to see them go away, Cowger said in a restrained sort of way. 
"As homeowners, we need to take that initiative and responsibility on the front end," he said. 
The presentation included pamphlets with recommendations for making homes more fire resistant. Some recommendations, like limiting vegetation around a home, focus on avoiding exposure to open flames. 
But embers raining down are the larger problem. 
They collect in rooftop crevices and in corners. They float in vents. They get stuck between deck slats. They build up and then burn down.
So far, the Cathedral Mountain subdivision near Nye is the only one to receive a Firewise designation for wildfire preparedness.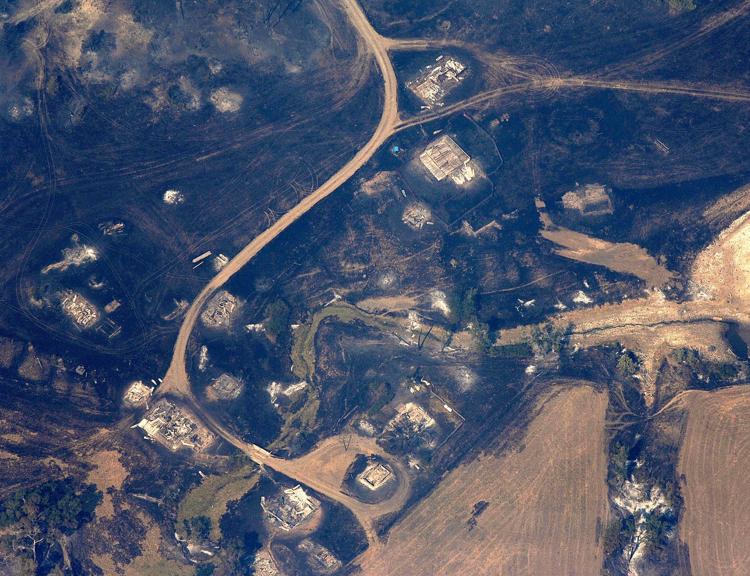 Cowger talked about a wind-driven March 2015 fire near Columbus where decks especially gave his firefighters trouble when protecting structures.
He also cited the 2006 Derby Fire, which burned more than 220,000 acres and 46 structures between Sweet Grass and Stillwater counties — the area's own megafire.
"When we buy our chunk of paradise, it's not really paradise yet," he said. "But we can make it that way."