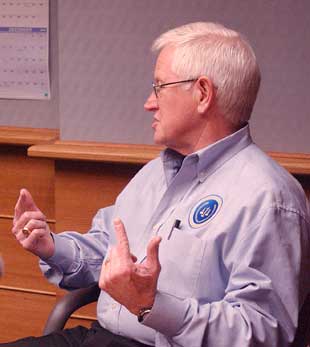 Lou Reiter today assured the Billings City Council that his investigation of suspended Billings Police Chief Ron Tussing will be thorough, professional and unbiased.
Reiter, a law enforcement consultant and former deputy chief of the Los Angeles Police Department, has been hired to conduct an investigation of Tussing's activities as police chief. He met with the mayor and council because some members of the council had questions about how the investigation would be conducted.
Reiter described the investigation as an administrative process.
"I make sure that everybody involved is treated with dignity and respect," he said. Because of the volume of work, Reiter said he is being assisted by Jack Ryan, another law enforcement consultant, who is an attorney and a retired police officer. Cal Stacey, a Billings attorney, has also been hired by the city to assist in the investigation.
Reiter assured council members that he would interview Tussing as part of the investigation. Reiter said the person accused of any wrongdoing is interviewed last. "By that time we can develop what the allegations are," he said.
Reiter said he has also read through dozens of city documents that have been posted on The Billings Gazette Web site.
"They have a nice Web site," Reiter said. "I've also Googled Ron Tussing and Kristoff Bauer," he said, referring to the popular Internet search engine.
Reiter made his comments in response to a question from Ward 3 Councilman Vince Ruegamer, who mentioned that many Billings people have questioned whether the investigation would be fair and objective.
Reiter said he and Ryan plan to work "from 7 a.m. to 11 p.m." interviewing all parties, including Bauer, Tussing and other members of the Billings Police Department.
Reiter's investigation may run a tab up to $15,000 at his $2,500 daily fee in addition to expenses of up to $4,500.
Reiter said this is his first visit to Billings and he doesn't know any of the parties.
Tussing was suspended with pay on Feb. 22 pending an investigation into his activities as police chief. Tussing's suspension followed a lengthy dispute with Bauer, the Billings city administrator.
City Council meets with consultant Broadband | 56K City Council meets with Lou Reiter. More of City Council meeting Broadband | 56K Allow extra loading time.
Mayor Chuck Tooley said today's special meeting was called because several council members had questions about how the investigation would proceed. Councilmen Dave Brown and Larry Brewster, both of Ward 2, weren't able to attend.
Reiter said he and Ryan plan to interview people within the Police Department, and he would likely interview Fire Chief Marv Jochems, but not other city department heads.
Reiter said his completed report would be presented to the City Council, but he didn't say when it would be done.
About 20 members of a Tussing support group named This is One for the Chief, attended the meeting.
Skip Godfrey, a member of the group, said he couldn't apologize for the group's outspoken support of Tussing.