When country singer Chely Wright found out that a Billings nonprofit was hosting a Pride festival in town, she had to visit and perform.
On Saturday, local organization 406 Pride held a Pride parade and festival in downtown Billings, with special guests as entertainment.
Wright, who has performed many shows in Montana in the past, was excited to hear that a small city was creating their own festival for the LGBTQ+ community and advocates who identify as straight.
"Most Pride events are kind of in a bigger metropolitan area, which draws people from smaller communities," Wright said. "When I was contacted about Billings' Pride a few months ago by my managers, I was like, 'Billings has a Pride?' I was unaware that there was any advocacy to this degree happening, so I wanted to be a part of it."
Wright has been to over a hundred Pride festivals across the country, and was the first country music singer to have come out as lesbian.
It was encouraging to see 406 Pride open a resource center earlier this year, she said.
"I've been to much bigger and much more metropolitan areas that don't have a center," Wright said.
She wrote an autobiography that was published in May 2010 titled, "Like Me." It describes her life and her journey growing up in a small Midwest town in Kansas. She knew at a young age she was different, and was driven to become a singer and songwriter, no matter the amount of push-back she experienced.
She's released 10 albums since her start 25 years ago.
"My book and I came out on the exact same day," she said.
Her music and her book help fans with their journey in coming out.
"The thing I always tell people is, don't come out until you feel safe and able," she said. "Safe and able is different for every person."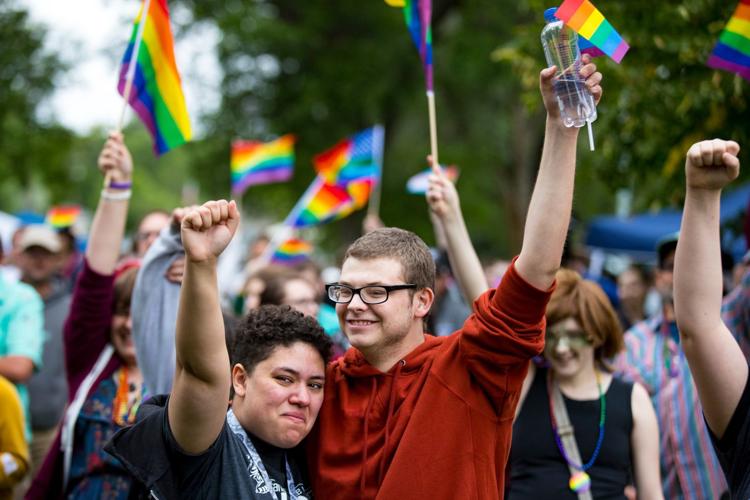 Regina Jaxxx'n, also known as Rick Hibbs out of drag, is a part of the House of Iris, a four-person drag group in Billings.
The group performed at the festival Saturday and said it's important to have role models like Wright who are part of the LGBTQ community.
"It's important to at least some people that these individuals are here and serve as an example of what's out there and that you can make it," Jaxxx'n said.
The festival is important to show that there is a LGBTQ+ community in Montana and that it is an open and friendly place to be.
You have free articles remaining.
There's potential for Billings to grow more when it comes to Pride.
"It's about visibility," Jaxxx'n said. "I moved to Roberts from Washington a long time ago. Growing up there, there's nothing to go off of. There's no culture to absorb and a lot of it's based on the internet and TV, which isn't always an accurate representation in the media."
Festival participant, Alma Wright, wore a "Free Mom Hugs" shirt while at the festival to support her daughter and others.
Her daughter, Shyanne Wright, came out as bisexual when she was in middle school. Her family tries to attend as many as they can when events are in the area.
"It makes sure that the community is out there and that we support each other," Shyanne Wright said.
The event included a parade that traveled through downtown Billings and ended at North Park. The festival was located at North Park, where over 50 different vendors and organizations congregated. Other live entertainment included local musicians and dance groups and Jaymes Mansfield, known from season nine of "Ru Paul's Drag Race."
About 1,200 people showed up to the event this year, a jump from the 750 who participated last year.
Two separate 406 Pride dance parties will start at 9 p.m. Saturday— one for 18-year-olds and older at the Red Lion Ballroom at the Red Lion Hotel Billings, 5500 Midland Road; and one for a 21-and-older crowd at The Loft.
The event recognizes 50 years since the Stonewall riots, a series of confrontations that began on June 28, 1969, between police and gay rights activists outside the Stonewall Inn, a gay bar in the Greenwich Village in New York City. It sparked a social justice movement in the United States and around the world.
406 Pride opened its resource center, located at 310 N. 27th St., earlier this year and has created a safe space for kids and adults.
The center provides support for kids and parents and helps homeless youths connect with resources.
The nonprofit plans to create a 406 Pride youth group and a Rainbow Families program this fall. Families who have LGBTQ+ parents or caregivers can participate in activities with similar families in Billings. The center also aims to be a safe space for kids after school, with operating hours Monday through Friday, 2:30 p.m. to 5:30 p.m. The center is open on Saturdays from 11 a.m. to 2 p.m. It assists about 10 people or more each day free of charge.
Learn more by going to 406pride.org or by visiting the organization's Facebook page.
____________________________________
Photos: 406 Pride Festival in downtown Billings