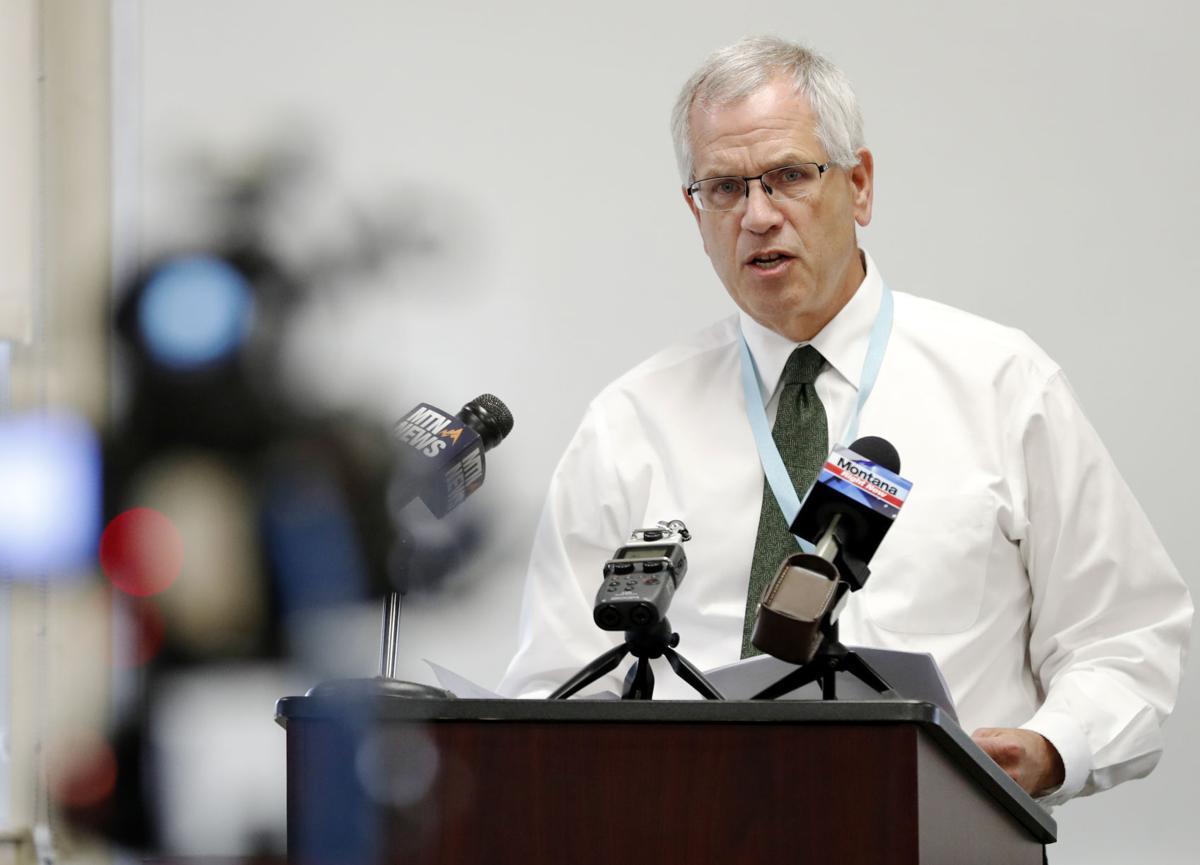 Due to a recent surge in COVID-19 cases in Yellowstone County, local public health officials announced Monday that new restrictions could be imposed soon.
In September, Yellowstone County recorded its highest number of new COVID-19 cases, its highest number of COVID-19 patients hospitalized in Billings, and 22 COVID-19-related deaths, according to county public health officer John Felton during a press conference Monday afternoon.
If the new COVID-19 infection rate is 40 cases per 100,000 people or higher for the week ending Oct. 31, the local public health department will issue a new order that will take effect Nov. 2, Felton said. For the past three weeks, daily infection rates have averaged 31, 32, and 36 new COVID-19 infections per 100,000 population per day.
However, if Yellowstone County reports 50 cases or more per 100,000 people during a week prior to Oct. 31, then the restrictions will go into effect immediately.
With the new restrictions, group gatherings would be limited to 25 people, regardless of the ability to socially distance. This will not apply to schools, Felton said.
Restaurants, bars, casinos and places of worship will be capped at 25% regular capacity, and establishments serving alcoholic beverages will be required to close by 10 p.m.
Felton also encouraged residents to limit the duration of close interactions of six feet or less to 10 minutes and to limit social interactions with non-household members to no more than six people per week.
As of Monday afternoon, health care system capacity for St. Vincent Healthcare had elevated to red status on the Yellowstone County COVID-19 dashboard on RiverStone Health's website; capacity at Billings Clinic was still marked yellow as of Monday night, Felton said.
Health care capacity refers to sufficient hospital staff, beds and equipment to treat patients with COVID-19 and all other patients safely. However, this area is experiencing stressed operations and critical concerns.
On average in September, 63 people were hospitalized at Billings Clinic and St. Vincent Healthcare with COVID-19. Less than half of those were Yellowstone County residents and the remainder were residents from other counties. On average every day, there were 16 patients in the intensive care unit with the virus, and 11 of those were on ventilators.
Monday, there are 96 people hospitalized with COVID-19 in Yellowstone County and 28 of those are in the ICU. Of those 28, 19 are on ventilators, Felton said. About 45% of those hospitalized are residents of Yellowstone County.
"I've discussed the concerning rise in cases with our medical experts and the leadership of our two hospital systems," Felton said. "Together we've concluded that the increasing rate of COVID-19 is more than we can accommodate."
Felton explained that if the number of new Yellowstone County cases are added up from Sunday through the following Saturday, and the total is fewer than 452 cases, then the county is under the 40 cases per 100,000 threshold for the week. If the number adds up to more than 452 cases, "then we're in danger of increased restrictions," Felton said.
If the week ending Oct. 31 has more than 452 new cases, then the new restrictions will be imposed.
If the number of new cases in the county adds up to 565 or more during a week prior to Oct. 31, then the county is experiencing 50 cases per 100,000 people and restrictions will be imposed immediately.
"Montanans have a strong sense of personal responsibility," Felton said. "This is our chance to prove that we care enough about the people in our community to be personally responsible for slowing the transmission of COVID-19."
Felton noted that October has already met a few COVID-19 milestones. Just five days into October, 1,164 Yellowstone County residents are actively infected with the virus, and Friday marked the first time the county had more than 1,000 active COVID-19 infections.
If the almost 1,200 active cases had four close contacts, there should be nearly 6,000 people isolating and quarantining, Felton said. That's nearly the population of Laurel.
"As we get further into the month of October, we need to reverse the trend of increasing infections that result in a large number of people being isolated, quarantined, as well as record hospitalizations and deaths," Felton said.
The health department completed 1,042 case investigations in September, and 77 cases have yet to be assigned for investigation as of Monday morning, Felton said. With the high case load and limited staff, it takes about 72 hours from when an individual is notified that they've tested positive to when the case investigation interview is conducted, which identifies close contacts.
Free COVID-19 testing will continue through Oct. 8 from 9 a.m. to 12:30 p.m. in the parking lot of the Shrine Auditorium. On Friday, Oct. 9, the testing site will be closed and reopened on Oct. 12 at a new location for drive-thru testing. It will be located at 2173 Overland Ave. in a vacant space in the United Way of Yellowstone County building south of Costco.
Felton reiterated the importance for county residents to follow public health guidance to slow the spread of the virus. Individuals should socially distance themselves from others, wash their hands, wear masks in public places, avoid group gatherings, and to stay home from work or school if they feel sick. 
Receiving a flu vaccination is important as well, Felton said, since it's possible for an individual to have the flu and COVID-19 at the same time. Flu shots do not protect against the coronavirus, he said.
Seven Yellowstone County schools may have cluster outbreaks of COVID-19, Felton said. Health officials are investigating as already-published state reports show that 31 schools in the county have had a student or staffer test positive.
Isolated cases have popped up in schools for weeks. Education and health officials have largely considered those isolated cases inevitable, and have focused on health measures to prevent a more widespread outbreak — a key step to keeping schools open.
RiverStone considers a "cluster outbreak" as three or more cases that could be linked; the investigations don't necessarily mean that cases are linked in schools, just that there's concern that they could be.
Billings schools have remained open since their August reopening, using separate in-person and online-only models. Most students attend school in-person.
Superintendent Greg Upham has floated the possibility of classroom, grade level, or school closures in response to a localized school outbreak.
Public health officials could order a wider closure. A series of four indicators were staked out by officials earlier this year; three of the four indicators would have to hit certain levels for two-week periods to trigger a closure.
At least one of those has. For the past three weeks, new cases in the county  have averaged 31, 32, and now 36 per 100,000 people each day — all above the 25 per 100,000 threshold.
"To keep kids learning in the classroom, we must minimize the numbers of infections," Felton said.
The average positivity rate hadn't hit the 15% threshold so far, according to the most recent update to RiverStone Health's COVID-19 dashboard. The other two indicators are more subjective, evaluating the nature of positive cases or outbreaks in schools and the availability of public health and hospital resources to deal with the wider COVID-19 caseload.
"We want to safely keep our kids in a classroom for in-person learning, we want to keep our businesses safely open and, importantly, we must avoid overwhelming our hospitals with seriously ill COVID-19 patients," Felton said.
The Billings Gazette's Matt Hoffman contributed to this report.