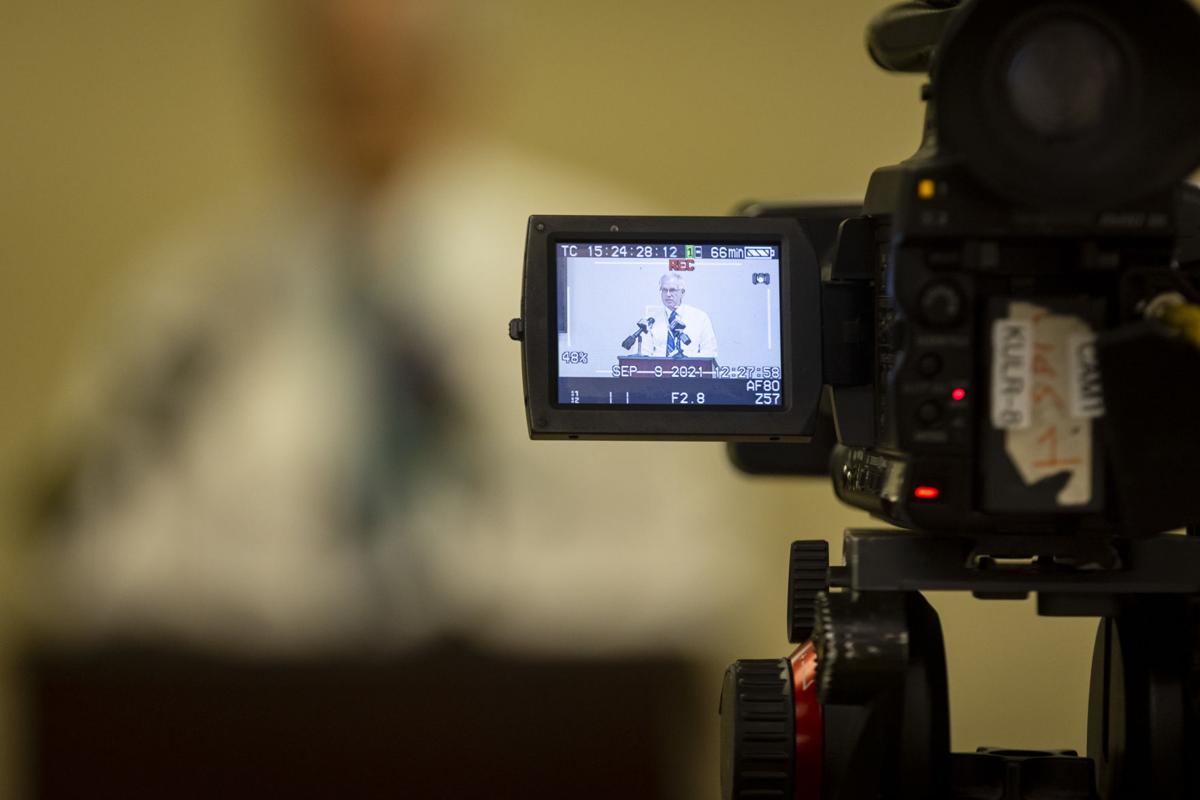 Yellowstone County Public Health Officer John Felton updated the public Thursday on the rapid rise in COVID-19 cases, citing numbers similar to the initial surge, including overflowing hospital capacity and an uptick of COVID cases in school-aged kids.
An upward trend has continued since July and August when numbers began to climb after a relatively quiet summer. August brought 1,193 COVID cases, more than April, May, June and July combined, Felton said during a press conference in Billings.
On Thursday, 451 COVID cases were added in Yellowstone County, making the active case count 1,555 cases for the day. Of those, 59 new cases appeared in residents under age 19, with the average age falling to 12 years old. Last week, 180 cases were recorded in those under age 19, representing 24% of COVID cases for that week, Felton said. Among those, 91 cases were in high schools, 26 in middle schools, 32 in elementary students and 31 cases were in kids under 5 years-old.
The volume of positive cases rolling into the case investigators office has greatly outpaced the capabilities of RiverStone Health's teams, leaving 1,220 cases awaiting investigation. The average time it takes to trace one case totals about one hour, meaning there is 1,220 hours worth of work waiting for case investigators.
Letters have been sent to each positive case with recommendations on quarantine protocols and instructing the receiver to reach out to all of their close contacts and their work. No isolation orders are being sent out, Felton said.
RiverStone Health is responsible for contact tracing in most schools in the county but the setbacks in case investigation make it difficult to determine where the spread is occurring. But, Felton said there is evidence that spread is occurring both in schools and in after-school activities. 
RiverStone Health is giving priority to people under age 19 for case investigation calls. 
Wednesday marked the first time since December that the two hospitals had 100 or more COVID-19 patients, Felton said. On Thursday, both Billings Clinic and St. Vincent Healthcare were caring for 99 COVID patents with 36 in the intensive care unit and 23 on ventilators. In all of August, the county saw 140 COVID hospitalizations, marking a 96% increase in the last four weeks.
Of the 99 patients hospitalized, 91% are unvaccinated. Those who develop serious COVID illness after vaccination have underlying health conditions, Felton said.
In 18 months, 302 COVID-19 deaths have been recorded in Yellowstone County. That's 13 times higher than deaths caused by influenza over a five-year period, not including the 2020 to 2021 flu year in which no cases were recorded in the state likely as a result of wide-spread masking.
In August, 15 residents died of COVID-19, the highest number since January. The first days of September brought the youngest COVID-19 death in the state. She was 20 years-old and unvaccinated.
Statewide, 1,830 people have died of COVID-19.
RiverStone Health has recorded an uptick in COVID-19 vaccinations with 3,000 being administered in the last week compared to 1,000 doses in previous weeks. However, some of those are third doses for immune compromised residents which was recently recommended by the Centers of Disease Control and Prevention.
Since the week ending Aug. 14 to Sept. 4, at least 884 people received a third dose of either the Pfizer or Moderna vaccine in Yellowstone County, although it's not clear how many did so because they had weakened immune systems. No proof of condition or immune suppressing medications is required to receive the third dose. Last week, about 298 third doses were administered, but the number could be undercounted due to delays in vaccine reporting.
In Yellowstone County, only 42% of the total population are fully vaccinated.
"Because our youngest residents cannot be vaccinated we need to pay special attention to prevent them from exposure to the COVID virus," Felton said. "People who take personal responsibility to avoid infection cannot spread the virus."
Felton also addressed the ethical dilemma posed by HB 702, which prohibited not just government entities, but private businesses from deciding whether their employees or customers should be vaccinated. The law applies not only to COVID, but includes other vaccines that protect against transmissible diseases, such as measles, hepatitis, and even the flu.
"The law poses an ethical dilemma for public health and health care professionals," Felton said. "So when people are exposed to a person infected with COVID-19, this law dictates that either all exposed people must be quarantined or none of the exposed people can be required to quarantine."
The law conflicts with CDC guidance which states that unvaccinated people need to quarantine while vaccinated people who are close contacts do not need to quarantine because their risk of infection is much lower.
"HB702 places public health and health care professionals in our state in an impossible situation. Follow the law and violate best practices by science, or follow the science and violate the law," Felton said.