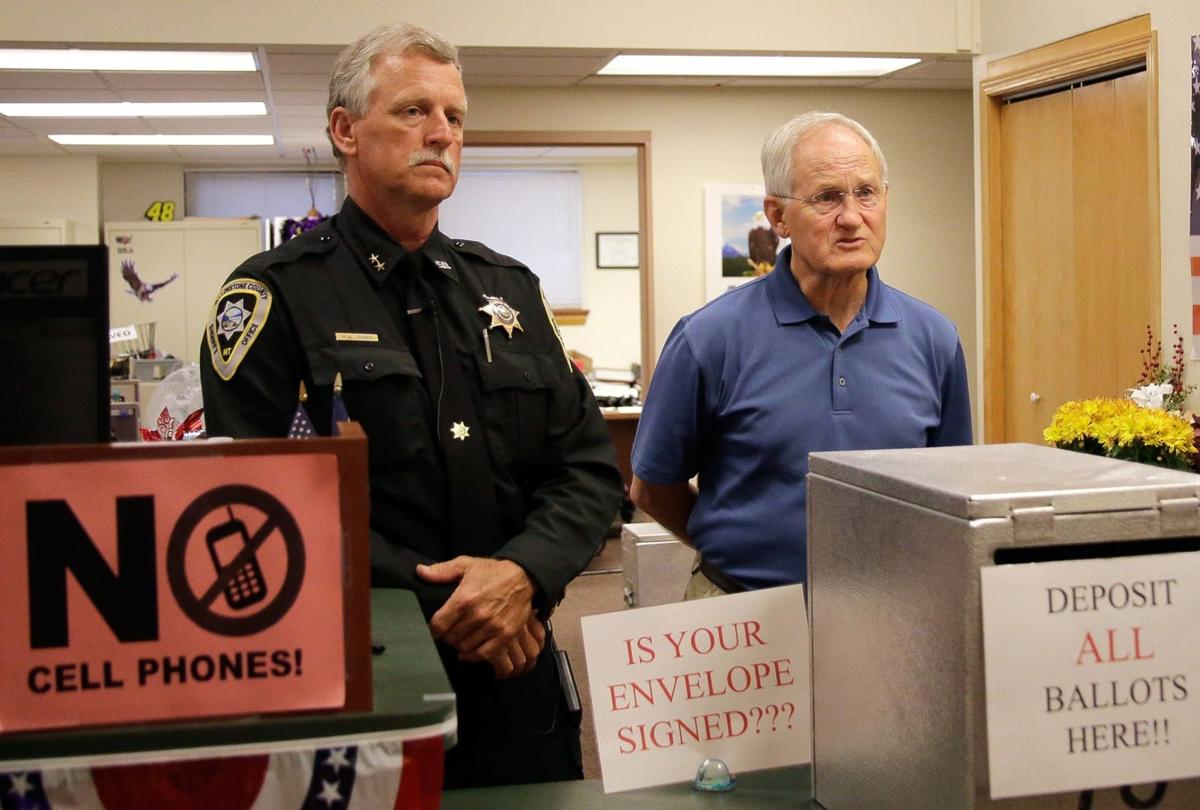 County officials wasted little time Wednesday morning lamenting Yellowstone County voters' decision not to fund a $7 million jail levy.
Instead, county commissioners huddled with County Attorney Scott Twito, Sheriff Mike Linder and others to, as Twito said, "hold one of those meetings where everything is on the table."
Final, unofficial results show the measure went down by a 55.2 percent to 44.8 percent margin. According to the Yellowstone County Elections Office, 18,861 people voted against the levy, and 15,307 voted for it. Turnout was 53.3 percent of the county's 64,176 registered voters.
Twito has at least two ideas that could alleviate crowding at the Yellowstone County Detention Facility, particularly in its women's unit.
The first idea, he said, is to identify the women being held there on, for example, a parole violation in order to reduce the period between the violation and the judicial proceedings that follow it. Those proceedings can take weeks, depending on whether the woman denies the violation occurred.
"We want to adhere to due process. This is just an idea," Twito said. "It will require cooperation" from a number of participants in the judicial system, including public defenders and judges, he said.
The other possibility, he said, is to "really look at our system of how people are being incarcerated." That could involve more outside-of-jail monitoring of women who are now in jail awaiting their fate.
"It would be costly and time-consuming for my office to do that, but I have to come up with options," Twito said.
That approach would be similar to a risk assessment program suggested by Justice of the Peace David Carter.
"I don't have a lot of experience with it, but I am familiar with the risk assessment tools out there," Twito said. "My intent is to lay out options so that commissioners can make the best decision moving forward."
Bill Kennedy, who chairs the Board of Commissioners, said another part of the answer could be reducing the number of federal, state and inmates from other counties housed at the local detention facility.
"They probably need to move on at a quicker pace, but that is a double-edged sword because they bring in revenue," Kennedy said.
In fact, Linder said, housing out-of-county prisoners at the local detention facility is expected to bring in $2.6 million during the current fiscal year and $2.9 million during the coming fiscal year, which begins July 1.
"If that money goes away," Linder said, "it has to come from somewhere else."
It would take just a few years of housing out-of-county prisoners to cover the cost of the jail levy, Linder said.
"In five years, we would have paid off the facility we wanted to build," he said. "Or we can spend $10 million and have only rent receipts to show for it."
As many as 25 percent of the people being detained on any given day are being held on behalf of authorities outside the county — federal and state holds, holds requested by Billings officials, fugitives and inmates from Stillwater and Carbon counties.
The local jail charges $70 per day to house federal prisoners, $69 for state inmates and $100 for surrounding county holds and the city of Billings.
As he made the dozen or so public presentations explaining the jail levy during the weeks leading up to the election, Linder said he heard at least two messages loud and clear.
"A lot of people were misinformed" about such options as housing some inmates at the Two Rivers Regional Detention Facility in Hardin, which is now being run by a private corrections firm based in Louisiana and, according to Kennedy, would require expensive modification to bring the facility up to state prison standards.
The other message Linder heard involved dollars and cents.
"'No more taxes,' is overwhelmingly what I heard," he said. "A lot of people said, 'I am not paying one more dime in taxes.'"
Linder praised efforts by local media for helping spread details about how jail levy funds would be used.
"I did what educating I could, and we put stuff out in the press," Linder said. "If people didn't receive that information, they weren't looking."
The jail levy is the first levy campaign Linder has been involved in.
"I don't know what we could have done differently," he said. "We got the word out the best we could."
Kennedy, for his part, called Wednesday's meeting "a very good discussion. I have to hand it to County Attorney Twito, who took the lead and said, 'Here are some things we need to take a look at.' We need to start taking small bites and look at some of these short-term options."