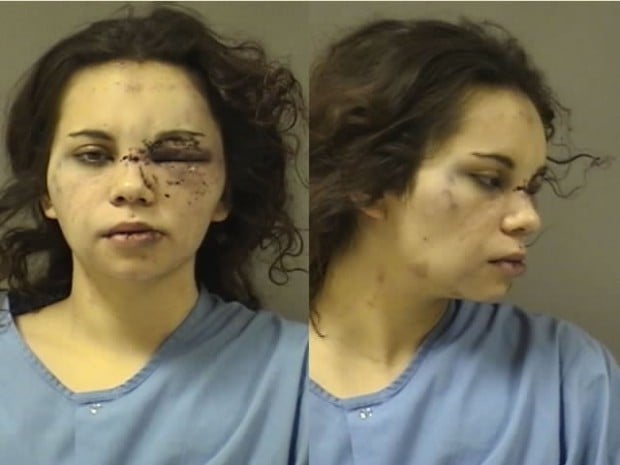 A Billings woman arrested this weekend for the stabbing death of her husband will not be charged, authorities said Monday.
Daisy Rae Morast was released Monday afternoon from the Yellowstone County Detention Facility, where she had been held since early Saturday, when police were called at about 1:40 a.m. to a house at 1129 N. 24th St.
Officers found Jason Morast, 27, with several stab wounds. He died while medical crews were working on him. Daisy Morast, 24, was taken to a Billings hospital for treatment and was arrested later Saturday on suspicion of deliberate homicide. She was released from the county jail at about 4 p.m. Monday.
The decision to release Morast was made after a review of the evidence showed that she had "a substantial claim of justifiable use of force," said police Sgt. Kevin Iffland.
Authorities reviewed 911 calls, autopsy records, Daisy Morast's medical records and interviews with family members, Iffland said.
Calls made to 911 related to the incident early Saturday were released to The Gazette on Monday. In the calls, Daisy Morast is often frantic and screaming.
The first 911 call related to the homicide came in at 1:03 a.m. from Jason Morast's sister. She said her brother kept calling and threatening to shoot her boyfriend, who was with her at her home on Cambridge Drive. The woman said her boyfriend answered one of the calls from Jason.
"It was (Jason) screaming in the phone about 'how are you going to leave a message on my wife's mail or voice mail,' screaming in the phone, 'I'm going to shoot you, I'm going to come shoot you,' " she told the dispatcher.
Daisy Morast called 911 about 35 minutes later. Hysterical, she asked for help and told the dispatcher, "My husband is trying to kill me."
She said that her face was swollen. After the dispatcher asked repeatedly where her husband was at that time, she finally answered, "Here, I stabbed him."
After asking for help again, Daisy Morast then hung up.
A dispatcher called back repeatedly, and Daisy Morast became more and more frantic, screaming, "we're losing him," and "he's dying ... he's dead."
Court records show that the couple, who have three young children, had a tumultuous marriage. Daisy Morast had filed three temporary orders of protection against her husband in Justice Court in the past 18 months.
The first temporary order of protection was issued on June 9, 2008, by Judge Pedro Hernandez. The order prohibited Jason Morast from "committing further acts of abuse or threats of abuse," and required that he stay at least 1,000 feet away from his wife, her home, her workplace, her vehicle and the children's school or day care.
"We are married," Daisy Morast wrote in the application for the restraining order. "I had found out he had an affair with my cousin, and he keeps coming over to my house yelling ... very verbally abusive and keeps calling the cell phone. I do not feel safe when he comes over. The last fight I remember he told me he was going to kill me and was beating me. I was taken to Deaconess Hospital. He is a very abusive man."
A hearing was set on June 30 to consider extending the protection order, but on June 13 Daisy Morast withdrew the petition. On a court document, Daisy Morast checked boxes indicating that she was no longer in danger from her husband and that the couple was reconciling. She also wrote, "I am moving out of state and letting Jason have the kids for now."
On Feb. 19, Daisy Morast was issued a second temporary order of protection against her husband. In the application for the order, she wrote that on Feb. 13 her husband came into the Wild West bar and began yelling at her. Daisy Morast said she left the bar, and the next day her husband "broke into my house about noon and began arguing with me." Jason Morast refused to leave, she said, and he continued to call her when she went to work.
"I just want him to leave us alone," she wrote. "He will argue with me in front of the kids and I don't want them around his emotional abuse to them."
A hearing was set for March 9 to consider extending the temporary order, but Judge Larry Herman dismissed the case when neither Daisy Morast nor Jason Morast showed up at the hearing.
On Nov. 9, a similar dismissal was ordered in the third case involving the couple. Daisy Morast had been issued a temporary order of protection on Oct. 21. She said in the application that she had a restraining order against him before and didn't want him contacting her. She complained that his mother was leaving "horrible" and harassing telephone messages, and that Jason Morast came to her house while she had friends visiting.
Daisy Morast complained that she called police but that "they didn't do anything even (though) there is a no-contact order in place." She said her husband called state Department of Family Services "making up lies about me because of my profession."
Daisy Morast listed her place of work on the court document as Taco Bell and "Shotgun," apparently referring to the strip club Shotgun Willie's.
District Court records show that Jason Morast had no felony convictions. Billings Municipal Court records indicate he was charged with a misdemeanor violation of an order of protection last year. The charge was later dismissed by prosecutors.
Jason Morast was charged in August 2003 with misdemeanor partner or family member assault, but that charge was also dismissed, city court records show. He had other misdemeanor cases in city court involving drug possession, disorderly conduct and obstructing a peace officer, but no domestic-violence convictions.
In May, Jason Morast was ordered to pay his wife $117 a month in child support for the couple's three children. He was also ordered to pay $234 for March and April. It was unclear from court records what led to the child support order.
Get local news delivered to your inbox!
Subscribe to our Daily Headlines newsletter.