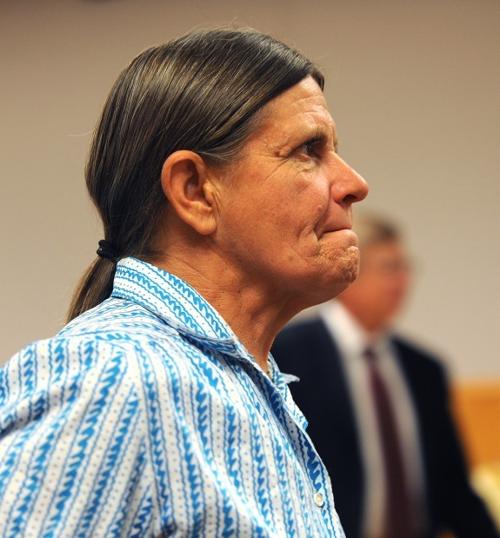 Days before her trial was scheduled to begin, Linda Kapsa pleaded no contest Thursday to one felony count of aggravated animal cruelty for hoarding dogs and other animals at her Ballantine home.
Appearing before District Court Judge Susan Watters, Kapsa accepted a plea agreement that limits her to owning six neutered companion dogs and imposes a maximum 20-year suspended sentence supervised by the Montana Department of Public Health and Human Services.
Watters will set the final conditions during a sentencing hearing, after the Department of Corrections conducts a pre-sentence investigation, which usually takes six to eight weeks. A sentencing date has not been set.
Kapsa was charged with neglecting more than 200 dogs, 27 chickens, 10 cockatiels and three cats by not providing adequate medical care, food or shelter. Remains of two dozen other dogs were removed from Kapsa's Shady Lane Kennels, at 2315 S. 14th Road in Ballantine, during raids on Dec. 11 and Dec. 30.
Under the negotiated plea, Kapsa agreed to surrender the estimated 20 dogs and puppies she now keeps at her 10-acre property. The animals escaped seizure in December and have been breeding.
The plea deal limits Kapsa to a maximum of 40 chickens, 20 goats, eight horses, three neutered cats and two cockatiels. She also agreed to allow state officials to visit her property without obtaining a search warrant or giving notice.
However, under the agreement, Kapsa's attorneys can still ask Watters to allow her keep up to 20 non-neutered dogs.
Yellowstone County Attorney Dennis Paxinos said once Watters sets the limits on animals, if Kapsa breaks those rules over the next 20 years, she could go to prison.
"We were hoping we could stop the breeding. We have given her some companion dogs, and we are giving the other dogs happier homes to go to and we are stopping the taxpayers from having to fund this," Paxinos said.
In December, county officials seized 189 dogs from Kapsa. About 100 regular volunteers are helping to care for the mostly English shepherd dogs at the MetraPark fairgrounds.
"With the ones that are born in our custody, I believe we now have 227 dogs, three cats, 10 cockatiels and 11 chickens," said Yellowstone County Animal Control Officer John Fleming.
Because the dogs were evidence in Kapsa's court case, no animals could be adopted. The bills mounted quickly.
Since January, the cost of caring for the animals has topped $157,433, according to the county. That has been offset by at least $43,331 in cash donations, along with donations of food and other supplies.
In addition, other Yellowstone County animal complaints have been getting less attention this year because one of the county's two animal control officers has had to work full time on the Kapsa dogs.
"Now we can get back on the streets and serve the public at 100 percent," Fleming said
Kapsa was charged with two felony counts of animal cruelty and four related misdemeanors. She agreed to plead no contest on one felony count. The other charges will be dismissed.
Last month, Watters heard two days of testimony about whether Kapsa was mentally incompetent to stand trial, as her attorneys argued.
Billings forensic psychologist Dr. Michael Butz, testifying for Kapsa, said Kapsa believes she has some "special mystical powers" and a "special trust" with her animals.
On Wednesday, Watters ruled that Kapsa was competent to stand trial, and that ruling allowed Kapsa to change her plea.
During Thursday's hearing, Deputy Yellowstone County Attorney Ingrid Rosenquist read a lengthy summary of the evidence that would have been presented at Kapsa's trial.
Witnesses would have testified that Kapsa's trailer home was covered with feces and a dead dog was next to her bed. There also would have been testimony that there was inadequate food, water or shelter for the animals and that 50 of the seized 200 dogs needed immediate veterinary care. Many of the English shepherds were starving, covered with feces and infected with lice, she said.
Dave Pauli, the Western regional director for the Humane Society, would have testified that Kapsa's dogs amounted to "a small, feral colony of unsocialized animals" and that taking care of them would be a full-time job for 14 people.
"As hungry as the dogs were, they were too scared to take food out of the hands of humans," Rosenquist said.
After months of care and training, they now look like different dogs, she said, but many of them will regress unless they are with their regular handler.
Under Montana law, the maximum sentence for felony aggravated animal cruelty is two years in prison. However, because Kapsa was convicted on a felony bad-check charge within the past five years, the county attorney's office argued that she was a persistent felony offender. That cleared the way for the county attorney's office to ask Watters to impose a 20-year suspended sentence supervised by the Department of Public Health.
After the hearing, Rosenquist said she was pleased.
"It's a relief for everyone, including the animals," she said.
The agreement also requires Kapsa to pay an undetermined amount of restitution. Her ability to pay will be part of the pre-sentence investigation.
Kapsa will get to choose the dogs she wants to keep. After Kapsa, the volunteers will get the next choice of the animals they have cared for since January. It could be several weeks before all the remaining dogs and other animals can be released for adoption.
Young animals probably will be adopted first because they generally aren't neutered before four to six months and can be released earlier, Fleming said. A major spay-and-neutering clinic must be scheduled for the adult animals before they can be adopted.
Paxinos urged state leaders to change the laws so that no other community has to suffer through a similar ordeal.
Negotiations over the plea agreement started last winter, and the Kapsa case has been the workload equivalent of a major homicide case for his office, he said.
The state's animal cruelty laws were written to protect the ranching community, said Paxinos, who noted that no one anticipated this level of domestic animal hoarding. The situations need separate sets of laws, he said.
"You shouldn't be allowed to have massive amounts of animals with no feeding systems or ways of cleaning up after them," he said.