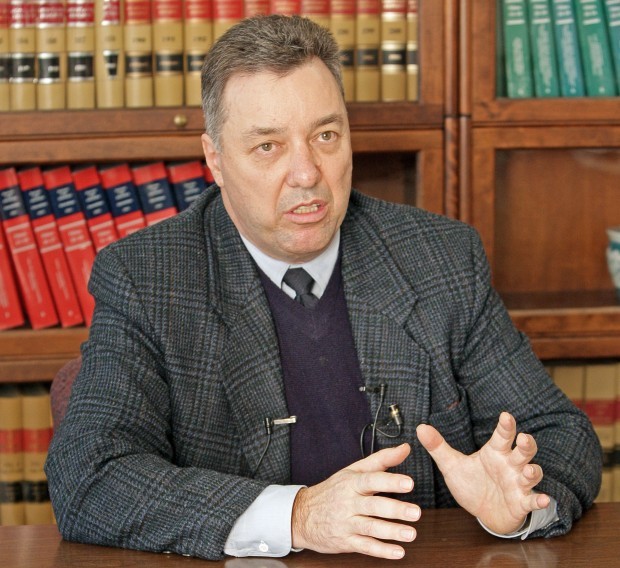 Yellowstone County Attorney Dennis Paxinos admitted Tuesday to a sexual encounter with an employee who subsequently left his office, but said the incident was consensual and denied any wrongdoing.
Paxinos apologized and confirmed that he is the unnamed elected official who was investigated by county commissioners.
The former employee, Stacie Muhlbeier, filed a sexual harassment and retaliation claim against Paxinos in December, shortly after she resigned her position as a legal assistant in the County Attorney's Office. Besides continued harassment by Paxinos, Muhlbeier claims that she was sexually assaulted by Paxinos in the office in 2003. Paxinos claims the encounter was consensual.
"It was a personal and private matter. It started out as a celebration after a big win in a homicide trial and within one minute it was over," Paxinos said of the incident. "But nothing inappropriate took place. It was a mutual encounter. It was quickly stopped."
Shortly after receiving the complaint, the commissioners hired an outside investigator to look into the matter. The investigation cleared Paxinos of wrongdoing, but suggested he be disciplined for inappropriate conduct involving the employee.
Muhlbeier gave a copy of the investigation report she was provided by the county to The Billings Gazette late Monday. The report includes a Feb. 2 cover letter signed by Yellowstone County Commissioner Bill Kennedy, who informed Muhlbeier that "no further action is necessary" from the county because her claims against Paxinos were not substantiated.
The report, however, recommends that the commissioners "should also discipline (Paxinos) for the inappropriate e-mails and his unprofessional relationship with a subordinate (if the county commissioners can discipline an elected official.)"
The commissioners on Tuesday said only that Kennedy's letter speaks for itself. Chief Deputy County Attorney Dan Schwarz, who reports to Paxinos but advises the commissioners on legal matters, said the commissioners haven't discussed yet what to do about Paxinos' actions. Schwarz said it's unclear if the commissioners have the authority to discipline another elected county official.
In January, the commissioners confirmed that a complaint had been filed against an elected official, but refused to name the official or provide redacted copies of the complaint or the investigation report.
The Billings Gazette filed a lawsuit against the county on Feb. 2 to get the official's name and copies of the documents involved in the matter. A hearing on the matter is scheduled this morning before District Judge Susan Watters.
Muhlbeier and her husband, Yellowstone County Sheriff's Deputy David Muhlbeier, said they have now taken their complaint against Paxinos to the Montana attorney general.
"Criminal allegations against elected officials are taken seriously by this office," Kevin O'Brien, a spokesman for the Attorney General's Office, said Tuesday.
The complaint filed by the Muhlbeiers has been forwarded "to professionals within the Montana Department of Justice who have expertise in reviewing matters like this," he said.
In a seven-page letter addressed to Attorney General Steve Bullock dated Feb. 11, Stacie Muhlbeier describes in detail what she alleges was ongoing sexual harassment by her boss, Paxinos. Muhlbeier claims the harassment included coded text and e-mail messages with sexual language.
Muhlbeier also claims that before she filed her grievance with the county, the county commissioners offered her money to settle any claims that she might have. No amount was specified, but she said the county told her to "name the amount." Muhlbeier said she declined the offer.
Commissioners Kennedy and Jim Reno on Tuesday denied any knowledge of a settlement offer made to Muhlbeier by their office.
Michele Puiggari, a human resources specialist from Missoula hired by the county to investigate Muhlbeier's claims, said Paxinos admitted to sexual contact with Muhlbeier but said it was consensual. The report written by Puiggari dated Jan. 28 states that Muhlbeier's claims are not credible, but she issued a harsh criticism of Paxinos' conduct.
"Despite the finding that sexual harassment was not substantiated, it is critical that (Paxinos) is made aware of the potential liability his actions could cause the county," Puiggari states in the report. "As a supervisor with power over subordinates, his actions reflect very poor judgment and managerial skills."
Puiggari notes that Paxinos received discrimination training in August 2009, "but it is obvious the training was not taken seriously."
"There is immediate need for training of (Paxinos)," who should be "severely reprimanded," Puiggari states.
Muhlbeier said she was subjected to a constant stream of provocative e-mails and inordinate attention from Paxinos. She began working in the office in 2001 as a receptionist and was promoted three years later to a legal assistant.
Muhlbeier said she reported the alleged harassment to a union representative in 2005, but her complaint was ignored. She said she was the subject of retaliation in the office when she stopped responding to Paxinos' suggestive e-mails. Her husband also has suffered retaliation as a result of his efforts to keep Paxinos away from her, Stacie Muhlbeier said. The couple was married in July 2003.
"My husband and I continue to suffer at the hands of the county attorney because of what he has done to me way back when," she said. "And nobody is willing to do anything about it."
The alleged sexual assault in March 2003 in the county attorney's conference room occurred after an evening at a bar celebrating, Muhlbeier said.
"I tried to push him away as he attempted to have sexual intercourse with me," Muhlbeier states in her complaint to the Attorney General's Office.
Paxinos began to perform oral sex on her before she was able to get away, she states.
Muhlbeier said in an interview that she believes other women in the office have been subjected to inappropriate conduct by the county's top law officer.
"For a man to sit there and say he protects victims of these crimes when he himself commits these crimes … I can't even find the words for it," she said.
Paxinos said the text and e-mail messages were "not sent seriously, nor were they received seriously."
He described the alleged assault as a "mutual encounter" and that Muhlbeier's allegations may be the result of "personal choices she made in her life, personal lifestyle choices."
"I've already apologized to my family and my wife about an event that took place seven years ago," Paxinos said. "And now here it is again seven years later and having to relive this again."
Paxinos said he wanted to publicly apologize.
"And so again I apologize to my family, to my wife, and to these office staff," he said.
Paxinos recently announced his intention to run for his sixth term.