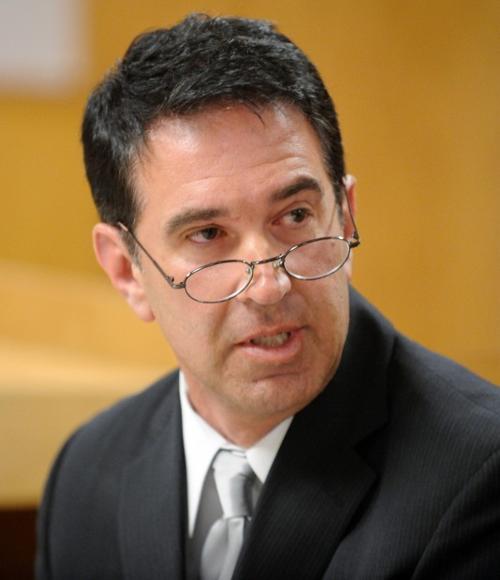 A former Las Vegas police detective who rear-ended a car in Laurel while driving at a high speed and drunk was sentenced Thursday in District Court.
At the end of a sometimes contentious hourlong hearing, Judge Gregory Todd ordered Timothy Nicothodes to serve a three-year deferred sentence and pay a $3,000 fine for felony criminal endangerment.
Todd imposed a concurrent six-month jail sentence, with all but three days suspended, and a $500 fine for misdemeanor DUI. Nicothodes was given credit for three days that he has already served in the county jail.
Todd heard vastly different sentence recommendations from Nicothodes' defense attorney and prosecutors. Defense attorney Fred Snodgrass argued for an 18-month deferred sentence, while prosecutors requested that Nicothodes receive a five-year sentence to the state Department of Corrections, with three years suspended, and a $10,000 fine.
Three people testified at the hearing, including the mothers of two people who were injured in the crash and a retired police officer who described Nicothodes as a "pillar of his community" in a letter to the court.
Nicothodes, 47, who this year was granted a medical retirement from the Las Vegas Metropolitan Police Department where he worked for 11 years, also spoke at the hearing. He apologized to the victims and their families, many of whom were in the courtroom.
Nicothodes was a federal DEA agent for six years before joining the LVPD. He said he has been "embarrassed and humiliated," and asked the judge for the "opportunity to be a contributing member of society again, like I have been most of my life."  
Nicothodes was initially charged with misdemeanor DUI and two counts of felony criminal endangerment for the May 26, 2011, crash on Old Highway 10 near Laurel.
Prosecutors said Nicothodes was driving a Chevrolet Silverado pickup at 98 mph at about 10:30 p.m. when he slammed into the rear-end of a Ford Focus going 50 mph. A test showed he had a blood-alcohol level of between 0.192 percent and 0.219 percent, well above the 0.08 legal limit for driving.
Nicothodes was seriously injured, with broken ribs and a broken back. He was also placed on unpaid leave by his department.
The occupants of the car, 19-year-old Baylee Brooks, and passenger Keenan Weatherford, 20, received numerous cuts and bruises.
An investigation determined that Nicothodes, who owns property in Carbon County, had spent the evening at two Laurel bars with Brooks' parents, who were longtime friends of the Las Vegas officer. They said Nicothodes drank significant amounts of alcohol, urinated in a bar parking lot and declined an offer for a ride home or a place to stay for the night before leaving the couple to drive to Shotgun Willie's, a Laurel strip club.
The crash happened as Nicothodes was driving to the club.
Nicothodes reached an agreement with prosecutors in February and entered a no-contest plea to the single felony charge and admitted guilt to the DUI.
At the sentencing hearing Thursday, Carol Brooks, the mother of the injured 19-year-old woman, asked the judge to impose the "maximum sentence that's available," saying Nicothodes had not been truthful about how much alcohol he drank before the crash. Brooks said she and her husband were friends of Nicothodes for 12 years before the crash. 
Kirsten Weatherford, whose son was a passenger in the car, also asked that Nicothodes receive significant punishment. She said the crash has left her son with emotional scars and has caused her family "constant turmoil."
"I hope that I have not spent more hours dealing with the aftermath of this accident than Mr. Nicothodes will spend being held accountable for his actions," she said.
Both victims have filed civil lawsuits against Nicothodes. Restitution was not requested in the criminal case because of those pending cases.
Describing himself as a "decorated 20-year retired police officer" who has known Nicothodes for two decades, Joede Vanek asked the judge to consider Nicothodes' long career in law enforcement.
"I don't make excuses for Tim, but I believe a man's reputation should be based on his life, not a mistake," Vanek said.
Nicothodes is a "broken man," Vanek said, who has lost his job and had his reputation "smeared by newspapers in both states."
Vanek also took issue with the statement by Brooks that Nicothodes was not being truthful, calling the accusation "disgusting" and "disgraceful."
Deputy County Attorney Robert Spoja responded a short time later, saying he found Vanek's comments directed at Brooks "incredibly offensive." Spoja argued that Nicothodes deserved a harsh sentence because he made a serious of bad decisions and, as a police officer, he should be held to a higher standard.
Spoja described Nicothodes actions as "arrogant" and "hypocritical." The victims, Brooks and Weatherford, should not have had to suffer, Spoja said.
"He punished them for just being on the road in front of him," he said.
Snodgrass, the defense attorney, said Nicothodes is remorseful. He argued that prosecutors were trying to unfairly punish Nicothodes and other misdemeanor DUI offenders by filing felony charges in cases where they are not justified.
Todd said the sentence he imposed reflected a fair punishment for a man who has no prior criminal record, not even a traffic ticket, and who had a "sparkling record" as a law enforcement officer.
A deferred sentence is consistent with the sentences imposed in similar cases, Todd said.
"He needs to be punished," the judge said. "He has already been punished in the court of public opinion."