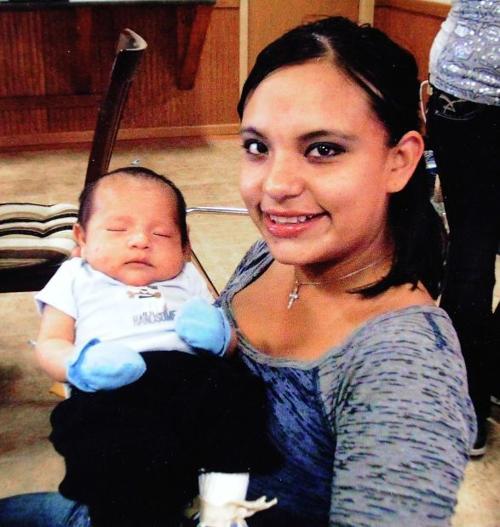 A federal judge in Billings Thursday sentenced Eugenia Ann Rowland to 22 years in prison for the 2013 murder of Hanna Harris, a Lame Deer woman whose badly decomposed body was found near the rodeo grounds on the Northern Cheyenne Reservation.
U.S. District Judge Susan Watters said while what happened will never be known because of the condition of Harris' body and the excessive drinking that occurred, Rowland admitted that she and her husband beat Harris, resulting in her death.
Watters also ordered $13,215 restitution for funeral and other expenses.
Rowland, 42, of Pine Ridge, S.D., pleaded guilty to second-degree murder, which is killing with malice aforethought.
Rowland's husband, Garrett Sidney Henderson Wadda, 36, a transient, pleaded guilty to accessory after the fact, admitting he moved Harris' body. He faces a maximum of 15 years in prison and is to be sentenced March 26.
Harris, 21, was a 2010 graduate of West High School and had a 10-month-old son. Her body was found on July 8, 2013. She was last seen drinking with Rowland and Wadda over the Fourth of July holiday.
A cause of death could not be determined because of the body's decomposition, although "positional asphyxia" could not be ruled out, prosecutors said. Whether Harris had been sexually assaulted also could not be determined.
Watters called the case tragic and said "excessive drinking" that seems to occur on Indian reservations results in "something bad." In this case, it was the murder of Harris, she said.
Watters followed the prosecutor's sentencing recommendation, which was about the middle of a guideline range of 19 years to 24 years. "Having you locked up for 22 years will protect the public," she said.
The judge also noted Rowland's background, saying she had a yearslong alcohol addiction and "horrible" childhood in which she was abandoned by her birth parents, adopted and again abandoned, became sexually active at a young age because there was no one to supervise her, got involved in abusive relationships and had 10 children, two of whom have died.
Harris' mother, grandmother, sister and father all gave emotional statements at the hearing.
"I will never forgive you, and I don't want to hear your 'I'm sorries,'" Malinda Harris Limberhand, Harris' mother, told Rowland. "You threw away my daughter like a piece of trash. I will never forgive you for what you have done. You are a dangerous woman," she said.
Because of the decomposition, Limberhand said she didn't get to see her daughter's face or touch her body. "All we got was a box," she said.
Harris' grandmother, Clara Harris told Rowland she will have to "answer to God" and asked the judge for the maximum sentence. "She's a murderer. It's in her blood now. Like an alcoholic. When they fall, they'll commit the crime again," she said.
When it was Rowland's turn to speak, she asked if she could address the family and turned toward the audience. But Harris' family members said no, and many walked out of the courtroom.
Rowland spoke anyway. "I'm not an evil person. Most of you know that. You watched me grow up. I never hurt no one ever. I blacked out, and I'm sorry. I hope you can forgive me some day," she said.
The Harris family members returned to the courtroom after Rowland finished talking.
Defense attorney Robert Kelleher Jr. asked for a 15-year sentence, saying Rowland should not get more than the maximum term facing Wadda.
Wadda, Rowland and Harris, he said, were all "really, really, really intoxicated." Wadda forced himself on Harris and was involved her death, he said.
"Not to be glib about it, but he's getting away with murder," Kelleher said.
Statements Rowland made to another person later in Rapid City exposed her to liability for Harris' murder and she accepted responsibility, he said. That evidence, however, could not be used against Wadda, enabling him to make a deal with the prosecution, he said.
Rowland, Kelleher said, also was abused by Wadda and had a history of being in abusive relationships.
Assistant U.S. Attorney Lori Suek said a 22-year sentence for Rowland was appropriate and that the government will be seeking a 15-year-term for Wadda.
Rowland, Suek said, would have been facing a sentencing range of about 15 years if she had not obstructed justice by willfully lying to law enforcement officers early in the investigation and sending them down the wrong path.
The defense unsuccessfully objected to a sentencing enhancement for obstruction of justice.
Suek said Rowland told investigators an evolving series of lies saying she last saw Harris driving away with an unidentified man after Harris dropped off her and Wadda at the gate of a trailer on Muddy Cluster Road. Rowland described the man as smelly and looking like a demon wearing a fedora, she said.
Rowland's lies, Suek said, were intended to divert attention from herself and Wadda. Investigators "lost valuable time" looking for the man supposedly with Harris, she said.
Events leading to Harris' death began the night of July 3, 2013, when the trio began drinking and partying, court records said. Harris was last seen alive at about 1:30 a.m. on July 4 in surveillance video at the Cheyenne Depot, a Lame Deer convenience store. Harris was seen getting into her car and driving away with Rowland in the front passenger seat. Investigators determined Wadda was in the back seat.
When Harris failed to return home July 4, her family reported her missing to the Bureau of Indian Affairs.
Wadda and Rowland told investigators in interviews between July 4 and 7 that they were partying with Harris and ended up at a trailer on property belonging to Wadda's aunt.
Rowland said she had no memory of what happened because she blacked out but was surprised and concerned the next morning when she saw Harris' car still parked near the property.
BIA notified the FBI about the case on July 7, and the next morning investigators found one of Harris' shoes and a sash she had been wearing on Wadda's aunt's property.
By then, Rowland and Wadda had gone to Wyoming. Rowland then contacted law enforcement and said Wadda had told her he moved Harris' body.
In January 2014, Rowland implicated herself when she talked about Harris' murder while drinking in Rapid City with a former sister-in-law. Rowland told the woman that she, Harris and Rowland were drinking. Rowland passed out, awoke to screaming and found Wadda having sex with Harris, who was yelling she was being raped.
Rowland told her sister-in-law she tried to help Harris but that Harris hit her, making her mad. Then she and Wadda beat Harris until she was unconscious, wrapped her body in a sheet and dragged her outside.