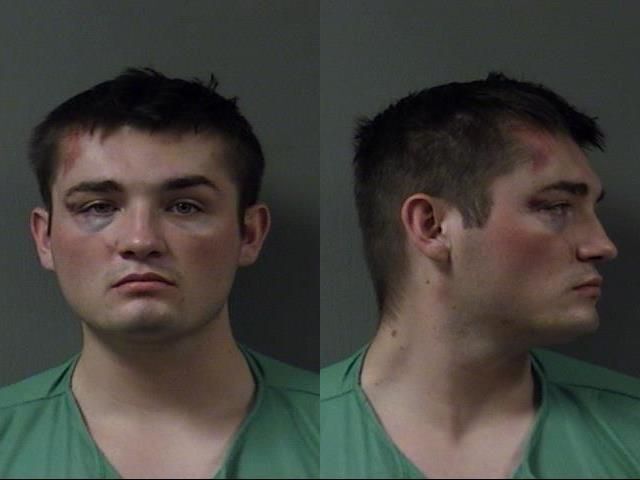 A 21-year-old Hardin man pleaded not guilty to a single charge of vehicular homicide on Tuesday after a suspected drunk-driving crash left a 47-year-old Billings man dead last Friday.
Klay Michael Wacker made the plea in front of Judge Jessica Fehr in Yellowstone County District Court on Tuesday. He is alleged to have killed Wade James Granbois. Granbois died from multiple blunt force injuries, Yellowstone County Coroner Cliff Mahoney said Monday.
Wacker is alleged to have been drinking Friday night at a friend's house in Billings. At about 2:30 a.m., he left the house and was driving south on Sixth Street West when he blew through a stop sign at the intersection with Lewis Avenue.
He collided with Granbois' van while driving faster than the 25 mph speed limit. The van spun 180 degrees while sliding off the road and hit a tree on the driver's side door. Despite all the airbags deploying, Granbois suffered serious injuries and died at the scene.
Wacker is alleged to have been unable to speak clearly. According to police, he was slurring his speech and his eyes were bloodshot. After smelling alcohol, the cops asked Wacker how much he had had to drink and he said, "Not that much", said charging documents. He claimed to have been driving on Lewis Avenue and said the van had been driving on Sixth Street West. Documents stated that his account "appeared to (be) the opposite of the findings of law enforcement."
Wacker refused to provide a sample for the DUI investigation, but a search warrant provided by Yellowstone County District Judge Michael Moses required a sample be taken stated charging documents.
Wacker retained a private attorney who negotiated with county attorneys to recommend a bond of $50,000. If released he will be subject to twice-a-day alcohol testing and no driving. Wacker will also be in the custody of a court approved third-party custodian, Ashley Wacker. She will be required to report Wacker to the court if he violates any of the conditions of his release.
Judge Fehr agreed to the recommendations from the defense and the state.
Wacker was previously convicted of possession of illegal drugs with the intent to distribute in Big Horn County in 2020. He is serving a 60-month deferred sentence and will have to report to his current probation officer in Big Horn County if released from Yellowstone County's jail.