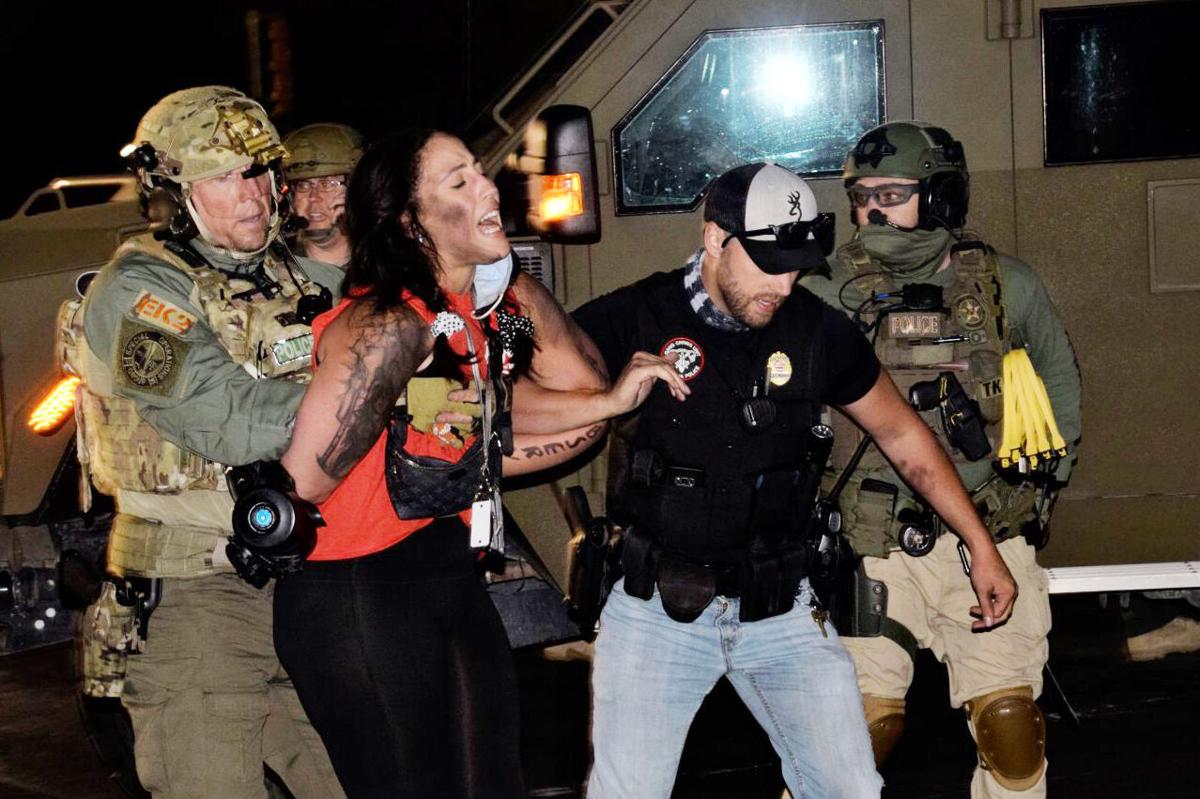 KENOSHA — A class-action discrimination lawsuit, filed Tuesday in federal court by four people who were arrested for breaking Kenosha's curfew during protests, alleges that their rights were inappropriately infringed upon while pro-police demonstrators were allowed to "roam" without harassment by law enforcement.
The lawsuit points out that more than 100 protesters were arrested "for violating the County imposed curfew order, yet in spite of the presence of pro-police protesters and militias, NOT A SINGLE PRO-POLICE demonstrator has been arrested" for violating curfew.
Adelana Akindes, left, reacts after being released from a day in police custody on Aug. 27 in Kenosha.
The lawsuit alleges that the Kenosha Police Department and the Kenosha County Sheriff's Department used the curfew "to silence the voices of those who peacefully demonstrate against police brutality while allowing pro-police activists and militias to roam the streets without fear of arrest." Unrest unfolded in the city after the Aug. 23 shooting of Jacob Blake by a Kenosha police officer.
Curfew arrests became more common starting Aug. 26, the night violence became less common. The night prior, three people were shot — two of whom died — allegedly by 17-year-old Kyle Rittenhouse of Antioch, Illinois. Rittenhouse, who is claiming self-defense in both cases, identified himself as a member of a "local militia" who was in Kenosha to protect lives and property.
Video shared widely on social media shows law enforcement officials thanking militia members, including Rittenhouse, for being in the streets on Aug. 25, despite the curfew being in effect. Within that same video, other officers on loudspeakers can be heard telling Black Lives Matter demonstrators to clear the streets.
"The video makes clear that there are two sets of laws — one for those whose message the police support, and one for those who message the police oppose," the lawsuit alleges.
It's one of several moments in which plaintiffs are claiming BLM demonstrators were treated more harshly than others in Kenosha over the past two weeks.
The day after the video was posted, Kenosha County Sheriff David Beth said "our deputies would toss a water to anybody" who asked, including Black Lives Matter demonstrators. He later said that the views expressed by those officers do not represent the views of all law enforcement in Kenosha County.
After the Rittenhouse shooting, leaders in Kenosha called on armed groups and militia to stay away from the city to avoid further violence.
The four plaintiffs are all Wisconsin residents: Two from Kenosha (Adelana Akindes and Victor Garcia), one from Milwaukee (Oscar Walton) and one from Wauwatosa (Danica Gagliano-Deltgen).
Kenosha resident Victor Garcia, 23, a UW-Parkside student, speaks to the media on July 28 about his 24-hour stay in jail after being arrested …
'A caged bird'
Garcia, who is a 23-year-old University of Wisconsin-Parkside student, said last week that he was arrested by federal agents who "didn't announce themselves (and had) guns drawn ... I was tackled to the ground, I had a gun in my face. From there, I was handcuffed, and it became clear they were law enforcement, and we were swarmed by seven other cars. Then we were all separated, taken and eventually handed over to Kenosha County police."
Garcia said he wasn't processed until the day after he was arrested. "You're put in that situation (in jail) as a caged bird, all because you wanted to go out there and have a voice for people who no don't have voices. They strip you of your freedom, and you are treated like an animal. I was no longer a free American, I had a number, I had no name, I wasn't a person."
"I love this community, and that's how I was rewarded (for) standing up for people who are being unjustly killed and taken down by law enforcement," he said. "I was locked in a cage.
The defendants in the lawsuit are listed as the City of Kenosha and the County of Kenosha.
The lawsuit notes that "some demonstrators have engaged in destructive activity" but claims that "these incidences have been remote when compared to the hundreds of otherwise peaceful protesters."
The plaintiffs also are claiming that the curfew directly infringes on their First Amendment rights of speech and assembly. The curfew has since been lifted.
"By commencing the curfew at such an early time each day and providing no room for any free expression," the lawsuit states, "the curfew has the effect of crowding out much of Plaintiffs' and Plaintiff Class's opportunity to exercise their rights."
Last week, Garcia said "I had spent 24 hours locked in a cell against my will, and I had not committed any crime other than (breaking) a made-up curfew by the U.S. government because they don't want us exercising our First Amendment rights."
Oscar Walton speaks to fellow protesters while marching on Aug. 26 against the shooting of Jacob Blake by a Kenosha police officer.
The offices of the Kenosha County District Attorney and the Kenosha City Attorney did not immediately respond to requests for comment on Friday.