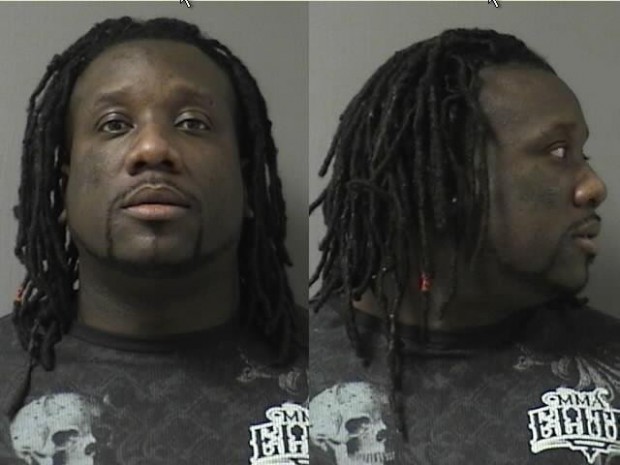 The sentencing in federal court Thursday of a Billings man who bragged about his criminal record to undercover agents investigating robberies and drug and gun crimes ended a major multi-agency probe.
Montana U.S. Attorney Mike Cotter said the investigation, called Operation Billings Area Criminals, led to the federal convictions of 22 "hardened and dangerous thugs" and removed 53 guns, many of them stolen, from Billings streets.
Cleveland Boyer, convicted in Yellowstone County District Court of deliberate homicide in the March 2010 shooting of Danny Valenzuela at a downtown convenience store, also was a target of the operation, Cotter said.
Cotter, flanked by other federal and state law enforcement officials, discussed the operation in a news conference after the sentencing of Ricky Allen Dennis, 39, on charges of conspiracy to commit robbery and firearms crimes.
"I don't have any excuses," Dennis said at sentencing.
Senior U.S. District Judge Richard Cebull sentenced Dennis to 73 months in prison, following a defense attorney's recommendation to give Dennis credit for seven months he already has spent in custody. Cebull also ordered an examination to determine whether Dennis had suffered a brain injury from a car accident years before and if treatment is needed.
Prosecutor Jessica Fehr had recommended a mid-guideline term of 80 months, saying Dennis got arrested days before the arrest of other co-defendants who had agreed to an undercover plan to rob a drug courier coming to Billings with cocaine.
"Dennis was given the opportunity to participate in a drug house robbery and at each turn he escalated the level of violence to be used during the robbery," Fehr said in court records. "While the robbery was a fake, what was real was Dennis' possession and sale of firearms, his reports of inflicting violence on those that crossed him and his absolute willingness to murder witnesses to the crime," she said.
In early 2011, while on release from state home invasion and robbery charges, Dennis met with undercover agents who had set up a tattoo parlor in Billings. In the following weeks, Dennis gave agents a printed copy of his criminal history, saying it showed character, and showed agents a pistol he was carrying. He offered his services as "muscle" should agents need help with their side business of gun and drug trafficking.
You have free articles remaining.
The tattoo shop set up by the Bureau of Alcohol, Tobacco, Firearms and Explosives allowed agents to infiltrate criminal activity in the community during the 15-month probe, officials said.
Multiple shootings in Billings in 2009 and 2010 led to the undercover investigation beginning in September 2010.
Ken Bray, ATF's resident in chief, said the agency had identified a number of armed violent criminals and drug traffickers who were not "being brought to justice through traditional investigative" techniques. AFT brought in undercover agents from outside the area to work with local agents and other law enforcement partners, he said.
The team made 165 contacts and bought 52 firearms from the defendants, Bray said. Six of the defendants who sold agents guns were prohibited from legally possessing firearms, he said. Twenty of the firearms had been stolen from various burglaries in Billings and surrounding area, while others are suspected of having been stolen.
The agents also bought drugs including cocaine, methamphetamine, marijuana, hashish, ecstasy and prescription medications, Bray said. Some of the defendants were armed during the drug deals.
Toward the end of the investigation, agents had identified two home invasion crews who had "clearly shown a predisposition" to commit armed robberies and other violence in relation to drug trafficking, Bray said.
Agents arrested all six of the suspects, five of whom were arrested in the act of carrying out a fake robbery of a drug courier in November 2011.
The undercover work also led to the arrest in Bozeman of Boyer within 24 hours of Valenzuela's murder, officials said. Boyer and Dennis were associates. Boyer was sentenced to life in prison plus 20 years.
Sentences imposed in the federal cases ranged from about a year to about 14 years. Dennis along with defendants Anthony Roll, Rodrick Gant, Thaddeus Jones, Richard Meza and Marvin Galloway received the longest terms – ranging from Dennis' six years to Roll, who got 14 years.
Cotter praised the teamwork by all agencies involved. Illegal guns and drugs harm public safety, communities and families, he said.
Other agencies participating in the investigation included the federal Drug Enforcement Administration, the U.S. Marshals Service, the Montana Division of Criminal Investigation, the Yellowstone County Attorney's Office and the Billings Police Department.