Darrian Johnson was always quite the prankster. He passed his sense of humor and playful spirit onto his children. On Wednesday, his wife Cari Johnson, daughter Scarlett and son Hank spoke of his many jokes and pranks.
"He was very sarcastic, but had a great sense of humor. He even told Scarlett exactly how to get her brother on April Fool's Day," Cari Johnson said.
Ten-year-old Scarlett agreed. Ketchup instead of jelly in her brother's PB&J did the trick.
Darrian A. Johnson, 36, a captain with the Montana Army National Guard, died from a non-combat medical incident on May 4, 2018.
On Wednesday his family gathered to remember him. A motorcyclist group, Tribute to Fallen Soldiers Northwest, rolled up to honor the fallen soldier on their way across the country from Eugene, Oregon, to Arlington National Cemetery in Virginia bringing flags for the fallen and a lit torch to the Arlington National Cemetery. For about 20 days the group will stop in seven different states to honor 65 fallen soldiers and their gold star families.
In a Billings home, Johnson, her children, and family and friends waited for the motorcycle group to rumble through the quiet Heights neighborhood.
Soon, Billings Police officers and Yellowstone County Sheriff's officers escorted more than 20 motorcycles and two trailers up to the home on Stewart Court North. 
Darrian and Cari moved to Billings about 15 years ago. In 2006, he joined the Army National Guard. During his time he was a second lieutenant with the Montana Military Academy Officer Candidate School, and an Ordnance Officer. Finally Darrian worked as an IT support officer for the 1-189th General Support Aviation Battalion.
On May 4, the last thing he told Johnson and the kids when he left for work was, "I love you." As the motorcade gathered, moments like these were shared through tears and tissues. Many of the members of the motorcade had lost family members and shared words of support to Johnson.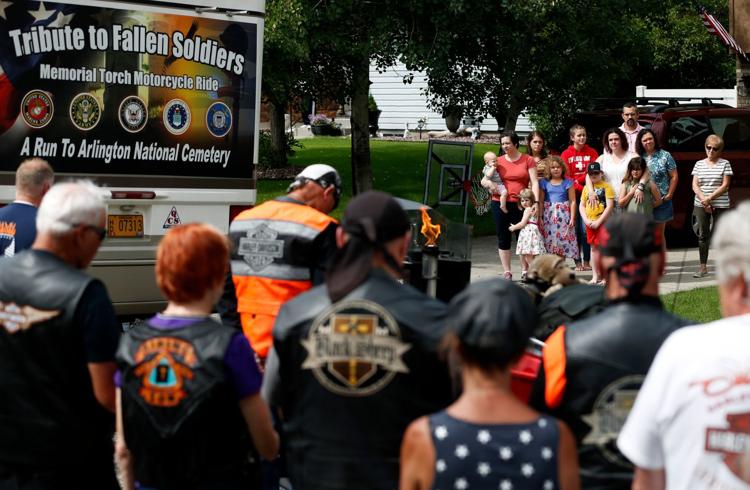 "It's really heartwarming in a community like this and you see so much love and support," Warren Williamson, the executive director of Tribute to Fallen Soldiers Northwest said on Wednesday. "It really makes us feel better about what we do."
While Williamson presented some tokens to the family, a group of more than two dozen leather-clad motorcyclists quietly circulated green tissue box.
You have free articles remaining.
Keep reading for FREE!
Enjoy more articles by signing up or logging in. No credit card required.
But giggles shattered the quiet moment, causing a ripple effect of chuckles from the somber motorcyclists. A photo prompted the two children to suddenly and mirthfully remember a happy moment with their father.
The enlarged, matted canvas photo was taken a few Christmases ago at Johnson's brother's house. Darrian, Scarlett and Hank were happily playing together. It captures a typical moment for their family, Johnson said.
"This was a great picture of how he felt about the kids and how they felt about them," Johnson said.
In fact, when TFSN contacted Johnson and asked her to send some photos over, her 8-year-old son picked which one.
"That's the one my son chose. That's the one he saw that he wanted to have," she said.
The past year has been hard for the family, Johnson said. But she's not without support.
"We moved into the Heights and we have great neighbors with a lot of military support with veterans around me," she said.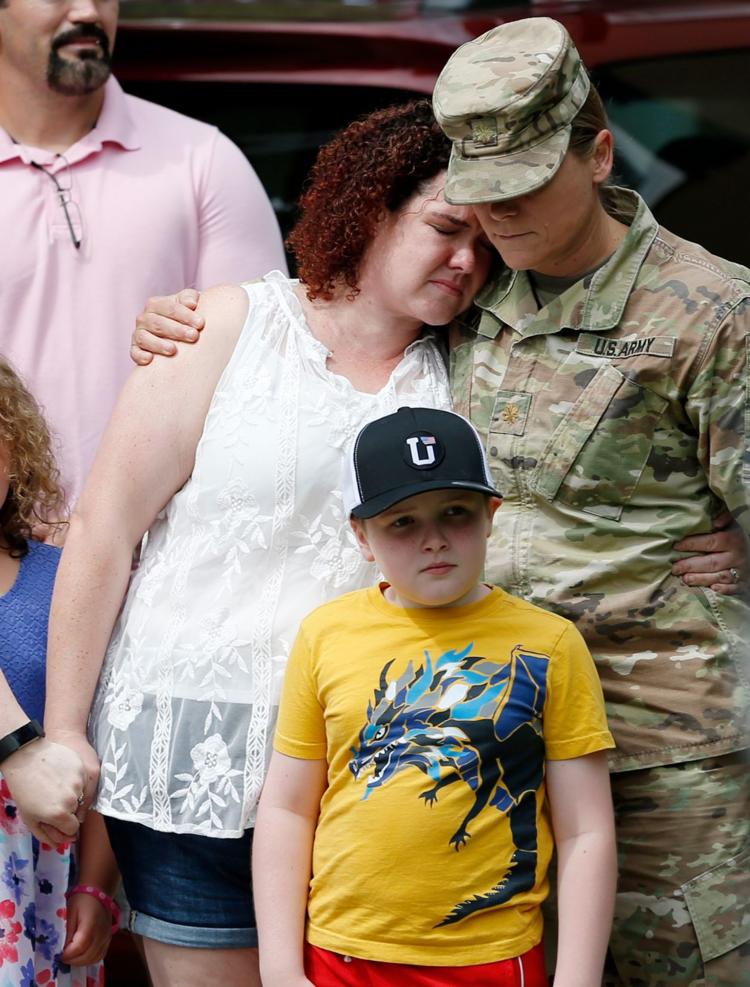 Supporting the family Wednesday were Johnson's casualty assistance officer, Montana National Guard Maj. Janel Wiese and her parents. Even the family dog, Parker, lent some emotional support.
It's been just more than a year since Scarlett and Hank lost their dad. Wednesday was "overwhelming" for 10-year-old Scarlett.
"But at the same time I felt very happy," Scarlett said. "I've been having dreams about him lately and I don't know why," she added.
"Because you've been missing him," Johnson said.