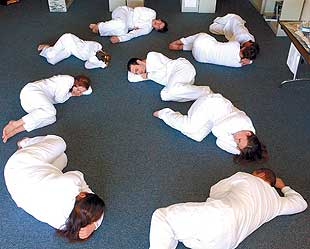 Ten teenagers will be reborn today.
The event is part of a production that students at Crossroads Alternative Learning Center wrote to perform for their classmates and members of the public today and Saturday. But the drama is also symbolic of what is happening in some of their own lives.
Under the direction of playwright David Overturf, the students spent seven weeks developing the concept for "Choose," scripting it and then rehearsing the experimental work.
"It is an important project - academically, socially and spiritually," Overturf said. "I am proud and pleased to say that these kids are doing things that most never considered within their reach. They have been told who they are, and it has certainly not all been good. They are underestimated."
Students each created a character and a monologue for that fictional character. Some are rich, others are homeless, and many have undesirable traits like rage, jealousy or insensitivity to others. In the production, students don white clothing and lie in the fetal position as if they are being reborn. The scene evolves into a movement-based performance without words. Then the characters watch a video of their characters behaving badly and make a decision about who they want to be - their former selves or someone different.
"It was easy writing it, but the hard part is acting in it," said Randee Four Bear, a junior.
Blaine Bond, also a junior, said blending the entire group's ideas into one play was the most difficult part. Most of the students had never acted before, so they spent time getting comfortable with acting and with one another by playing improv games.
"It's kind of like we're a family now," said Travis Hook, a senior.
Nicole Lopez said some people may not understand what the group is trying to do with the piece - emphasize the fact that everyone has choices in their lives.
"Some people may think it's just a bunch of screwed-up kids. Other people might see something in it. I think a lot of people will expect some skits, but they are going to get a big surprise. We did something pretty interesting."
If you go
The experimental theater production "Choose" will be performed by students at Crossroads Alternative Learning Center at 1:15 p.m. today and 4 p.m. Saturday in the Lewis and Clark Middle School auditorium. The one-hour performances are free and open to the public.
Participating students include Cory Bertrand, Blaine Bond, Randee Four Bear, Lacey Frost, Travis Hook, Lacee Jackson, Nicole Lopez, Jess McKeen, Mitch McNutty and Carrie Roundstone.