There is no word for "goodbye" in the Crow language. Rather, in Apsalooke, it's "shia-nuk" (see you later).
Goodbye has a finality to it, so Crow people avoid using it. Yet, without opportunities to practice the Crow language and encouragement from elders, there is fear that some are saying goodbye to their language. People like Janice Little Light Hudetz and the women who helped found the Crow Language Club are working to keep their language alive. The women all live in Billings and are members of the Crow Tribe.
There is some giggling as the monthly meeting begins in the basement of Hudetz's home on Billings' West End. The group usually meets once a month at the downtown Perkins Restaurant, but tonight is special. The six women who are gathered are dressed in traditional outfits, some in elk tooth dresses, others in beaded velvet dresses. It's picture day, and family members take out cellphones to capture video of the women speaking in Crow.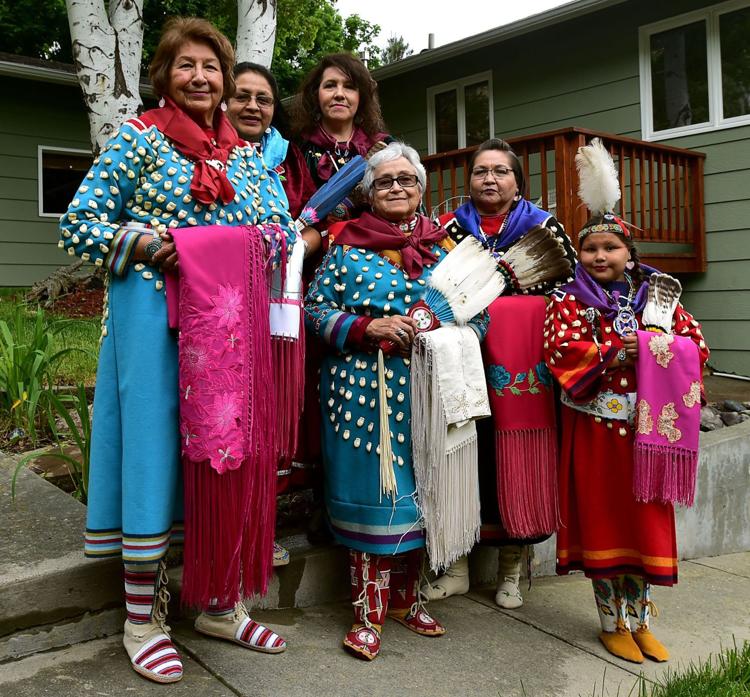 Men aren't allowed because group members wanted to continue the tradition of women meeting together.
"Men speak the language very well, but we feel like it's easier to be around women," Hudetz said.
Here's a fun twist to the club: If a member accidentally speaks in English, she has to put money in the jar at the center of the table. On this night, $15 is collected. Over three years, the women have raised $1,000, which they are putting toward a scholarship for a Crow-speaking student to attend college.
New words
They are also adding to the language, which is a Missouri Valley Siouan language and closely related to the language of the Hidatsa Tribe of the Dakotas.
At Perkins one night, Sandi Bird needed the mustard from across the table. There is no word for mustard in Crow, so she came up with "the yellow thing across the table."
They also made up a Crow word for drone, "thing that flies around looking for something."
The Crow language is descriptive, so the words are longer than many English words. They describe the object or person, rather than name it.
The Crow Tribe is fortunate in that about one-third of the 13,045 enrolled members still speak the language. Yet, the United Nations Educational, Scientific and Cultural Organization has labeled the Crow language as endangered because most of those who speak Crow are age 50 or older.
Crow chairman A.J. Not Afraid said he applauds efforts by the Crow Language Club to preserve the language and encourage education.
"Both are of the utmost importance to our Apsalooke youth," he said.
Among Crow children attending school in Hardin, the number of children speaking Crow dropped from 82 percent in 1969 to 24 percent in 2002.
Crow educators are working to reverse that trend.
Of the 304 students in Crow Head Start and 50 children in Songbird Daycare in 2011, 35.9 percent of the students spoke no Crow. Through a three-year language immersion program, 90 percent of the preschool students became either fluent or were able to understand the Crow language by 2015.
Janine Pease, Martha Lynn DeCrane, Jennifer Flatlip and Pamela Backbone were instrumental in integrating the program into the preschools.
You have free articles remaining.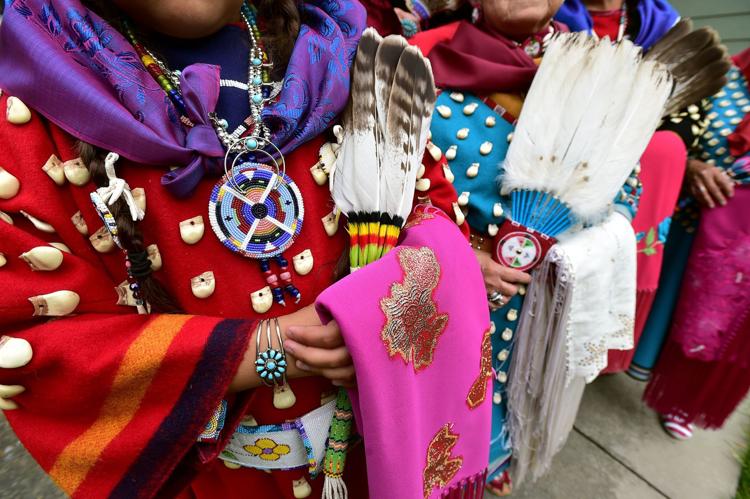 Forced to pick English names
Native Americans were forced to quit using their language when they were put into boarding schools starting in the 1870s. They were told to pick a new English name off a list on a board and were required to cut their hair.
Carlisle Indian School in Pennsylvania, which operated from 1879 to 1918, was one of the largest boarding schools, housing 10,000 Native American students, including some from the Crow Tribe.
Losing your language is part of losing your culture and many Crow are determined not to let that happen.
"Our language is our identity," Bird said.
If her ancestors could survive being beaten for speaking Crow, Bird decided to work harder to not only speak it, but write it.
"They tried to beat them for using their language, but they said 'We don't want to lose it,' " Bird said.
And they didn't. They passed it down to their children and grandchildren.
Hudetz said Crow was her first language.
"I didn't speak English very well until I married my husband," she said.
Now, her husband, Leo, is learning Crow, and Hudetz is learning to be patient with him and help with the pronunciation.
Bird is one of the few members of the Crow Language Club who can write in Crow. She studied language at Little Big Horn College. The Crow alphabet wasn't established until the early 1970s so it has to be taught, even to people like Hudetz who grew up speaking Crow in her home.
Most tribal members are given their Crow names by a clan uncle or aunt or an important, well-respected member of the tribe. But Bird found her name, Two Medicine Rocks, and asked permission to use it.
"When I was in college, we went to the Crow archives and I found my great grandmother's name — Two Medicine Rocks."
Bird said the name fits her well because ever since she was a child, she has collected rocks. She asked permission from her mother, her aunt and her uncles to use the name. When they all agreed, she took the name.
Most of the members of the club are older than 30. Some bring their children to the group, but the children are shy about speaking in Crow in front of other people. That's something Hudetz would like to work on, encouraging young people to speak Crow in conversation, not just reciting words.
"Maintaining common usage of our language is a very important matter, especially since we've become aware that fewer and fewer people speak Crow," Hudetz said.
Mardell Plain Feather was told as a youngster not to speak Crow in front of other people outside her home. She followed that rule until she became an adult and heard people speaking in Spanish one day at the store.
"I told my husband, 'They speak their language. I'm proud of my language and I'm proud of who I am. I will speak my language when we are out,'" Plain Feather said.