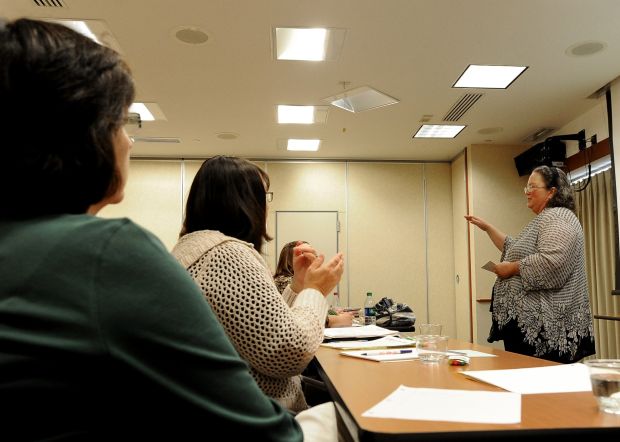 Standing before a room full of strangers Monday morning, Sheryl Scheafer talked about her "dark days."
"They're tough to talk about," she said. "They're tough to live through."
Scheafer, who was diagnosed in her 20s with severe depression, said her dark days come every time she has a "major episode," when her depression bottoms out and she thinks of suicide.
Jon Angel talked of similar experiences dealing with bipolar disorder and "super intense" panic attacks.
For years, he said, "I had lots of suicidal thoughts, every single day."
But Scheafer and Angel also talked about how they have learned to deal with mental illness, using exercise, medication, counseling, spirituality, humor and other techniques to fend off inner torments.
They spoke during a suicide prevention workshop for School District 2 teachers and counselors, and some treatment professionals, at the Mansfield Health Education Center at St. Vincent Healthcare. The event was sponsored by the Suicide Prevention Coalition of Yellowstone Valley.
Angel and Scheafer are active members of the National Alliance on Mental Illness and are "In Our Own Voices" presenters for NAMI.
Their presentations, interspersed with short video clips of people from around the country with similar stories to tell, touched on their acceptance of their illnesses, and on treatment, coping skills and successes.
Scheafer, who has worked at Meadow Gold Dairy for 28 years, said friends and co-workers are surprised when they learn of her mental illness. She has learned to live with her depression, she said, but she always fears the next "major episode," which recurs every few years.
For Scheafer, a large part of accepting her illness meant accepting the necessity of taking medication. At one point in her life she was on 17 different medications, and though she has cut down on that number substantially, she will always need an antidepressant and a mood stabilizer.
She warned her listeners that "the commercials are true" — that medications are going to have side effects, some of them quite severe. But you have to accept them, she said, because the side effects are worth all the good the medications do.
She also spoke of developing "constant relationships" with therapists and other doctors. She emphasized the necessity of seeing professionals on a regular basis, not just when you really need them.
"It's kind of like car maintenance," she said.
Angel, who has worked as a computer technician for The Billings Gazette for 19 years, said his family has an extensive history of mental illness. He said his "dark days" started when he was 12, but it wasn't until he was in college that he was diagnosed with bipolar disorder.
When he was prescribed Prozac, he said, "it was the most amazing thing. I didn't think you could feel like that."
For the first time in 10 years he could go a whole day without thinking about suicide.
Angel, who took part in a National Institute of Mental Health study of treatment-resistant bipolar disorder, touched on the importance of medication, but he also spoke of using humor to blunt the effects of mental illness.
"It's good to laugh about these horrific experiences because it takes some of the power out of them," he said.
He urged those in the audience to treat patients in a holistic way, to abandon simple solutions and to be "more sophisticated" in how they think about and treat mental illness.
Scheafer said one way she deals with her mental illness is to talk about it, to serve as an advocate and educator.
"God gave me a big mouth," she said. "I'm not shy. I'll speak out for those who can't."