Billings resident Chelsea Wagner crafts Halloween costumes for her Italian greyhound, Yoshi, every year and decided to show him off during the first-ever "Downtown Day of the Dogs: Howl-O-Ween" event.
Yoshi sported a hand-made Elvis Presley costume complete with colorful sequins, the iconic flared white pants, and an Elvis-inspired hair piece.
"We worked on it for about a month," Wagner said. "He's been a Greyhound bus, he's been Willie Nelson, he's been a pizza delivery boy, a scuba diver — so we've had quite the array of costumes."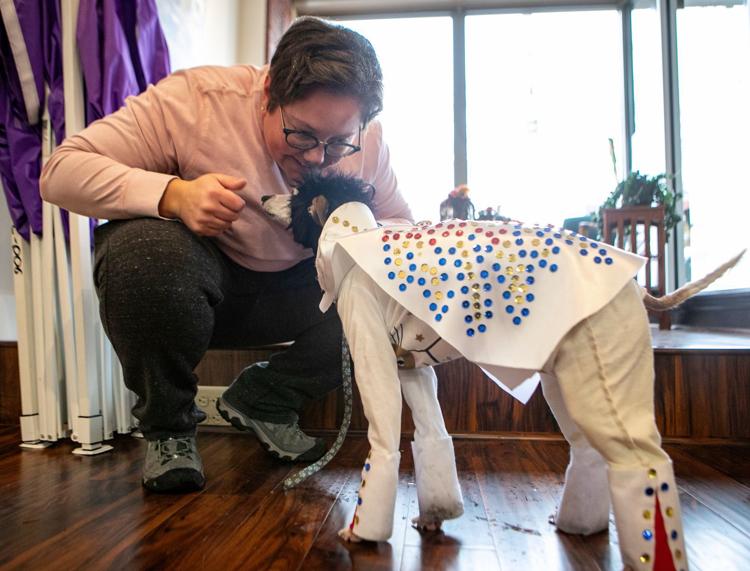 Many other dog owners ventured downtown Saturday despite the snow flurry to visit businesses and show off their pets dressed like pumpkins, superheroes, ladybugs, and more.
The Downtown Billings Alliance introduced the event with hopes that it'll continue and grow for years to come. Pets had their pictures taken by Miranda Murdock Photography with all proceeds donated to the Yellowstone Valley Animal Shelter.
"It's the first time we've ever done this, but we really wanted a day that separated dogs and kids," DBA events director Lindsay Richardson said. "There are so many residents who live in downtown with dogs and there are a lot of people who work downtown who have their dogs, so our mission is to bring people downtown and have them spend time here and allow them to have a moment where they could have some fun with their furry creatures."
Katherine Purcell and her dog Loki dressed like a lion and a ring master, complete with a handmade "fire" hoop. Last year, Purcell dressed as a mermaid while Loki dressed like a shark.
"Once he got his little costume on today, he was like, 'Oh, it's showtime,'" Purcell said with a laugh. "Last year he got so many treats he had to start turning them away."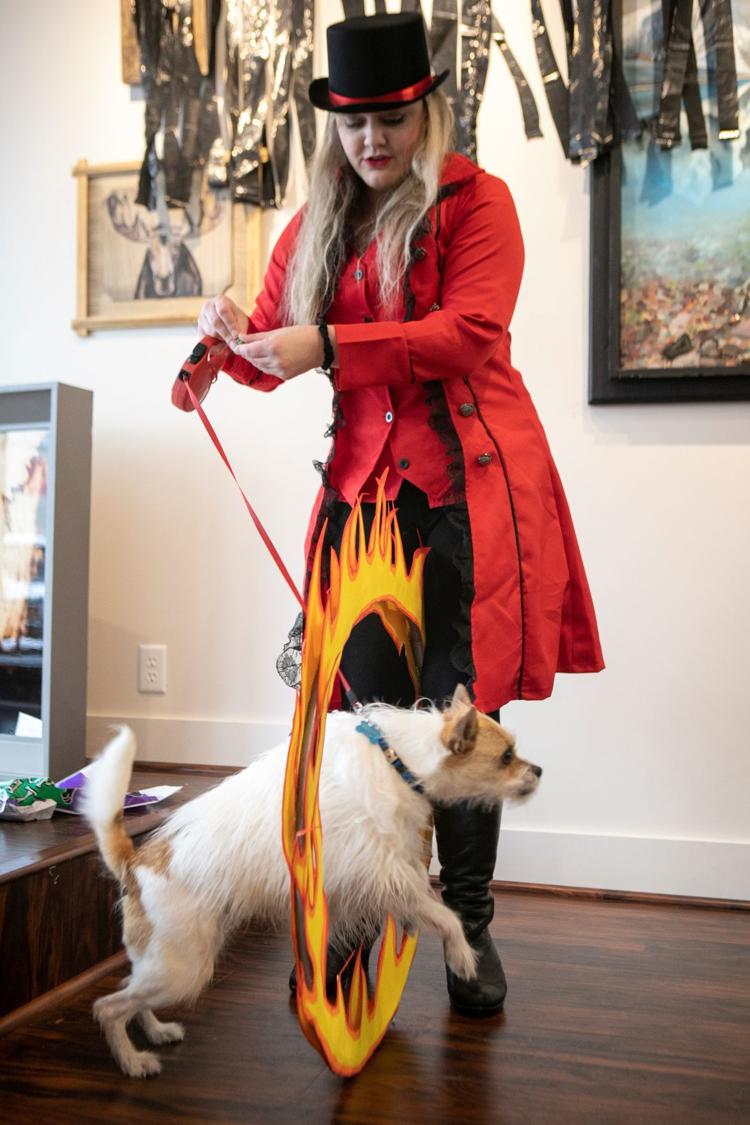 You have free articles remaining.
Keep reading for FREE!
Enjoy more articles by signing up or logging in. No credit card required.
Purcell said that having dog-themed events in downtown Billings is a great idea.
"I'm so excited because it's so good for the dogs, especially when you're trying to train a dog because sometimes you don't have those big crowds just wherever, so you got to get them into those crowds," Purcell said.
Kelli Husfloen, a Billings Heights resident, brought her dog, Miles, to the event dressed as a lumberjack. She said that having more events like this one is beneficial for the community.
"I think it's great," Husefloen said. "I think it's a little more inclusive for the whole family and honestly, I'm more likely to come to something like this than some of the other events. I like the opportunity."
Five businesses participated in the event, including Brockel's Chocolates, The Joy of Living, Century 21 Hometown Brokers, and Thirsty Street Brewing Co. Century 21 hosted a Canine Costume Contest, and the public can vote on the DBA Facebook page from Monday Oct. 28 to 5 p.m. Wednesday, Oct. 30.
Richardson said that she recently attended the Montana Downtown Convention and met with other downtown organizations across the state. She said that downtown Billings is the only place that hosts dog-related events.
In August, the DBA hosted the Downtown Dog Days of Summer and collaborated with the Business Improvement District to install pet-friendly fire hydrants, AstroTurf in empty tree wells, and doggie bag dispensers throughout the area.
"It's an emphasis on feeling more like a neighborhood," Richardson said. "The livability of downtown is vital. We want people to live down here and spend their time down here."
Jaci Brockel, co-owner of Brockel's Chocolates located on North 29th Street, said that events like these are helpful for business.
"It brings people downtown and new stores are coming to downtown all the time, so this is a great way for people to notice the new stores and come in and shop and just have a fun time," Brockel said.