Steve Lehenbauer started noticing them in February, when ice jams started slowly clearing near his property at the confluence of the Yellowstone River and the Clarks Fork.
Since then, more dead cows have appeared.
On Saturday, two decomposing carcasses could be seen from his property, which is about where River Road and Thiel Road meet between Laurel and Billings.
Four more were laid up in the center of the Yellowstone on a dry patch, which could be seen just to the east of the bridge. Three more lie along the shores near the Sundance Lodge Recreation Area.
Lehenbauer believes the cows didn't die where they laid on Saturday and that they came from up on the Clarks Fork.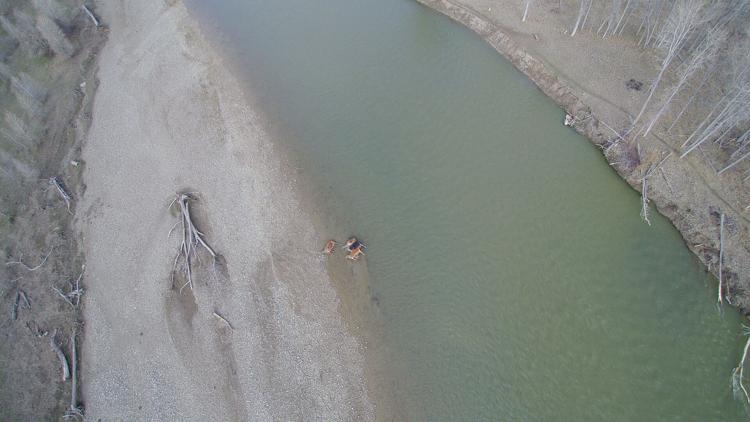 "They floated downriver and got caught up," he said.
One of the carcasses lies just yards from Lehenbauer's property line, approachable by foot with the river's current flow. He said he's called multiple agencies, but no one seems to know where these cows came from or who will remove them.
Mike Honeycutt, executive officer for the Montana Department of Livestock, said that while it's not a routine occurrence, cows tend to wander from riverside ranches to meet their demise in the water.
He didn't get back to The Gazette on Monday afternoon with any information from his brand inspectors but said that if there was evidence of a criminal offense, department officers would contact the sheriff's office.
Yellowstone County Sheriff Mike Linder said he has deputies on the case after taking a couple reports on the cows.
"We haven't been able to track down an owner on them yet," he said. "That's where we're at right now — see who they belong to."
The loss of nine cows could cost a rancher thousands of dollars, but apparently none have stepped forward.
The Montana Department of Environmental Quality has fielded a few complaints about the carcasses as well. A spokeswoman for the agency said they also haven't identified an owner.
"It is the owner's responsibility to remove the cows, so we ask for identification of the cows (brand, tag)," said Kristi Ponozzo, DEQ public policy director, in an email. "This is often difficult to attain, and we have not received identification information."
While there are many factors at play, Ponozzo added that the decomposing animals may produce "limited pollution."
Lehenbauer guessed that the cows may have wandered out onto an upriver ice field months ago and became trapped. In a month or two, he expects the increasing water level to wash the remains downriver if nothing else happens.