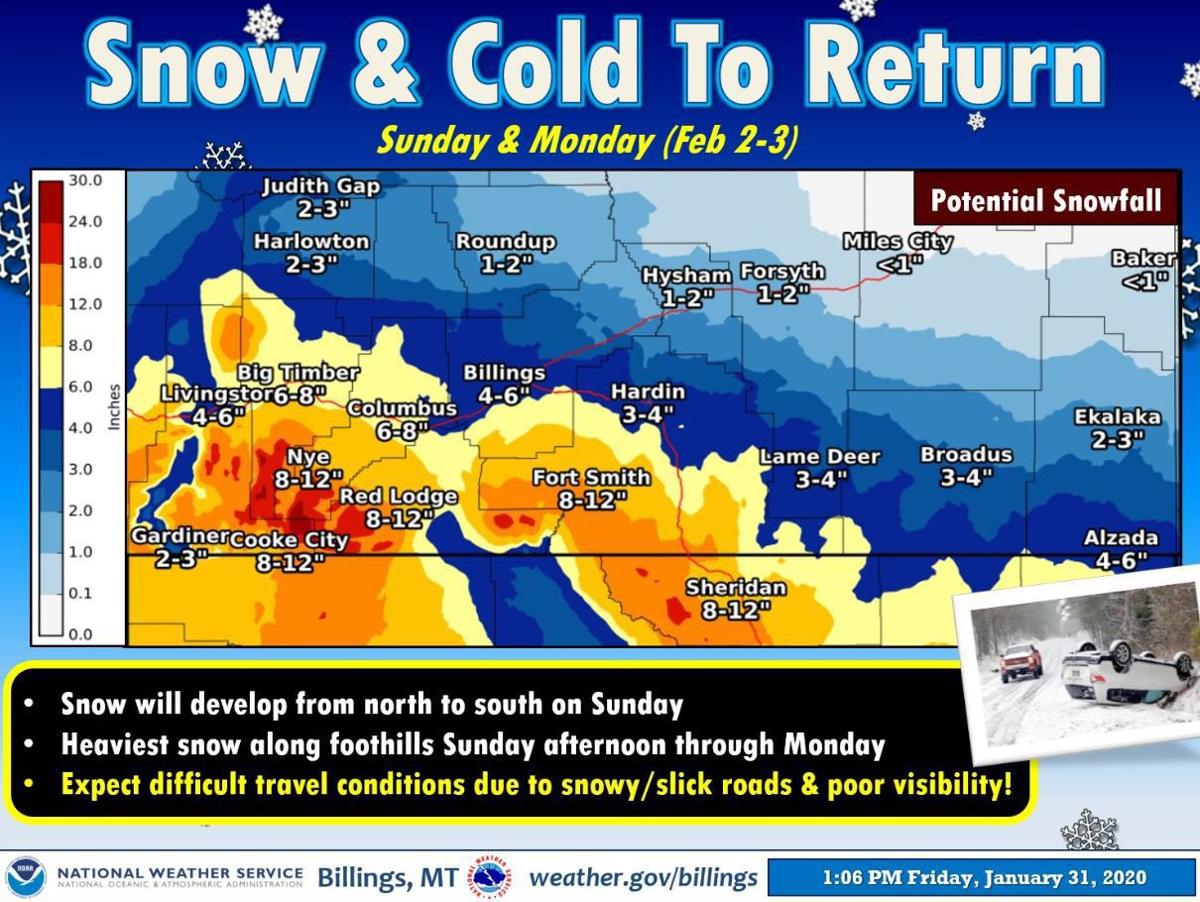 Get your shorts and your shovels ready, folks.
The National Weather Service in Billings predicts that the Feb. 1 record high of 62 will be shattered on Saturday with the top temperature to peak at around 65.
But the warmth will be short lived, because by Sunday snow will be falling and Billings could see as much as eight inches by the time it quits on Monday.
For some, the sunny switch to snow will be jarring. But for meteorologists, this is just history repeating itself.
Exactly one year ago, the high for Saturday was in the mid-50s, with the temperature officially pegged at 51. By Sunday, the sun had left and a cold, arctic, windy front dumped six inches of snow.
However, this weekend, NWS meteorologist Joe Lester said that while temperatures will drop, they'll level out in the 20s or 10s and gradually rebound.
The weather pattern is common and predictable, Lester said. Often in the Billings area, warm weather precedes winter storms. This storm has the potential to drop even more snow to the south of Billings in places like Red Lodge, and Sheridan and Story, Wyoming. 
"I'd be surprised if Red Lodge didn't see at least a foot of snow," Lester said.
Places like Sheridan and Story could see as much as 16 inches because of the storm's heavy moisture and its slow movement, Lester said.
While Saturday will be warm, it will also be extremely windy in some places. The National Weather Service forecasters have already issued a high-wind warning for areas around Livingston and Big Timber. Billings could see gusts as high as 50 mph. 
"There's a heightened fire danger because of the wind tomorrow," Lester said.
Depending on whether the weather travels north or south, Billings could see more or less snow, but Lester said he believes the bulk of the storm will hit Wyoming. The snow is expected to start falling Sunday morning and last into Monday, Lester said. 
The weather service has also predicted snowy and slick roads with some limited visibility.
Get local news delivered to your inbox!
Subscribe to our Daily Headlines newsletter.